MTB-DAIMLERCHYSLER JOINT VENTURE ASSEMBLY HUB ROLLS OUT FIRST MERCEDES-BENZ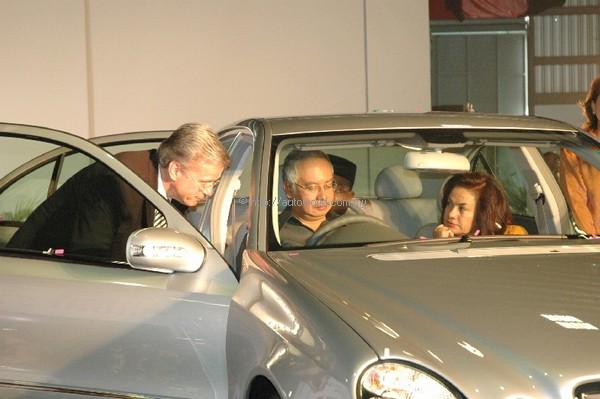 Pekan – The official roll-out of the first Mercedes-Benz E-class at DRB-HICOM Berhad's MTB plant in Pekan today, signals the start of a new phase for the country's single largest integrated automotive company. The joint assembly operation agreement with DaimlerChrysler Malaysia will see both parties collectively assembling Mercedes-Benz E-Class, C-Class and S-Class vehicles for a 3-year period, with the option of renewing it twice for a period of 1 year each.
The agreement, which was officially finalized in October last year, is the culmination of a series of negotiations between both parties, paving the way for a strategic partnership that has resulted in both companies investing substantially to create a hub for the assembly of the highly sought after premium product. DRB-HICOM Berhad's total investment in the project will amount to RM23 Million, while DaimlerChrysler Malaysia's investment in assembly activities in Malaysia is more than RM100 Million since the company started operation in 2003, these investments cover all production facilities including logistics, welding, painting and assembly, as well as testing facilities, test track, CMM body layout measurement, engine plant and training academy.
Approximately 1,800 units of the Mercedes-Benz E-Class, 1,800 units of the Mercedes-Benz C-Class and 600 units of the Mercedes-Benz S-Class will be assembled annually. The current capacity utilisation for the MTB plant is 35%, which has the capacity to produce 40,000 units annually. The addition of the Mercedes-Benz models into MTB's production line has improved its capacity utilisation significantly.
Speaking at the ceremony to mark the roll-out of the first Mercedes-Benz vehicle from MTB plant, Group Chairman of DRB-HICOM Berhad Tan Sri Dato' Seri (DR.) Mohd. Saleh Sulong said, " we are proud and grateful to have been chosen as a partner by DaimlerChrysler, one of the world's leading automakers, as it clearly reflects DaimlerChrysler's confidence in DRB-HICOM's ability to deliver the output according to the high and exacting quality which is synonymous to Mercedes-Benz.
"This newly-established relationship with DaimlerChrysler puts MTB on a higher platform in term of recognition for the quality of output. It is most encouraging and inspiring not only for the 1000-odd employees of MTB, but also for the entire 2,300 workforce at the DRB-HICOM Complex here. It is expected to give and impactful cultural transition effect on the workforce and the stringent work methodologies of DaimlerChrysler will set new benchmarks at MTB," he said at a ceremony which was officiated by the Deputy Prime Minister of Malaysia, Yang Amat Berhormat Dato' Sri Mohd. Najib bin Tun Haji Abdul Razak.
"This relationship between MTB and DaimlerChrysler Malaysia is expected to go beyond the current scope of works. We hope to be entrusted by DaimlerChrysler to also assemble other models such as Mercedes A-Class, Actros Truck, Sprinter Van, Smart, Jeep Chrysler," he added.
Representing DaimlerChrysler Malaysia was Mr. Frank Steinleitner, President & CEO, who said the Mercedes-Benz as the leader in the premium luxury car segment, recognize the importance of consolidating the production locations over and above investing in high standards assembly facility. The is one of the key factors in making Mercedes-Benz the most successful automotive premium car brand in the world. DRB-HICOM has been identified as a strong local partner with its years of experience in the automotive industry, its well equipped and up-to-date automotive assembly facilities, space capacity for future expansion, and ideal location.
"The investment amount on assembly related activities and equipments, which we have spent and will spend until the rest of the model ranges are relocated, is more than RM100 million. CKD is our core business with a significant 57% market share in the luxurious passenger car segment. With the relocation, we have the largest product range on passenger cars and a full range of commercial vehicles, we have once again set a new benchmark and emerged to be the number one assembly location here in Malaysia".
"The E-Class assembly line with the high-tech equipments is currently the best assembly facility in Malaysia to produce vehicles of the highest quality. This clearly differentiates us from our competitors. Our joint efforts also cover extensive training programs and up-to-date facility for production staff, include the set-up of this special training academy aimed at constantly supplying skilled workforce to the Mercedes-Benz production line, and to ensure every vehicle assembled are of the highest quality for greatest customer satisfaction," he added.
DRB-HICOM Berhad, the single largest integrated automotive company in Malaysia, currently has partnerships with leading automotive brands which include General Motors, Mitsubishi, Isuzu, Honda, Iveco, Citreon, Audi, Volkswagon and Tata. DRB-HICOM is involved in three core business i.e. Automotive, Property & Infrastructure and Services (includes Financial, Solid Waste Management, Computerised Vehicles Inspection and Insurance) with a total workforce of 32,000.
With a paid up capital of RM100 million, MTB is owned by DRB-HICOM Berhad (80 per cent) and Isuzu Motors Ltd (20 Per Cent). Established in 1994, MTB is entrusted to spearhead the manufacturing and assembly of commercial vehicles in Malaysia and in July 1997 the plant produced the first Malaysian National Commercial vehicle, the HICOM Perkasa.
The MTB plant in Pekan, Pahang, is equipped with up to date automotive manufacturing and assembly equipment and facilities, with a production capacity of 40,000 units per year. The plant undertakes contract assembly for various other international marques including Isuzu, Citreon, Mitsubishi, SsangYong, TATA, Iveco and BMC; with some 16 different model variants currently being assembled at the MTB plant.
DaimlerChrysler is one of the world's leading automotive, transportation and services companies. Its passenger car brands include Mercedes-Benz, Maybach, Smart, Chrysler, Dodge and jeep. Commercial vehicles are produced under the brands Mercedes-Benz, Mitsubishi FUSO, Freightliner, Sterling, Western Star, Setra, Thomas Built Buses, Orion, and American LaFrance. It offers related financial services through DaimlerChrysler Services. With 365,000 employees worldwide, DaimlerChrysler achieved revenues of EURO 142 Billion (approx. RM710 Billion) in 2004 with a total of 4.7 Million vehicles sold worldwide.
DaimlerChrysler Malaysia Sdn. Bhd. manages the wholesale distribution of Mercedes-Benz passenger cars and commercial vehicles, Smart passenger cars, Maybach passenger cars, Mitsubishi Fuso Commercial Vehicles and spare parts for all four brands in Malaysia, as well as additional services in the field of software development for global sales solutions and automotive apprentice training since January 2003.
Mercedes-Benz's leadership position has been further strengthened with an increased market share from 43% in 2003 to 45% in 2004 despite challenging market environment and aggressive competition.