Smart Car Officially Launched In Malaysia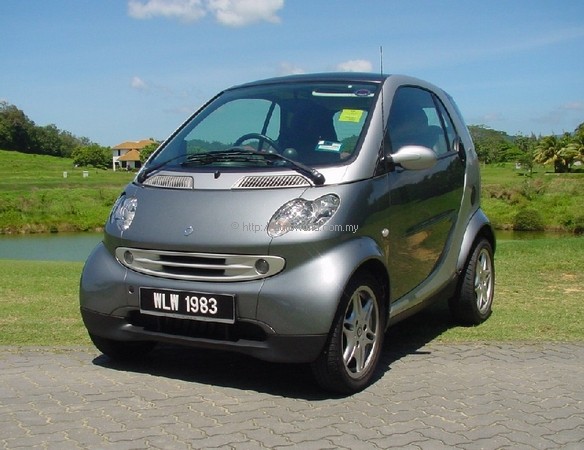 Wednesday 24 November 2004 – Kuala Lumpur
Get Smart today. Yes, it is possible to get the Smart car from today, because DaimlerChrysler Malaysia has just launched the so very cute Smart ForTwo today. Selected dealers will have these minicars in their showrooms, and all the motorists who have seen them overseas, or recently seen some evaluation models zipping around town can finally place their bookings; the lucky few who are first in line will most likely get them before Christmas, while others may have to wait a little.
The Smart ForTwo is a little two-seater that looks small from the outside, but once you sit on the inside, you will be surprised to find that it has ample room (for two, that is). With a passenger cabin that has been maximized, the Smart ForTwo can accommodate two full sized six-footers if need be, and has a little storage nook at the back that can take two airline cabin bags.
Size-for-price, you could get a Honda City or a Toyota Vios, but they would never be as cute. The Smart ForTwo is a car to be seen in, and for the few days that I had it for a sneak preview, it turned eyes wherever we went. Complete strangers would ask us to open it up for them to take a peek inside, and everybody I met wanted a ride or a short drive. The Smart ForTwo would certainly be a great icebreaker if you were meeting someone for the first time, or if you wanted to make a statement, knowing well that this is a car only for those who already have everything else they need, and this is something you buy and keep for fun.
For those who wish to be different from the mainstream, the Smart ForTwo would be something that you 'wear', to declare that you are an individual who will not go by convention. For those who have made it, and don't want to take the Merc out all the time, the Smart ForTwo would be great for taking to the corner drugstore to pick up the newspaper, or to go to the shopping mall.
Packed into the rear, under the luggage compartment is a 700 cc, 3-cylinder engine that is turbocharged and intercooled, and produces 61 horsepower at 5,250 rpm. Torque is 95 Nm and is available from 1800 – 4000 rpm. Mated to a sequential automatic 6-speed gearbox, the Smart ForTwo can hit a maximum of 135 km/hour and is zippy in city traffic. In the DaimlerChrysler tradition of safety and good handling, ABS and EBD is standard equipment, and to top it off, ESP (Electronic Stability Program) is also incorporated into the system. As a minicar, the Smart ForTwo is possibly the most highly appointed. Leather seats and full carpeting is supplied as standard.
Prices range from RM83k to Rm90k, depending on the specifications and accessories package, but all of them are just as great.