Malaysia Peugeot Network Merdeka Grand Tour to East Coast 2004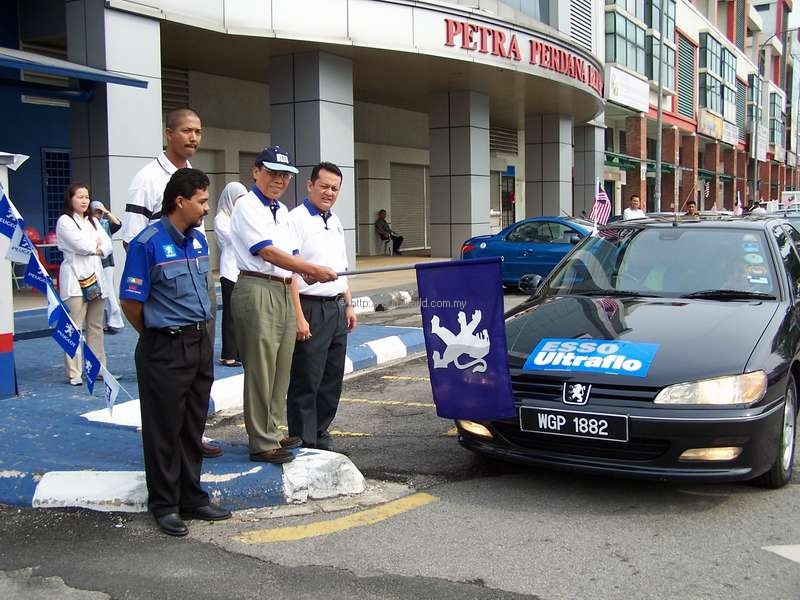 MyPeugeot.Net have successfully completed the 1200km++ tour covering the states of Pahang, Terengganu, Kelantan and Perak in their recent Merdeka Grand Tour to East Coast 2004. The whole tour saw the gathering of Peugeot Owners from Klang Valley, Negeri Sembilan, Johor, Pahang, Terengganu and Kelantan with various range of Peugeot models which includes a couple of 206s and 307s, the mainstay of 405, 306 and 406 and also a classic 505 Station Wagon. Participants are from 7 states across Malaysia.
The flag off ceremony on 28th August 04 started at Peugeot Showroom in Selayang. Prior to that, an appreciation award was held to recognize the sponsors.
After the flag off, the convoy were escorted by 3 police outriders and a patrol car all the way to the Genting Interchange. At a point along Jalan Kuching, the police has to stop the flow of traffic from one side to allow the convoy to pass through, which has caused a bit of jam!
Cherating was a perfect R & R for the whole entourage. On Day 2, the sight of more than 30 Peugeot cars enrooting to KT was really majestic with ocean line as backdrop. Again, the police outriders escorted them about 30 km south of KB to the resort.
Besides tour and fellowship activities, the pinnacle of the event was the Dinner of the night of 30th August where we invited a Peugeot Dealer in Kota Bharu, Mr Lee Eng Chye of Lee Motors Sdn Bhd as our guest of honor. He was surprised to see so many Peugeot at one occasion and the camaraderie shown by the owners. The highlight of the dinner was the slide show presenting the past activities of the club and Club first anniversary celebration.
The club objectives has been accomplished that is to bring Peugeot owners together for a unique motoring holiday. The sight of the convoy itself has place a very high commercial mileage to the Peugeot Brand and all its sponsors during the Merdeka Holiday Season.
"It was an amazing experience, truly a Peugeot Experience, and Malaysia feels small with Peugeot", said Tajaharis, the Secretary of Malaysia Peugeot Network.