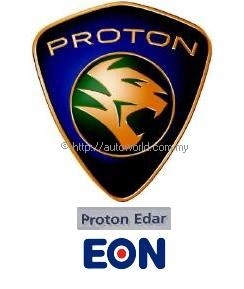 To most Malaysians, mention 'Saga' and the first response would be 'Proton'. After all, it was the first national car and has become been embedded in Malaysian history. However, if you check the dictionary, it also means 'a very long story' and ironically, the distributorship 'discussions' between Proton and EON are a very, very long story. It's been going on for so long that when you try to remember when it started, not many people can actually remember!
The issue of EON being a distributor came up during 2000 when its distributorship agreement was to be negotiated and renewed. In that year too, Proton had fully acquired UsahaSama Proton-DRB (USPD) which had been started in 1995 as a second channel for distributing certain Proton models (the sportier variants and the Tiara). It had been a joint-venture between DRB and Proton but in 2000, Proton decided to become more than just a manufacturer and wanted to also get into the marketing and retail area. So it bought over USPD and renamed it Proton Edar.
With its own marketing arm, it then had reduced dependence on EON, which had been established simultaneously with Proton in 1985. EON's role was to be the distribution and marketing side of the business (only for Malaysia) and was a separate entity from Proton. This approach was not unusual and in Japan, for a long time, companies such as Toyota had separate entities such as Toyota Motor Company (which made the cars) and Toyota Motor Sales (which bought them from the factory and distributed them). It is believed that the former PM was the one who wanted it done the same way but in any case, the government – through various agencies – had stakes in both companies (and still does).
The arrangement worked well enough through the years with each side concentrating on its own business. Proton made the cars and sold them to EON which, in turn, distributed them to its own retail network as well as independent dealers nationwide. Both Proton and EON became public-listed companies and given the monopoly that Proton enjoyed, both companies have been 'blue chip' investments, giving shareholders generous returns on their investments.
When Proton Edar (PE) came into being, the role of EON was duplicated and so there were a number of points which Proton needed to address. One of the biggest was the financial contribution to R&D for future products. As it costs an enormous amount of money to develop a new model (the Waja alone required almost RM1 billion), Proton wanted its distributors to share the cost; if a distributor was unwilling to do so, it would not get the new model to sell.
The arrangement is unusual in the automotive industry and there seems to be no evidence of any distributor independent of the factory contributing to R&D, in Malaysia or any other country. However, Proton's stand was that it's a national project and therefore all parties must share in the costs.
"This is a national car project for which margins should be integrated to be re-funded into technology development. If you are not part of the 'food chain', then don't give; if you are, then you must share some of the expenditure," Tengku Tan Sri (Dr) Mahaleel, Proton's CEO, told AUTOWORLD.COM.MY in March last year.
It wasn't just a few hundred thousand ringgit but a few hundred million ringgit and EON was unwilling to contribute because it would also not be able to claim it as a tax-deductible expenditure as it was not doing the R&D itself. So it would become an expenditure which would be taken directly from its profits and that would certainly not be acceptable. PE, of course, agreed right away but then again, PE is a subsidiary of Proton…
This was the most publicized issue in the negotiations and after some 40 months, a new approach was taken which seemed agreeable to Proton and EON. In the new agreement, EON agreed to become a 'Super Dealer' instead of a distributor. This would allow PE to become the sole distributor in Malaysia, a move that would streamline the business. EON would give up its involvement in marketing and leave that to Proton Edar while just concentrating on the retail activities.
Other terms agreed upon were that EON, as a 'Super Dealer', would take a minimum of 100,000 units a year up till 2009, subject to market conditions. Furthermore, EON would sell whatever Proton Edar sold, thus setting aside that thorny issue of contribution to R&D. According to a source who did not wish to be identified, the 'fine print' in the deal was that supply would be on a 50:50 basis, to be fair to both companies.
Another issue which is known to have been a stumbling block for quite a while was EON's wish to take on other brands to sell. This was in anticipation of a changed domestic market environment in the AFTA era which would see Proton's share reduced so EON wanted to find other ways to maintain the high sales volumes it had been used to. It made sense as the company would want to avoid having to downsize its network, built up over 18 years, and avoid putting people out of work. Proton sales alone might not sustain all its operations, unlike the years before.
Proton was not happy with this plan and kept insisting that EON should not deal in other brands. However, this matter was finally resolved when our former PM gave his blessings to EON taking on the Audi/VW franchise in December 2002. It was a signal to Proton that it should be okay for EON to do what it wished to do, so the matter was dropped.
"I would not say that Proton is happy nor overjoyed [with this development] but it should be noted that we proceeded only after getting consent from Prime Minister Dato' Seri Dr Mahathir Mohamad, who is the Patron of the National Car Project. It was conditional to setting up a separate company to handle the new makes," said Tan Sri Dato' Seri Mohd Saleh Sulong, the Chairman of EON, at that time.
It seemed telling that when Proton introduced the Juara, only PE was to sell it and EON did not have it in its showrooms. The Arena is also not being offered by EON. Of course, EON has not lost out that much by not being able to sell those two models but PE has certainly gained from the deal to share all models with PE. Previously, EON was the only one selling the highly popular Iswara Sedan and the Perdana models as PE (then USPD) was to concentrate on the sporty models and so it had the Satria GTI exclusively.
Anyway, by March last year, both sides announced that the long-drawn negotiations could be concluded and all issues were 'resolved'. A Memorandum of Agreement (MoA) was signed between PE and EON with all the points listed and the official statement by both parties was that, subject to sorting out a few things, the distributorship agreement (DA) would be signed by June 2003.
Guess what? It's February 2004 and the DA is still not signed! To most, the signing of the MoA seemed to signal the end of The Saga and after that, people just assumed it was over. Yet an erroneous newspaper report on Monday revealed that up till today, The Saga has still not ended!
The report, carried in a few newspapers, suggested (based on rumours) that the MoA would be terminated and that EON would not be selling the new Proton Gen.2. It came 'out of the blue' and many people were stunned by it; the share values of EON and Proton fell immediately as the share market reacted negatively.
Both companies scrambled to clarify the matter which was queried by the KLSE as a standard procedure whenever such significant developments are publicized. Both are public-listed companies and therefore such a major development has to be made known to shareholders.
Proton's reply to the KLSE was to the point: "The reports that 'Proton may be giving up talks with EON and may terminate a Memorandum of Agreement (MOA)' as well as 'speculation that Proton may buy over EON's distribution and after sale service network' are incorrect and purely speculative."
EON's reply contained three clarifications: "We wish to clarify that we do not have any knowledge nor have we been notified by Proton of the possibility of the MoA being terminated by Proton/Proton Edar. The MoA is a legal and binding document and can only be superceded by the execution of a definitive Super Dealership Agreement."
It also stated that "With respect to Proton GEN.2, we have placed orders with Proton Edar and are awaiting supply."
And on 'speculation that Proton could buy over EON's distribution and after-sale services network', its reply was "We wish to state that there has been no discussions on this issue with Proton.
The fact that such a rumour surfaced indicates that the matter of the DA really needs to be concluded quickly. It obviously does nobody any good and it is likely that if the issue drags on, more such rumours will appear.
In the absence of complete understanding of legal aspects of documents, it sounds like the MoA is a more binding document than a MoU. After all, Proton did once terminate an MoU with the Rover Group which was for the supply of K-Series engines. This was signed not long before it was 'privatised' and then when it was taken over by the DRB-Hicom group, there was a change of mind for unknown reasons and Rover were told that Proton was no longer interested in the deal which would have provided K-Series engine technology that was good for some 10 years (up till 2005).
It is also helpful that EON has now confirmed that it will sell the Gen.2 as this was something that puzzled the buying public which had become used to going to EON showrooms whenever there was a new Proton model (with the exception of the Juara and Arena). When exactly they will get their stocks is not known and even the EON people could not provide an answer when asked by AUTOWORLD.COM.MY.
So when will The Saga really end? And we don't mean production of the very first Malaysian national car either.