Perodua's High-tech Future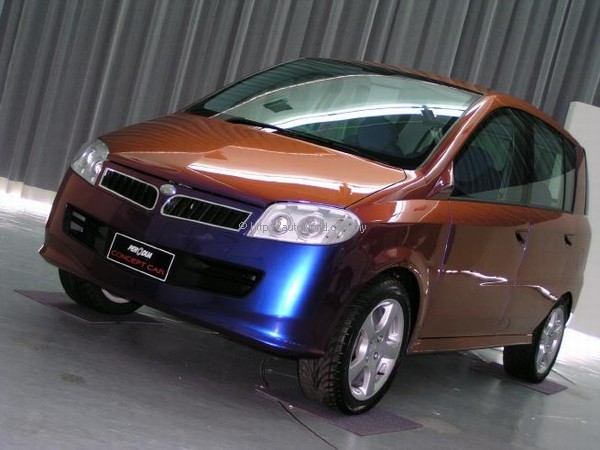 Two concept cars will give you an idea of what Perodua is studying for the future. The first one is a prototype which was developed by its own designers and an Australian consultant. It has no name but the idea of the project was to develop the design skills of Perodua's R&D personnel.
An impressive fact is that it took around 18 months to develop this model which is a cross between an MPV and a minicar. It is not something intended as the basis for a production model but it has ideas which could be incorporated in future. In fact, according to the Perodua MD, there are some elements of this concept car which have impressed Daihatsu Motor so much that they plan to incorporate those elements in a future model now under joint development with Perodua.
What exactly those elements are is unknown but a close look will show advanced ideas such as rearview mirrors which employ cameras and a futuristic interior.
The other prototype which would surprise many is the Kenari Hybrid. It is surprising because Perodua has never revealed that it is also studying such technology for the future. Hybrid technology, which involves the use of an electric motor and a small petrol engine, has so far been successfully used by Toyota and Honda and is an ideal technology for the transition period between internal combustion engines and other types of engines which may not use petrol (eg hydrogen fuel cell powerplants).
With hybrid engines, motorists need not worry so much about running out of electrical power as there is the option of switching to the petrol engine to run too. Basically, the two powerplants complement each other and can bring about significant reductions in exhaust emissions and fuel consumption. Tests show that the Kenari Hybrid can get fuel economy that is about 2.5 times better than a normal Kenari.
Though it weighs 115 kgs more – due mostly to the heavy battery packs – its performance isn't all that slow and its top speed is only 10 km/h less than a standard petrol-engined Kenari.
The hybrid unit consists of a 659 cc petrol engine which produces 30 kW/41 bhp of power and 57 Nm of torque while the electric motor generates 18 kW/25 bhp of power and 100 Nm of torque. An electronic CVT acts as a gearbox for delivering power to the front wheels.
During driving, the 288V Ni-Mh battery gets recharged, especially during braking where some of the energy is regenerated for battery power. This means that no recharging is necessary unless there is an unusual situation, eg the car is not used for a long period of time.
The hybrid technology used in the Kenari Hybrid is provided by Perodua's technical partner and shareholder, Daihatsu Motor. It is not taken from the Toyota Hybrid System (Daihatsu is in the Toyota Group) but is Daihatsu's own technology.