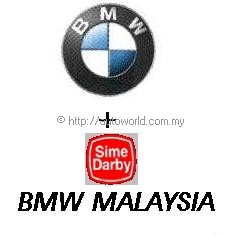 The long-awaited plans by BMW to become directly involved in its activities in Malaysia were finally announced today and as expected, the new company known as BMW Malaysia Sdn Bhd will be a joint-venture company with its long-time franchise holder, Sime Darby.
To commence operations in August 2003, BMW Malaysia will have a paid-up capital of RM25 million and the majority shareholder will be BMW AG with 51% equity. Sime Darby's 49% stake will be held by Auto Bavaria Sdn Bhd, a wholly-owned subsidiary of Tractors Malaysia in which Sime Darby has a 71.74% stake.
As with DaimlerChrysler Malaysia, Honda Malaysia and Volvo Car Malaysia, BMW Malaysia will focus on the wholesale and distribution part of the business. According to Luder Paysen, senior vice-president BMW Group sales division (Asia-Pacific, Middle East, east Europe, Africa-Caribbean), this would encompass aspects such as what models to sell in Malaysia, their options and prices as well as how they will be marketed and promoted. BMW Malaysia will also handle the appointment and training of dealers and the level of technical after-sales support.
"In other words, BMW Malaysia would be responsible for almost everything – model mix, pricing, marketing, dealer training and network development besides undertaking the distribution, advertising, promotion and storage of BMW cars in the country, deriving cost reduction for Auto Bavaria," Mr Paysen said.
On the retail network, Mr Paysen said that Auto Bavaria would remain the main dealer and it currently has eight outlets of the total 14 BMW outlets in Malaysia. Under the terms of the new joint-venture, Auto Bavaria has the first right to refuse any new dealerships for the next three years in Malaysia and is, therefore, well-poised to exploit the expected upturn in demand for BMW cars.
BMW's choice of Sime Darby as its partner is logical since the two parties have not only had a relationship (through Auto Bavaria) in Malaysia since 1987 but Sime Darby also represents BMW in Singapore and Hongkong and is a BMW dealer in China and Thailand. As part of the new J-V, the Singapore and Hong Kong operations are now granted new 3-year agreements in place of the previous year-to-year deal.
In Malaysia too, BMW and Sime Darby (through Tractors Malaysia) have worked together in the assembly of BMW vehicles since 1987 at the AMI assembly plant in Shah Alam.
BMW's move to establish its own wholesale operation is said to be due to the growing size and sophistication of the Malaysian market which requires a different strategy where there is a separation between wholesale and retail operations.
It is also vital for BMW to prepare for AFTA which will turn ASEAN into a single market where vehicle assembly will be spread out in different countries. In this coming environment, BMW, like other regional players, needs to have greater influence in order to ensure that regional strategies can be carried out in all ASEAN markets. To date, with the activation of AFTA in all countries except Malaysia (with respect to the automotive sector), BMW has been the first automaker to export luxury models from Thailand to other ASEAN countries at the preferential tariff rate of between 0% and 5%.
The fate of Cartrade Sdn Bhd, which has been handling completely built-up (CBU) models was also made known: the company will continue as BMW's official importer and distributor for CBU products. This is likely to cover only those models imported from outside ASEAN, for which there will be no preferential tariffs under AFTA. Conditions for preferential AFTA tariffs are such that a vehicle must have a minimum of 40% of its components sourced from ASEAN countries, which essentially means it must be assembled in the region.
With BMW Malaysia starting up, the brand has certainly come a long way since being sold in limited numbers back in the 1960s by Asia Motors and then Continental Motors. Local assembly started in 1981 in Kuching at the Sarawak Motor Industries plant with the first locally-assembled model being the 3-Series. Auto Bavaria acquired the franchise in 1987 from BMW Concessionaires and took BMW to the next level, and now BMW Malaysia should take it even further in the new and challenging open market to come.