Toyotas in the Movies Again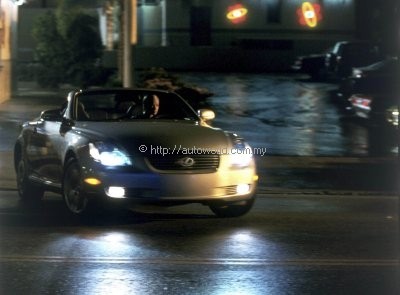 Product placement in movies is a much desired thing nowadays as this medium reaches a huge worldwide audience. It's not cheap but to manufacturers, the reach is very attractive and provided the theme of the movie is not counter-productive, there is usually image enhancement as well.
Toyota's Lexus luxury brand was last present in 'Minority Report' but the role of a specially-designed futuristic car was limited. In the latest 'Terminator 3' movie, now showing in Malaysia, Toyota and Lexus vehicles have a much more significant role.
The vehicles are the Lexus SC430 convertible and Toyota Tundra (a pick-up made and sold only in the North American market). These two models are the key elements in a lengthy breath-taking car-chase scene which occurs in the early part of the movie. They both get mangled in a way that will break your heart although the Tundra does manage to make it to the end of that episode still in one piece.
The Tundra's survival has allowed Toyota USA to highlight the pick-up's reliability and durability and as a movie tie-in, the company has also made a limited number of 'T3' Special Edition Tundras with performance enhancements.
Meanwhile, in Malaysia, another company in the auto industry is also making use of 'T3' for a branding exercise. Till the end of July 2003, Goodyear Malaysia is giving away T3 t-shirts and caps to those who buy certain of its passenger car tyres. They can also take part in a contest which has a trip to Universal Studios Japan (where there is a 'Terminator Ride') as the Grand Prize.