Postponement of event – AFOS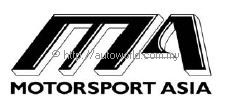 Asian Festival of Speed
Johor Circuit Malaysia
May 10-11, 2003
Postponement of event
Due to current concerns regarding Severe Acute Respiratory Syndrome (S.A.R.S.) and its potential effects on travel limitations and public gatherings, we have decided to postpone the upcoming Asian Festival of Speed event from May 10-11, 2003 at Johor Circuit to June 28-29, 2003. Therefore, the first event will be June 7-8, 2003 at Sepang international Circuit.
Please find attached revised AFOS Provisional Calendar for your easy reference.
Faizul Idrus
For David Sonenscher
Date: April 25, 2003
Time: 1700 hrs.