JAZZing up Honda's Range in Malaysia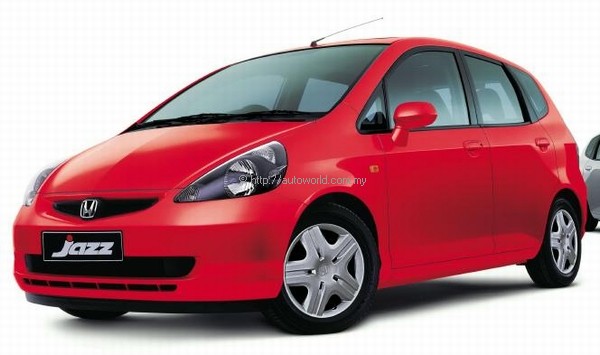 The car which displaced the Toyota Corolla as Japan's best-selling car in 2002 is now officially available in Malaysia. Known as the 'Fit' in Japan, it is exported as the Jazz, which is the name for the model that Honda Malaysia is importing in Completely Built-Up (CBU) form.
Since its launch in Japan, it has created quite a sensation among Honda enthusiasts as it gives a whole new meaning to the word 'compact'. It has innovative styling, spaciousness, comfort, safety, practicality and fuel efficiency, claims Honda.
The model presently imported and priced at RM91,888 (with insurance) is the 5-door hatchback with a new 1.4 litre 4-cylinder i-DSI (Dual & Sequential Ignition System) engine which uses twin spark plug technology and compact combustion chambers to achieve a lively performance, low emissions and high fuel economy.
The Jazz is built on Honda's new space-efficient Global Small Platform, which contributes to a safe and spacious cabin. The reason behind this is that Honda engineers have positioned the fuel tank centrally on the platform thus achieving a greater level of crash protection due to the increased rigidity of the body.
In addition, the shortened front end and the compact suspension system allow the floor to be lowered, creating an extraordinary amount of cabin space for such a small vehicle.
Based on a design concept called "zenshin" (Japanese for 'new', 'progressive', 'integrated'), the Jazz's distinctive exterior design is built on a fluid form around the basic frame, making for ruffle-free aerodynamics which contribute significantly to fuel economy.
The Jazz's sporty interior design is based on Honda's "dynamic layered style" concept which features a bold, open-line motif which mixes light and dark shades. The metallic instrument panel and aluminium-coloured three-instrument cluster adds an extra touch to the sporty ambience of the interior. This sporty and personal interior styling prioritizes the driver.
The roomy Jazz also offers flexible seating arrangements in three different yet easy-to-use arrangements, eg Utility mode (stows away the rear seats for larger cargo area;
Long mode (front passenger seat can be fully reclined to extend storage space even further); and Tall mode (seating section of the rear seats are removed).
The Jazz is presently available with a choice of 4 colours – Ice Blue Metallic, Satin Silver Metallic, Night Hawk Black Pearl, and Milano Red.
According to a senior Honda executive, the Jazz is an example of how Honda and other Japanese carmakers will meet the growing challenge of the Korean makes. It has been clear that the Koreans are taking share from them in many markets due to more attractive prices and the Japanese are relying on their proven reputation for reliability and quality to keep customers and now also add higher fuel efficiency and technology to their products.
Of course, in the Malaysian context, the price of RM91,888 is a bit steep for a 1.4-litre hatchback but that is due to the minimum import duty of 140% on imported cars. Take that away and the Jazz would certainly be a major contender in the small hatchback segment.
You can get a closer view of the Jazz at authorized Honda dealers and also at MidValley Megamall from today till March 16th 2003.