Petronas Opens First Hyperstation in Malaysia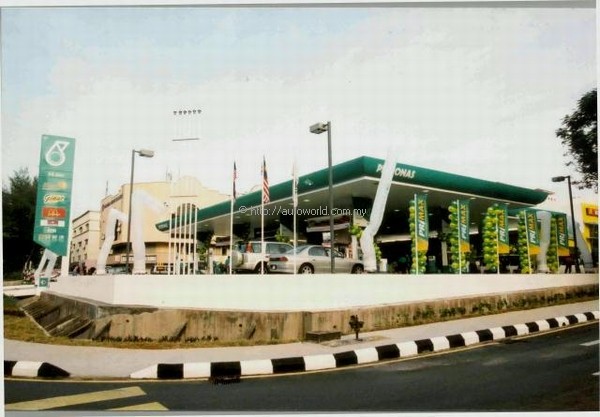 Once upon a time, a petrol station was just a place people went to refuel their vehicles. At some of the larger ones, they could also get some simple servicing done and buy auto-related items.
Today, the petrol station is an altogether different place from what your father would have known. It has evolved into something more like a neighbourhood store which happens to include fuel and lubricants on its list. It's all in the name of providing convenience for motorists and some stations even have fast-food restaurants adjacent to them; for example, a Petronas station along Jalan Skudai in Johor Bahru has a McDonalds as part of its facility.
Recently, Petronas Dagangan Bhd (PDB), the marketing arm of the national oil corporation, went further with the opening of Malaysia's first hyperstation at Taman Setiawangsa, Kuala Lumpur. It goes beyond the present concepts for petrol stations and is an all-in-one retail outlet concept which incorporates facilities such as supermarket, convenience store, fast food outlet, post office, ATMs (Bumiputra Commerce and Maybank), photocopy machine and courier counter.
The opening of the hyperstation marks an important milestone in the on-going efforts by the company to make Petronas service stations the popular destination station for Malaysians. The outlet offers a broader range of services than those available at regular service stations, to cater for the needs of customers, especially in the high-volume Setiawangsa residential area and surrounding suburbia.
Without having to drive an extra kilometre, customers can now top-up their tanks, have a meal, withdraw cash, pay their bills, send or pick-up packages and purchase household items – all at a single location.
Spaciousness is a key elements in today's petrol stations and at this hyperstation, there are no less than 20 filling bays in the forecourt. The station also has a Kedai Mesra convenience store and operates 24 hours daily. Basic amenities such as toilets, prayer rooms and parking areas that can accommodate up to 60 vehicles are also provided.
Petronas Dagangan operates a network of 631 service stations strategically located throughout the country and the network will continue to be expanded by building additional 30 stations every year.