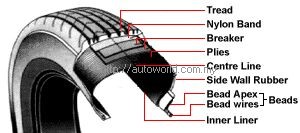 RADIAL PLY TYRES
Chances are your car is fitted with either radial ply tyres or crossply tyres. Radial tyres have the word "Radial" on the sidewalls. Otherwise the letter "R" will appear in their size markings, eg. 175/70R13 82H.
Structurally, you can differentiate a radial tyre from a crossply tyre by:
1. The position of its plies.
2. The presence of breakers.
PLIES IN RADIAL TYRES LIE AT 90 DEGREES TO THE TREAD CENTRE LINE.
Plies are the layers of rubber-coated textile cords in a tyre. Together with beads they form the tyre's air container, or its casing. In a radial tyre, the plies run parallel to one another, and lie at 90 degrees to the tyre's tread centre line. In a crossply tyre, the plies cross each other and run at an angle of about 38 degrees to its tread centre line.
RADIAL TYRES HAVE BREAKERS
Unlike crossply tyres, radial tyres have breakers. The breaker (or the belt) is made of layers of rubber-coated textile or steel cords (hence the terms "textile radial" and "steel radial"). It is found between the tread and the plies (or casing). The breaker stiffens and supports the tread.
RADIAL PLY TYRES. WHAT FOR?
The Radial Ply Tyre. What's the big deal? Why should you fork up the extra money for it?
BECAUSE IT GIVE YOU EXTRA MILEAGE?
The rigid breaker in a radial tyre supports and stiffens thr tread. So it cuts down on the amount of tread movement or "shuffle". So the tread wears out slower. So the radial tyre lasts longer than a crossply tyre.
BECAUSE IT PROVIDES BETTER STABILITY?
The radial tyre has supple sidewalls. Okay, this means they're more easily damaged. And you'll need to make more effort when parking. But supple sidewalls absorb minor road irregularities. which means that when you're driving on a straight road at high speed, you'll need to do less steering to get a smoother, more stable ride.
BECAUSE IT GIVE SUPERIOR RIDES AT HIGH SPEEDS?
The radial tyre's rigid breaker tends to give you a harsher ride at speeds below 65km/h. But speed up, and you'll get a ride like no crossply tyre can give you.
BECAUSE IT SAVES FUEL?
As we've seen earlier, the radial tyre encounters less tread shuffle than the crossply tyre. Less tread shuffle also means less energy loss which results in fuel savings of between 3 to 10%!
BECAUSE IT MAKES DRIVING SAFER IN WET CONDITIONS?
The radial tyre's flat tread profile and rigid breaker ensure that the tyre's whole tread pattern remains in contact with the road surface. This means that there is more area of friction between the tyre and the road surface. So when the road is wet, you get better traction and you don't skid so easily with the radial tyre. If your radial tyre has a breaker made of steel cords instead of textile cords, the above properties will be further enhanced.