Honda Malaysia's New Factory Ready to Start Operations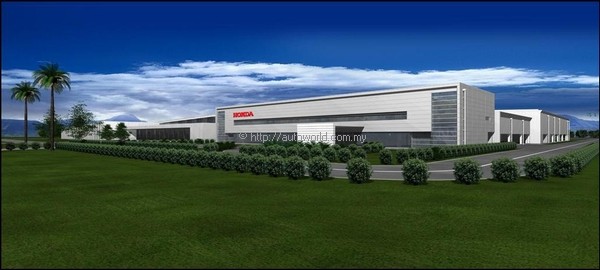 With the ASEAN Free Trade Area (AFTA) round the corner, major players in the region are quickly getting their production facilities to collaborate more closely with each other as ASEAN will be treated as a single market. Being in control of their plants is important in order to make strategic plans work smoothly and towards this end, some of the automakers in Malaysia have gained majority shareholdings in their local operations or plants.
Following the moves of Daihatsu to take over the Perodua factory and Volvo having acquired 100% of Swedish Motor Assemblies in Shah Alam, Selangor, Honda Malaysia – 51% owned by Honda Motor of Japan – decided to set up a brand new assembly plant in Pegoh (near Alor Gajah), Melaka when it established a new joint-venture marketing and distribution company last year.
The pace of setting up the new plant has been brisk and just 13 months after construction work started on a 323,750 square metre (80 acres) site in the HICOM Pegoh Industrial Park adjacent to the North-South Highway near the A'Famosa resort, mass production is scheduled to commence in the middle of next month.
At least RM374 million is planned for investment in the plant over the next five years. In this initial start-up phase, Honda (with its two partners, DRB-HICOM and Oriental Holdings) has spent RM180 million which includes a RM20 million factory assembling constant-velocity joints (CV joints, the driveshafts that transfer power from the gearbox to the wheels).
This factory is of significance as it is Honda's fourth CV-joint factory in the world. It has a capacity of 150,000 sets per year and actually commenced production in October 2002 at a rate of 80,000 sets per year. Its output will not only be for cars assembled for the Malaysian market but will also be exported to Honda plants in Thailand, Indonesia, the Philippines, Pakistan and India.
In the case of exports to ASEAN countries (the first shipment of 1,110 sets left for Honda Thailand today by road), Honda is using AICO (the ASEAN Industrial Cooperation scheme) which allows the CV joints to be imported at AFTA rates which are between 0 ~ 5% import duty. However, they must have at least 40% ASEAN-sourced content and the companies must also arrange to import an equivalent value of components from the country they export to, so as balance trade.
In the longer term, possibly by 2004, the production of CV joints is expected to be boosted to 173,000 sets per year but this will require an additional investment of RM20 million. Should the output be able to reach as high as 300,000 sets per year, then a cold forging process would be introduced and it could be the only one of its kind in Malaysia at that time.
For vehicle production, the plant will assemble the City, Civic, Accord and CR-V by the end of 2003. In the initial phase, which starts on December 16th, only the CR-V will be assembled. One of the reasons why this model was chosen as the first one to be assembled at the new plant is its enormous popularity: up till October, 2,230 units have been sold, making it the most popular SUV in its class. Because it has been assembled at Oriental Assemblers in Johor under contract, supplies have been limited due to production constraints as that plant also do other makes/models. Therefore, Honda Malaysia could not wait to assemble the CR-V itself and increase stock availability of this model.
The production numbers for the CR-V have not been revealed but would likely be around 400 or 500 units a month, out of the 10,000 units that the plant is likely to produce during the whole of 2003. This volume is the present target set by Honda Malaysia for next year's sales and the capacity of the plant on a single shift. Should demand increase more rapidly, another 10,000 units per year can also be produced by going to two shifts.
The built-up area of the plant is 15% of the whole land area and includes a 2-km long test track for checking the vehicles after they have been assembled. All assembly operations are carried out under one roof and the whole plant has been designed with worker comfort in mind. It is cooler than most other local plants because of forced ventilation so there is a good flow of air circulating around.
Furthermore, the paint shop – which usually generates a lot of heat because of its baking oven – is situated 'outside' the building so the heat is dissipated more efficiently. This paint shop is also able to use more environment-friendly water-based paint in future. According to a Honda Malaysia source, the company wants to offer customers paint finishes of a much higher quality than at present.
Although a number of operations are automated for efficiency, no robots are used as the volume of the plant is big enough, so human operators are used – which is the case in all Malaysian plants except those of Perodua and Proton which have outputs over 100,000 units a year.
"Unlike our plants in UK and Japan which do a few hundred cars daily, this plant is only doing 40 units a day. So robots are not a cost-efficient approach and we have found that human operators can also be good when the volume is low," said Seiji Kuraishi, Managing Director/CEO of Honda Malaysia.
As welding of bodies is a crucial aspect in assembly, a lot of effort has gone into ensuring accuracy. Pilot runs have shown that the workers can achieve a 57.1% level of accuracy against the target of 60%. It should be noted that this has been achieved with workers who are new to this line of work (but have received extensive training) and it is likely that their proficiency will rise before long. Some 40 personnel from Japan are present to provide assistance and guidance as well as monitor the progress of the workers.
Quality control is a very serious matter for every manufacturer and at the Honda plant, no less than 10 processes are conducted by the Production Quality department. Besides thorough inspections all over the car, there's also a short drive done on the test track to detect any flaws. The test track includes a section of low-grip surface which is used to test ABS functions. And of course, there is also the mandatory shower to detect leaks.
So the big question Malaysian buyers will ask is this: will the build quality be higher at Honda's own plant? According to K. Shimada, the GM of the plant, the QC standards must definitely meet Honda's global standard but in terms of benchmarking, the target is to match the quality achieved by the plant in Thailand which has the highest quality in ASEAN. It would not be fair to make comparisons to the quality of cars from plants which are highly automated and have robot welders.
Following mass production commencement in mid-December, the first shipments of CR-V's made at the new plant should reach showrooms in January 2003. So if you are taking delivery of one at that time, take a look in the engine bay to see if there is a Honda Malaysia plate instead of the usual Oriental Assemblers on that has been on locally-assembled Hondas since the late 1970s.
While the vehicles produced at this plant will be entirely for the Malaysian market for the present, it is clear that the plant is part of Honda's ASEAN production network and will, at some time in the future, also export vehicles to other ASEAN nations. This can only occur when Malaysia drops import duties to between 0% and 5% for ASEAN-made vehicles, as per the AFTA agreement – and that won't be till 2005.