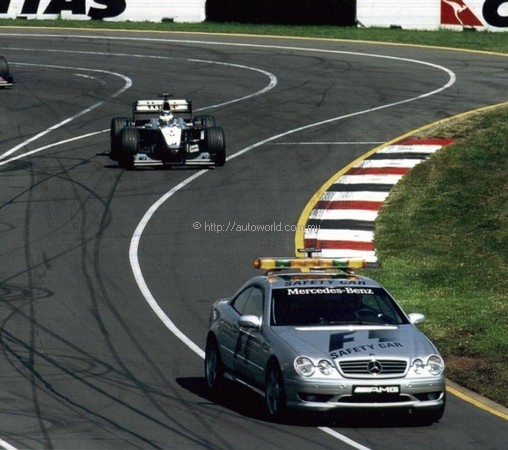 1990 saw a key milestone in the history of AMG. Its success had been admired by Daimler-Benz and in line with the carmaker's aim to appeal to a new generation of younger customers, a cooperative agreement was signed between the two companies.
Under the terms of the deal, AMG products – alloy wheels, steering wheels, high-performance parts, etc – could be sold at Mercedes-Benz sales and service outlets and dealers, significantly improving customer acceptance. What this meant was that AMG was now linked to Mercedes-Benz in a manner that told the world that the tuning company was able to offer products which could meet the exceptionally high standards of Mercedes-Benz.
In anticipation of even more orders, AMG carried out further expansion work and built "Werk III" while increasing the workforce to 400 employees. AMG engineers had always maintained a close relationship with their counterparts at Mercedes-Benz; after all, when they increased the performance of the cars, they needed to obtain detailed technical information on various components.
By 1993, engineers of both companies were working so closely that it was even possible to jointly develop a model which cane to be known as the Mercedes-Benz C 36 AMG. By this time too. AMG had become sufficiently well known to be recognised as a trademark by the German Patent Office.
The excellent working partnership led to the decision by DaimlerChrysler AG in January 1999 to acquire AMG. H.W. Aufrecht handed over majority shareholding in the company which was then incorporated an a unit of DaimlerChrysler AG. The company was re-named Mercedes-AMG GmbH and as part of the giant group, it now had access and support from the group's enormous resources, financial and technical.
Mercedes-AMG was treated as the high-performance subsidiary and given overall responsibility for the engine, transmission, chassis, brakes, aerodynamics, interior, design and sales and marketing of all AMG-badged cars. And in keeping with Mercedes-Benz policy, all its cars sold through Mercedes-Benz dealers worldwide came with a typical Mercedes-Benz warranty.
"This was a major development in AMG's history as we now had to be extremely quality-conscious – not that AMG products had been lacking in quality at any time – in order to meet the stringent standards of Mercedes-Benz. All our processes had to be as good as those in the factories at Sindelfingen!" recalled Martin Heiss, Customer Relations Manager of Mercedes-AMG.
AMG's prominence in motorsports was also recognised by the FIA which has been using a CL 55 AMG as an official Safety Car as well as a C 32 AMG Estate as a high-speed Medical Car. Viewers around the world have often seen the CL 55 speeding ahead of the F1 cars as a pace car when conditions were hazardous, its performance just as breathtaking.
With motorsports close to Aufrecht's heart, it was natural that even though he had handed over ownership of AMG to DaimlerChrysler, he still wanted to be involved in the business. To do so, he established a new firm H.W.A. GmbH, located next door to Mercedes-AMG and the main business of HWA is motorsports. Some 170 staff now work together with Mercedes-Benz Motorsport to manage the two companies' long-standing involvement in the German Touring Car Masters (DTM) race series. The facility is fully equipped with state-of-the-art engineering tools and has dynos and test cells in the basement.
In 2002, its 35th year, Mercedes-AMG is on the fast track to the future and has opened new production, development and presentation buildings at Affalterbach. The new engine factory, new showroom and two new development buildings have swelled the surface area of the facility from 18,500 square metres to 39,610 square metres. Some 20 million Euros have been invested in the new engine production factory and showroom and the company now has a workforce of around 580.
The centrepiece of the expansion is the new engine factory with its silver cladding. Inside, around 100 AMG engines are produced every working day (on a single shift) for a range of different models. The manufacturing processes are designed for maximum flexibility so as to respond to variations in orders. This is especially important now that AMG is also making CDI turbodiesel engines.
62 highly qualified specialists work in the new engine factory which has been design with strong ergonomic principles. AMG has the philosophy of "one man, one engine" and this means that a single engineer is responsible for the complete assembly of an AMG engine. This allows to affix a metal plate with his name and signature onto the engine, an important gesture of confidence in his work.
A prominent feature of the new engine factory is the concentration of the functional areas. The shorter distances and optimisation of processes which this allows has a positive effect on the working conditions. State-of-the-art logistics make for highly flexible and efficient production processes. After an engine has been built, its functions are checked on a "cold-test" rig with the help of simulated resistance and pressure build-up.
The AMG engines are then transported fully automatically in a lift from the ground floor to a high bay storage facility on the upper storey. Over 1,000 engines are stored there, with stock-keeping continuously optimised by means of a leading-edge data management system, which allows the current inventory to be accessed easily and at any time.
Considerably smaller than the engine factory, but even more visually attractive is the AMG showroom. The steel/glass construction is a fascinating piece of architecture with gigantic vehicle images displayed on the front of the building. These images have dual functions – on the one hand, they act as a clear signpost and business card for the new AMG showroom, and on the other hand, they provide sun and heat protection for the premises. With an enclosed area spanning 750 square metres, it offers ample room both for handling vehicle deliveries and for the presentation of up to eight AMG models.