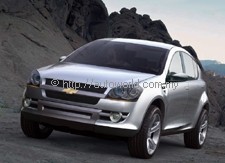 After a sneak peak last August when the international press got to see a designer's sketch, GM Brasil has revealed the Chevrolet Journey concept car during the 2002 Sao Paulo Auto Show.
Developed by design talent in GM's Brazilian unit, the Journey boasts a daring athletic exterior design that is smoothly sculpted and expressive. It was conceived with the 'active lifestyle and adventure spirit which drives Chevrolet fans from the banks of the Amazon to the shores of Rio', according to the company's press release.
Like many new hybrid concepts, the Journey defies classification. This all-wheel drive combines elements of an SUV and a sportswagon to offer a spacious and versatile interior within a compact package that features 3 rows of flexible seating for maximum versatility.
"This vehicle is designed to break away from the traditional two-box design of today's SUV with a more dynamic design statement, yet at the same time offer great utility and flexibility," said David Rand, Design Director of GMB.
The Journey's design stands out thanks, in part, to its unique proportions. Its wheels have a diameter of 18 inches and boasts tyres of 235/50 R18. It measures 4380 mm in length, entailing a long distance between shafts (2703 mm). Its height and width are 1606 mm and 1778 mm, respectively.
The Journey's design study, which began in January of this year, presents several new concepts such as advanced front and rear lights and paint technology. It features a pearl-gray colour which changes depending on the light taking and reflecting a range of green hues.
Developed by a team led by Nelson Barros, GMB design manager, the Journey explores automotive ideas expected to generate customer feedback and influence future designs. While technically viable, at present, there are no plans to produce the Chevrolet Journey.
GMB Design is comprised of a 70-person team of which 25% are designers with a broad academic and professional experience from Brazilian, European and North American institution. The design talent operates with total autonomy and the freedom to create projects that challenge the current automotive experience.
Available to them is the latest in automotive design technology and equipment. Today, Brazilian designers can explore design concepts with great precision and the opportunity to perfect every surface from their own computers. This allows for a seamless evolution from concept and design to creation and manufacture with the highest quality levels.