DOH becomes Honda Malaysia Sdn Bhd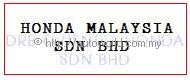 DRB-Oriental-Honda Sdn Bhd has issued a statement this afternoon confirming news reports that the company's name would be changed to Honda Malaysia Sdn Bhd.
The statement said shareholders' approval (the joint-venture company's three partners are Honda Motor, DRB-HICOM and Oriental Holdings) was given for the name change and coincides with its branding exercise, aiming to simplify its presentations in the Malaysian market and to promote stronger links with the Honda brand.
"This change in name brings the company more in line with the true nature of our brand identity for our products and services. Our new name is more synonymous with the products we sell, and is clearly related to our high quality offerings in this exciting industry", said Mitsuru Ozaki, Managing Director and Chief Executive Officer. "Honda Malaysia is not so lengthy as compared to DRB-Oriental-Honda Sdn Bhd and it's easier to pronounce and remember by the public", he added.
The new company's name is expected to position Honda Malaysia as a modern, aggressive and competitive automobile company that is part of the successful Honda Motor group of companies worldwide.
Honda Malaysia will relocate some of its divisions to the new head office at Pegoh, Melaka, where the company's factory is in the final stages of construction and will commence pilot runs by the end of the year.
The Sales and Marketing divisions will be relocated to the Sales & Marketing Office in Section 13, Petaling Jaya, Selangor, by end of September 2002.
On the issue of Honda buying over 2% of DRB-HICOM's stake in Honda Malaysia (the name-change is immediate) as to become the majority shareholder in the company, a development which was first reported by The Edge, insiders remain tight-lipped and will not confirm or deny anything. The move was said to have met with the approval of government authorities and conditional to Honda making Malaysia a manufacturing base for ASEAN.
The rumour is slightly flawed as Honda has already spent RM170 million on setting up a brand new factory which has enough installed capacity (and can be expanded as well) to cater for exports and when it becomes viable, the company would surely want to export. The only thing holding back exports is simply that Malaysia's delay in reducing import tariffs under AFTA till 2005 means that any exports from the factory to other ASEAN countries will not enjoy the 0 – 5% AFTA levels as Malaysia will not reciprocate for import from other ASEAN countries in as far as built-up vehicles are concerned.
As it is, Honda's 49% share in Honda Malaysia is substantial and the company does have quite a lot of influence in many areas. Another 2% to take majority stake would not make a significant difference other than in any thorny issues and from what AUTOWORLD.COM.MY understands, the working relationship between Honda Motor and DRB-HICOM is pretty good anyway.
However, taking the controlling position in the company will make a difference in Tokyo from the perspective of Honda's management. Honda Malaysia will be a subsidiary, a real member of the 'family', rather than an off-shore joint-venture. Its financial position would figure more prominently in Honda's books and where transfer of technology and development is concerned, Honda's management would probably be more positive because they know they are able to control the company's destiny to a greater extent.
That Honda may be keen to take over Honda Malaysia cannot be entirely ruled out since it seems to be the trend in ASEAN for many manufacturers to handle upstream activities and relegate their previous distributors to being dealers. This reflects the maturing of the markets and significance of the business today, as compared to a decade ago when the numbers did not justify more direct involvement.
Direct involvement is also needed because local distributors may not have sufficient motivation or financial resources to conduct marketing campaigns in the more competitive environment, especially in the AFTA era. As the manufacturers 'own' the brand, it is in their interest to protect and develop it as a long-term thing. This is where they will be willing to spend a lot more money on campaigns which their local distributor may not have been willing to do.
"We view such expenditures as necessary as they are for the protection and development of a brand we own," Lena Olving, Managing Director of Volvo Cars Malaysia (VCM) told AUTOWORLD.COM.MY. VCM is a wholly-owned subsidiary of Volvo Car Corporation which handles wholesale activities and is responsible for Volvo marketing programs as well.
To date, companies which have raised their equities in local joint-ventures to a significant level where they have more influence are Ford (49%), Toyota (49%), Daihatsu (51% in Perodua's manufacturing operation) and in January 2003, DaimlerChrysler will handle wholesale activities with its own company, with C&C Bintang doing only retail activities. BMW is also known to be discussing similar issues with Tractors Malaysia concerning distribution and retail activities in Malaysia.
Another reason why the manufacturers want greater control is to ensure that they can properly coordinate their activities in ASEAN. AFTA will see production of models being spread out in four different countries and being exchanged. Control of production and distribution in all the countries will be very important to make the exchanges work smoothly. If one country happens to have another party in control, some decisions required in the interest of the 'bigger picture' may not be agreed upon and put a 'spanner in the works'. By being in control, the manufacturers can make their plans on a regional scale which will ultimately provide more efficiency and economies of scale.