Auto Bavaria Introduces 'Take 3' Financing Plan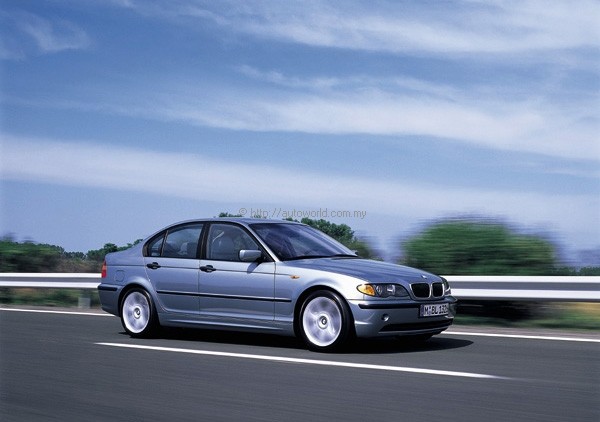 It seems like Auto Bavaria is determined to get more Malaysians to enjoy the BMW 3 Series and has been coming up with all sorts of financing plans that make it very hard for a customer to tell the salesperson 'cannot afford the instalment'!
Today, the company has announced yet another financing scheme which makes the new locally-assembled 318iA and 325iA affordable to own by combining staggered and 'balloon' payments. The package is known as the 'Take 3' Financing Plan.
How does it work? An example is a customer who chooses the new 2.0-litre four-cylinder 318i(A) with Valvetronic priced at RM218,091.63 (personal registration, excluding insurance). The monthly instalment for the first year for a RM165,000 loan over six years starts at RM2,002. Then the instalment increases progressively by RM200 year on year until the sixth year whereby a final or 72nd instalment of RM27,568 is payable. The customer can choose to pay off the lump sum or opt to refinance the amount.
Similarly, the monthly instalment for a RM200,000 six-year loan for the 2.5-litre 6-cylinder 325i(A) priced at RM265,087.38 (without insurance) starts at RM2,388 for the first year with a final lump sum of RM31,202 payable in the 72nd month.
The concept works on the premise that most people will have increases in their income as the years go by and will thus be able to afford to pay more in instalments. In this way, they can start owning a new BMW earlier, rather than wait many more years when they earn enough to meet the instalments.
The only catch is that, unlike traditional H-P financing, you do not actually own the car when you've paid the last instalment and in order to do so, you have to settle a lump sum of residual value. However, there is also an option in the 'Take 3′ plan to re-finance the car. Of course, by then, BMW will have come out with another highly desirable model and you probably will prefer to get a new one!
According to Auto Bavaria general manager for sales and marketing, Tunku Badlishah bin Tunku Annuar, the 'Take 3' financing plan combines 'winning elements from two previous plans'.
"We enjoyed tremendous response to our previous financing plans. This time round, we decided to make an even better proposition to the many BMW enthusiasts in Malaysia by combining key features of the previous financing plans. The best part is that this very attractive offer is for our latest 3 Series," he said.
While the staggered and balloon financing plan is aimed at making monthly repayments easier, customers of the new 3 Series can also opt for straightforward savings with a low interest loan from Auto Bavaria at just 3% per annum. This option enables those who purchase the new 318i(A) to enjoy interest savings in excess of RM10,000.
Auto Bavaria is embarking on an extensive promotion campaign for the 'Take 3' Financing Plan and will be having roadshows at its branches and dealers as well as major shopping centres nationwide.