The Three-Legged Test Driver at Volkswagen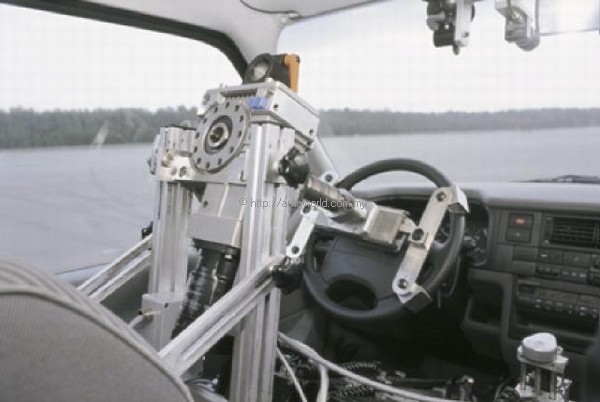 The VW Caravelle moves safely round the course, takes the sharp left and right corners in a slightly jerky fashion and comes to a stop with a rather abrupt application of the brakes. At the wheel is Robot Klaus, a rather special kind of driver and he isn't human. Robot Klaus is VW's humanoid driver and unlike the typical human driver, he has four arms: two to steer with, one to change gear and one to turn the ignition key. He also has three legs, one for each pedal.
This all sounds like a scene from a science fiction film but in fact it is an ambitious, highly impressive research project. For some years now, Volkswagen's electronics research group has been working on the "Autonomous Driving" project including, logically enough, the development of an autonomous electronic driver.
In conjunction with three of the institutes run by the Technical University in Braunschweig in Germany and the Bosch, Kasprich Ibeo and Witt companies in Lower Saxony, Volkswagen has succeeded in teaching Klaus how to drive.
The vehicles need a certain amount of other work too before the robot takes over the driving seat. A complex control and sensor system identifies the immediate surroundings and computes the desired direction of travel. Three laser scanners are bolted to the front and one to the rear of the vehicle, and a stereo camera and radar device help Klaus to stay on the straight and narrow path.
Thanks to a satellite navigation system and digital road maps, the car can follow a pre-determined route. To make the system completely reliable, the new driver has a virtual colleague accompanying him all the time: if Klaus begins to act in an implausible way, he can be overruled.
The project started because of a desire to improve testing conditions on VW's own proving ground. Klaus was dreamed up as a means of making the test results more consistent and reducing the human drivers' workload.
In the words of Dr. Martin Winterkorn, Volkswagen AG brand board member with responsibility for technical development: "On the toughest sections of our test track, the cars and their drivers have to put up with potholes the size of small craters, whole sections of cobbled road and salt water splashes."
Asked whether the purpose of developing the new robot was to relieve human beings of the task of driving their own cars, Dr. Winterkorn exhibited every sign of amusement: "We don't want to deprive our customers of the sheer thrill of driving a fine car. We simply to make their cars safer and more comfortable!" In practice, this amounts to developing driver assistance systems that will help drivers in future to avoid accidents.