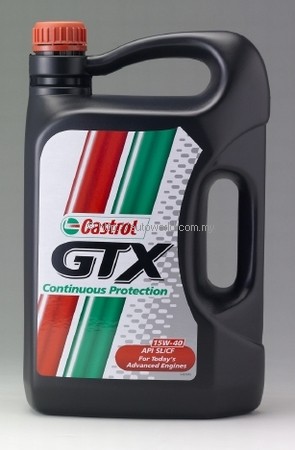 Automobile engines have to work harder and harder these days as traffic volumes rise in even small towns. More traffic on the roads means slower movement, usually lots of stop/start driving. Idling time also goes up and this all means that engine temperatures are very high much of the time.
Such conditions are 'hell' for an engine oil which not only has to protect parts in contact with each other but also effectively conduct heat out of the engine. Furthermore, it has to maintain its properties over thousands of kilometres without deteriorating due to heat and the enormous stresses inside the engine.
Oil technology constantly improves and the latest Castrol GTX is a good example of this. Fortified with a multifunctional additive booster called 'Synthetic Guard', the new Castrol GTX formulation is said to give even better and continuous round-the-clock protection to car engines in all driving conditions.
Though the mineral-based GTX product is familiar to many Malaysian motorists – and often a trusted product for decades – today's GTX is very different from the one your father may have used in the 1960s. The latest GTX meets API SL/CF service specifications, 'SL' being the highest at this time.
As in earlier generations of GTX, the oil is a multigrade old with a a15W/40 viscosity. It is specially formulated to give physical and chemical protection to the metal surfaces of the engine.
The new GTX is claimed to offers higher thermal stability, improved wear protection and strong metal surface wetting retention. A more evenly spread oil coat on metal surfaces of the engine protects against acids caused by condensation as well as keeps the engine surfaces free from rust. That's something that is very important on short journeys when the engine does not get hot enough to 'burn' off the water vapour inside and the moisture. mixes with the oil to form acid.
Synthetic Guard's anti-wear chemistry is able to resist heat without thinning or degradation of the oil, meaning it can cope with temperature extremes. Additionally, this additive's unique detergency and high dispersant properties makes sure deposits that result from start-stop driving conditions in traffic jams do not settle to form varnish inside the engine.
This new Castrol lubricant, launched last week, is recommended for use in all Malaysian, American, European, Japanese and Korean brands of passenger cars and is suitable for both petrol and diesel engines.
"We are very happy to launch this new Castrol GTX lubricant with Synthetic Guard today. Its formulation represents a breakthrough in lubrication technology because of the protection benefits it offers on two fronts – physical and chemical. We have no doubt this new product in our Castrol range will be well received by Malaysian motorists," said Mr Michael Miller, Area Director, South East Asia Lubricants.
The new Castrol GTX is available in 4-litre packs from Castrol stockists and retails nationwide at RM51.00(Peninsula and East Malaysia price).