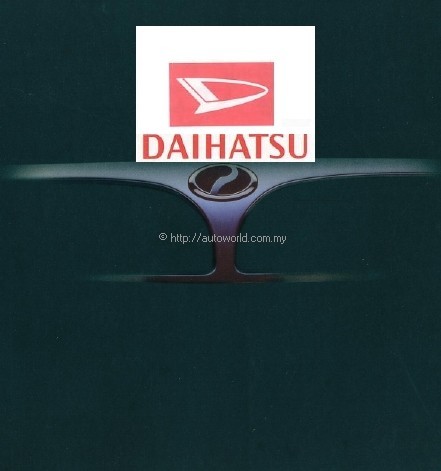 The long-awaited restructuring of Perodua was finally signed yesterday and as speculated for over a year, Daihatsu takes over control of the production side of the business.
Under the new corporate structure (subject to approval by relevant government agencies), Daihatsu Motor Company and its trading company, Mitsui & Co Ltd, will collectively hold a 51% stake in Perodua Auto Corporation Sdn Bhd (a newly-established entity) which, in turn, will have 51% equity in Perodua Manufacturing Sdn Bhd and Perodua Engine Manufacturing Sdn Bhd. Perodua Sdn Bhd, comprises mostly Malaysian investors, will have a 49% share in Perodua Auto Corporation (PAC). Daihatsu's investment in PAC is RM171.6 million for the 41% stake while Mitsui is investing RM41.9 million for its 10% stake.
While Daihatsu takes over management control of the manufacturing facilities, there will be no change in the status of Perodua's third wholly-owned subsidiary, Perodua Sales Sdn Bhd, which handles distribution, marketing, sales and after-sales. This means that Malaysian parties will still control the marketing and retail side of the business. This is said to enable Perodua products to retain their national car status and enjoy the current preferential duty structure.
In the original joint-venture, Perodua's equity structure had the following shareholders: UMW Corporation Sdn Bhd (38%), Daihatsu Motor (20%), MBM Resources Bhd (20%), PNB Equity Resources Sdn Bhd (10%), Mitsui (7%), and Daihatsu Malaysia Sdn Bhd (5%). This remains unchanged with the new developments.
Perodua's decision to let Daihatsu take control of the factory operations is said to have been proposed over a year ago and from one source, the offer took the Japanese by surprise. However, it was considered a 'win-win' situation for both companies which are making efforts to prepare for AFTA. For Perodua, the coming open market and the removal of protection pose a threat to its future and its best chances of survival in the post-AFTA era would be to tie up with an established global player. For Daihatsu, which is among the smaller Japanese automakers (though part of the giant Toyota Group), the move allows it to gain a production base in ASEAN. Daihatsu has a very strong chance of significant penetration in the lower end of the ASEAN markets because it will be the only company in the region to make minicars in the sub-1000 cc range.
According to a source who did not wish to be identified, allowing a foreign party to take over the national car company, albeit just its manufacturing side, is a 'test case' by the government to see what happens when control is in foreign hands. The Malaysian government, like those in many other countries which also limit foreign control of their strategic industries, worries that when foreigners are in control, national interests may be ignored. This may not necessarily be motivated by any desire to cause political problems but by 'cold-blooded' business approaches which don't consider social and economic implications.
In the case of Perodua, it is known that one of the issues discussed was the use of Malaysian companies for the supply of components. Perodua, being a national company and given benefits to help its growth, has given support to national policies and provided Malaysian autoparts makers with business. Daihatsu, like other automakers under pressure to reduce costs as much as possible to be competitive, would want to award contracts to suppliers which can meet its tough cost and quality criteria and some Malaysian suppliers may not be able to achieve this. Thus, Daihatsu could well choose to buy from suppliers outside Malaysia which can give it the prices and quality it demands.
From what AUTOWORLD.COM.MY understands, Perodua has obtained assurance from Daihatsu that the existing Malaysian suppliers will not be dropped right away if they cannot meet cost and quality requirements exactly. Daihatsu would be required to give sufficient consideration and assist these suppliers to improve their quality levels and bring down their costs. Of course, if the suppliers really prove unwilling to improve, then it is reasonable for Daihatsu to switch to other suppliers. The important thing is that the Malaysian companies be given a fair chance.
Such a request is probably not a difficult one for Daihatsu to agree to. Japanese automakers are well known for their supportive attitude towards suppliers and they even send their own engineers to help suppliers become more efficient. In fact, the Japan Automobile Manufacturers Association (JAMA), which Daihatsu belongs to, has a program to despatch engineers to various suppliers in ASEAN to offer technical advice on enhancing efficiency and reducing costs.
Furthermore, Daihatsu's parent company, Toyota, has announced a policy of having 100% localization of component supply from the countries where it has assembly plants. According to Kazuo Okamoto, a Managing Director of Toyota in charge of the Committee for Increased Localisation, there is a lot of evidence that deteriorating profits on its cars assembled outside Japan have been largely due to exchange rate fluctuations. As the strength of the yen has risen, the cost of importing parts from Japan has increased.
"The answer is to set up a localization framework that's unaffected by currency exchange rates," he explained. "It will also shorten the supply chain because the longer this is, the worse the effect on costs."
The restructuring of Perodua brings the national carmaker into a new era in which it will be more competitive and better prepared for AFTA. Volumes at the factory will rise since Daihatsu will now treat the Malaysian factory as its overseas production base and use it to make its own products, besides Perodua's. There will also be important investments in equipment and technology from the Japanese company since it will want to make its vehicles to the same sort of quality as those from its Japanese plants.
Daihatsu's majority stake in a Malaysian company is one of the few that has been approved by the government for the automotive industry. Another company with a similar majority equity is Volvo, which has 100% ownership of its assembly plant in Shah Alam, Selangor, as well as control of the sales company, Volvo Car Malaysia. However, the equity issue is subject to government review every five years.
Other global automakers which have substantial stakes of 49% in local companies include Ford Motor Company (in Ford Malaysia Sdn Bhd), Toyota Motor Corporation (in UMW Toyota Motor Sdn Bhd) and Honda Motor Company (in DRB-Oriental-Honda Sdn Bhd). Apart from wanting a stronger voice in how their business is conducted locally, most automakers want control of production facilities because they know that the key to competitiveness is in reducing costs. By being in charge of production, they would be willing to make the necessary investments and introduce advanced technologies that would otherwise not be available to Malaysia.
So ultimately, it can be a positive thing for the country to allow foreign companies to have management control.