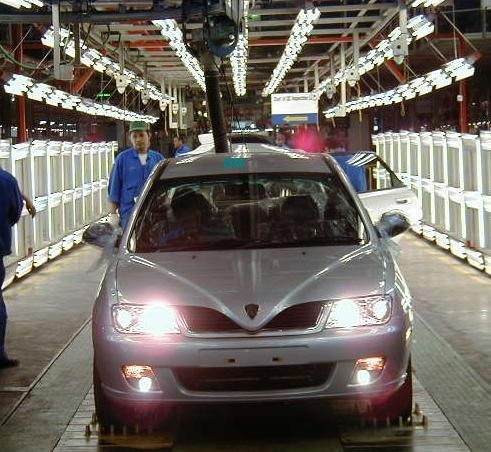 Back in the mid-1990s when Proton was considering the future, plans were made for a huge manufacturing complex at Tanjung Malim. This complex, called Proton City, would be a 'motor city' like Ford's Rouge plant in Detroit or VW's in Wolfsburg, Germany. Apart from Proton's factory, suppliers would also establish their facilities around it so that delivery times would be short. Its location next to the N-S Expressway was also strategic, providing an easy road link to the Klang Valley and Port Klang and all along the west coast.
However, when the economic crisis blew in during 1997, the plans were shelved due to the need to avoid heavy investments. Proton had large cash reserves but it was pertinent to allocate them to a more urgent project: the Waja. This project would eventually cost the company close to RM1 billion ringgit and was a crucial model for its long-term product plan.
Modular Assembly
In developing the Waja, a more advanced and efficient method of building the car was also chosen – modular assembly. This method is widely used by major manufacturers all over the world as it offers significant savings, speedier assembly and for the customers, higher quality. In the modular assembly process, major sections of the car are pre-assembled by suppliers away from the factory. This is different from the traditional method whereby thousands of little parts are sent by suppliers to the factory and the factory's own workers assemble sections such as the dashboard or suspension.
As the term indicates, the sections come as complete modules and reduce the number of parts handled by Proton workers on the line by 25%. For the Waja, there are at present 15 modules and these are:
1. Front bumper
2. Rear bumper
3. Cockpit
4. Left strut assembly
5. Right strut assembly
6. Left front corner module (brakes included)
7. Right front corner module (brakes included)
8. Left rear corner module (brakes included)
9. Right rear corner module (brakes included)
10. Pipe complete assembly
11. Door module
12. Exhaust system
13. Fuel tank
14. Absorbers
15. Crossmember assembly
However, in going for this obviously more efficient approach, Proton had a problem: the main factory which was built in 1985 was designed and laid out for traditional assembly methods.
continued on page 2