Oriental-Hyundai launches Elantra at RM89,000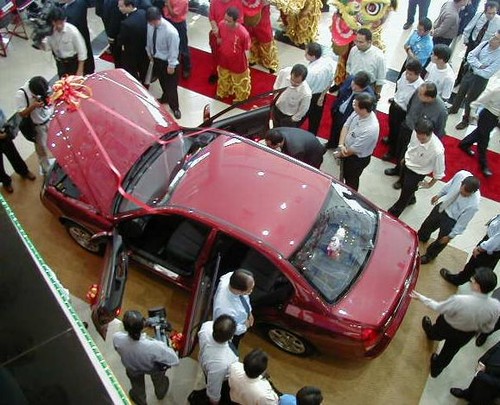 With its 33 years of experience in the car business, during which time it helped make Honda the top-selling passenger car brand in Malaysia, the Oriental Holdings group, through its subsidiary Oriental-Hyundai Sdn Bhd (OHSB), aims to penetrate the market with the new Hyundai Elantra with the same sort of determination. The new sedan, assembled locally at Oriental Assemblers in Johor, is priced below notable Japanese rivals such as the Nissan Sentra, Honda Civic and Toyota Corolla Altis but positioned smack in their territory.
The new Elantra, which has a 1.8-litre engine, is priced at RM89,887.50 (with insurance, subject to government approval), which is significantly lower than the three rivals. However, OHSB is confident that given its numerous features, consumers will consider it very good value for money.
"We are certain that many customers will be impressed by the features the Elantra has and yet they do not have to pay as much as the Japanese 1.8-litre models," said Lim Tiong Boon, Executive Director of OHSB. "And they will also find that Hyundai's designers have paid attention to the little details that make a difference in comfort and convenience."
For a car costing less than RM90,000 that is not a national make, the technical features of the Elantra are certainly impressive: 4-wheel disc brakes, driver's side airbag, ABS+EBD and even VDO instrumentation.
Mr Lim, who is also in charge of operations at the assembly plant, noted that the project to assemble the Elantra took just six months, which was extremely fast. "The Koreans were very enthusiastic about getting local assembly going as quickly as possible and provided a lot of assistance," he revealed, adding that the company had spent around RM7 million to establish a dedicated line for the Elantra.
Local content in the Elantra is expected to reach 40% eventually but in the future, OHSB is looking at exploiting the ASEAN Industrial Cooperation Scheme (AICO) to source components from other ASEAN countries. AICO allows exchanges of components between countries with no duty imposed but governments in countries concerned must approve of the exchange. Furthermore, when the components imported from another ASEAN country are used, they are considered as 'local content' in the country of assembly. However, the issue of local content being a mandatory requirement for Malaysian-assembled vehicles is to end on December 31st 2001.
The Malaysian assembly of the Elantra complements Hyundai's activities in Indonesia where it assembled the Atoz. Trajet and Accent. According to a company executive, the Korean company is planning to assemble some models in the Philippines and Thailand in the near future. OHSB will also be adding a second model, the 2.0-litre Sonata sedan, towards the end of the year, with a third one still undecided between the Trajet and the new Matrix.
On sales and after-sales support to customers, OHSB Managing Director/CEO Dato' Robert Wong said that there are 40 sales outlets, 35 service centres and 50 parts outlets around the country. These are made up of both OHSB's Kah Bintang branches which have been set up to retail Hyundais as well as Hyumal branches and dealers. Hyumal, a unit of the Berjaya Group, is Oriental's partner in OHSB.
In as far as the product distribution is concerned, OHSB will focus on the locally-assembled models but will also offer imported models such as the Trajet, Santa Fe SUV and Atoz. Hyumal will concentrate on the imported models and sell some locally-assembled cars. Additionally, OHSB has been appointed a dealer for Inokom vehicles (some Inokom light commercial vehicles are based on Hyundai models).