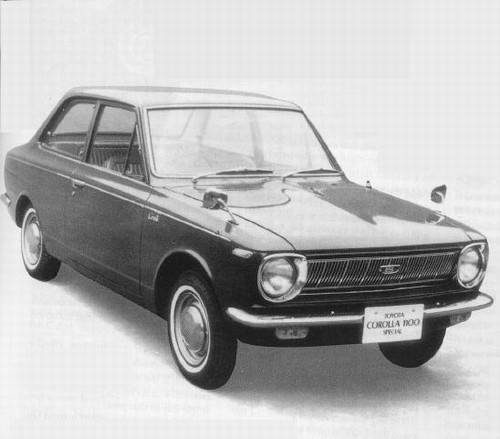 With over 28 million produced (as at the end of 2000), the Toyota Corolla is undoubtedly a 'world car' although some may argue that, unlike Ford's Model T and VW's Beetle – also 'world cars' – the Corolla has not remained in its original form which first appeared in 1966. That's true but the unchanged designs of the Ford and VW also brought on their demise, while Toyota chose to keep its most popular model up to date.
The Corolla has been sold in over 150 countries and assembled in many. Through a joint-venture with General Motors, it is also manufactured in California for the US market and GM has been selling a variant of the Corolla under its own brand since the mid-1980s.
This world best-seller was born in October 1966 when the pace of motorization and private ownership of cars was accelerating in Japan. Although it may appear that the Corolla rode this wave of motorization, Eiji Toyoda, a former Chairman of Toyota Motor Corporation, thinks it was really the other way round.
"We worked to create popular demand with the Corolla. In retrospect, had motorization not caught on, we would have been stuck with surplus facilities because we had built an engine plant as well as an assembly plant specially for Corolla production," he recalls.
Each generation of the Corolla was designed taking into consideration the needs of motorists during that period. But for every Chief Engineer given the project over the years, two basic points had to be adhered to: "Corolla must be loved and appreciated by people the world over and it must continue setting new standards for automotive development".
The First Generation (KE10)
The first Corolla went on sale in November 1966 and it offered high performance and quality, while being sufficiently low in price and maintenance costs to be affordable to drivers of small cars.
Tatsuo Hasegawa, the Chief Engineer for the first Corolla, recalls the objectives his team set out to meet: "It was aimed at the general user, and had to be a comfortable car which its owners would be proud of. We wanted it to be the type of automobile that people would want to continue driving for a long time."
In line with the development concept, the Corolla had a dynamic and elegant appearance. Curved glass was used to create more interior space and for sporty performance, a 4-speed manual transmission was fitted. A brand new K-series 4-cylinder 50 bhp 1100 cc engine was specially developed. This extra 100 cc was significant as other cars in the class had only 1000 cc then. The Deluxe export model had what were then 'unprecedented luxuries' – radio, electric aerial, cigarette lighter, hub caps and reclining seats.
Almost as soon as the Corolla started selling in Japan, plans for selling the new car in other countries were formulated. The first shipment went to Australia and within two years, 3,000 Corollas were being exported worldwide every month. Even in its 'youth,' the Corolla was aimed at distant horizons.
The Second Generation (KE20)
1,171,384 Corollas had been produced by the time the second generation appeared in Japan in May 1970. It was longer, wider and lower, with more safety features. Comfort and handling were improved and made long-distance driving more enjoyable. Besides 2-door and 4-door sedans, the range expanded to include a station-wagon and a sleek (for that time) coupe. After a facelift in late 1971, the variety of models increased to 48 – perhaps the widest selection in its class then.
Exports of this generation in 1971 nearly doubled those of 1970 with 259,399 units being sold overseas. This made the model not only Toyota's top export but also Japan's. Total production of this generation was 3,212,877 units.
The Chief Engineer for the second generation, Shiro Sasaki, remembers that the Corolla was expected to do well. But he admits that no one expected such gigantic figures so quickly. "The basic philosophy behind the Corolla proved itself valid with the overwhelming popularity worldwide," he remembers.
During the second generation of the Corolla, a high-performance model known as the Corolla Levin (taken from the Spanish word for 'lightning') was added. This particular Corolla had a powerful 115-bhp twincam 1600 cc engine which very quickly set new standards of performance for sportscar engines. In fact, long before Japanese cars began making an impact on European rallies, a Corolla Levin driven by Hannu Mikkola won the 1000 Lakes Rally in Finland in 1975.
The Third Generation (KE30)
Older readers will remember the third generation which had the advertising jingle that went "C-O-R-O-L-L-A… Corolla, our favourite car today!". This generation, of which nearly 4.5 million were produced, was born into a somewhat serious global environment in April 1974. The energy crisis had caused automobile sales to drop and economies stagnated. But, fortunately, the Corolla's design and performance were totally 'in tune' with those difficult times. It always had good fuel economy, was light and yet offered enough space for Caucasian adults.
Shiro Sasaki, who also headed the third generation project team, was happy that the third generation was praised for its stylishness as well as for its relatively large interior. It was very successful because it was a car that met the demands of the buyers. In fact, in 1975, while European and American manufacturers experienced massive drops in sales due to their unpopular fuel-guzzling models with big engines, Corolla demand grew substantially and a phenomenal 2,074 units were produced every single day of that year.
A Liftback variant joined the Corolla family during the third generation. This was developed after Toyota's research saw a growth in the recreational vehicle market. The Liftback was introduced in anticipation of this trend and met enthusiastic response in North America.
One of the most endearing qualities of the Corolla has been its reliability and durability. As far back as 1978, an independent West German organisation reported that, in their survey of four European cars and one Japanese car (a Corolla KE30), the Japanese car came out tops in every category. Furthermore, an impressive 97% of Corolla owners expressed complete satisfaction with their cars.
The Fourth Generation (KE70)
Maintaining the Corolla as a global best-seller was the great challenge which faced Fumio Agetsuma, the Chief Engineer for the fourth generation which arrived in May 1979. His comment on that awesome responsibility: "The world was waiting for a model change and it was a change that had to be planned and executed in unsettled times, and under less than ideal market conditions. The task was frightening, to say the least."
To ensure that the new Corolla would be just as popular as its 8.8 million predecessors, Agetsuma studied all the market surveys thoroughly and decided that a totally new approach was needed because the spectrum of customers had widened and higher quality was demanded, even of small cars.
Extensive testing was done overseas and even in safety tests, nothing was compromised: over 100 prototypes ended up as scrap metal. Exhaustive wind tunnel tests were carried out at a time when many other manufacturers had not examined that aspect of design.
What emerged was another successful design, with squarish but stylish looks that the 1980s consumers liked. It also had robust engineering and a new level of ride comfort and handling. Higher quality was evident throughout and there were much higher standards of safety too. Coil springs replaced the rear leafsprings for the first time, improving comfort.
This generation, introduced in Malaysia in late 1979 as the "Legend Reborn", ran until early 1984, by which time 12.3 million Corollas had been produced after 17 years. In 1980, Corolla production averaged 2,346 units daily – the highest production volume for the model in its history. Like the KE-30, this generation also had bodystyle variants with a very attractive liftback.