Land Rover Malaysia Sets Up Website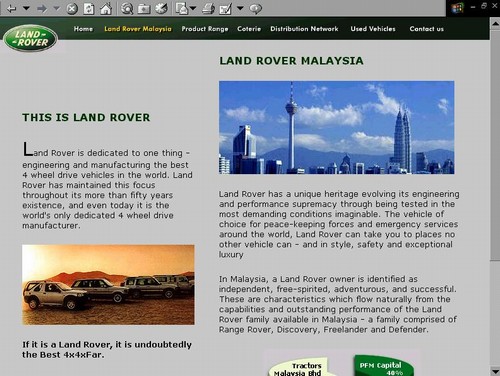 Recognising that more Malaysians are turning to the Internet's World-Wide Web (WWW) to obtain information, Land Rover Malaysia (LRM) has established a local website (www.landrovermalaysia.com.my) for the purpose. Officially activated yesterday, the website provides corporate information on the company, which has been distributing Land Rovers since the late 1980s as well as details and prices of each of the models it sells – Defender, Freelander, Discovery and Range Rover.
In conjunction with the website launch, the company is also running a contest which invites Malaysians to 'rediscover the Discovery' and win a new Discovery Td5. The contest will be run over 8 weeks (until September 28th 2001) and requires participants to test-drive the Discovery Td5. They will then get an entry form which has questions on eight adventure locations in Malaysia. To assist participants, clues on the locations will be published each week in daily newspapers and on the website.
If you remember, the Discovery II was launched a couple of years ago and Malaysia was the first country – and still the only one – to assemble this model outside the UK. At the time of its launch, the Discovery Td5 was priced at RM219,000, a level which was regarded as 'very expensive' at that time, especially as the country was still struggling through the economic recession. However, the Discovery Td5 was among the models which arrived at a time when the ringgit had depreciated and its price reflected the new exchange rate. A year later, prices for Toyota's new Land Cruiser Prado and the Isuzu Bighorn also jumped to the RM200,000 level.
With the sudden departure of Land Rover from the BMW Group last year, there was a disruption in marketing activities in Malaysia and this slowed Discovery sales to a trickle. In fact, it is now known that supplies of the Discovery to Malaysia were stopped momentarily just before its principal was bought over by the Ford Group and as a result, LRM didn't have any units available till recently.
"We had planned to sell at least 2,500 units over about five years but because of this disruption of supply of CKD packs for over 12 months, we only managed to sell 150 units to date," revealed Ali Shuib, LRM's Managing Director.
He said that when supplies resumed, it was found the AMI, which was assembling the model previously, had capacity problems. With a number of new models introduced by Ford in the past 12 months, assembly of the Discovery was going to be difficult. This led to transferring assembly to Swedish Motor Assemblies (SMA), also in Shah Alam, Selangor.
Moving to SMA still keeps the assembly activity 'within the family' because SMA is owned by Volvo and the Swedish automaker is part of Ford Motor Company, just like Land Rover. The two companies are in Ford's Premier Automotive Group (PAG) which includes Lincoln, Jaguar and Aston Martin. SMA is the oldest assembly plant in Malaysia and has also assembled some other makes (Daihatsu, Suzuki and in earlier years, Alfa Romeo) under contract.
"The Discovery now going into LRM showrooms is the first fruit of our PAG relationship in Asia," said Simon Rock, Regional Director for Land Rover Asia. Mr Rock said that Land Rover would be striving to collaborate and find synergies with other members of PAG as time goes on.
He also said it was possible that the company would make use of the ASEAN Industrial Cooperation Scheme (AICO) to exchange bodyshells with Thailand, similar to what Volvo now does with the V40/S40 and V70/S80/S60 bodies. AICO allows for this exchange to occur as a duty-free arrangement between two ASEAN countries, allowing manufacturers to rationalise production for economies of scale.
"With Freelander V6 production to commence in November this year in Thailand at a Volvo-owned plant, we think that there could be a similar AICO arrangement to exchange Freelander bodies with the Discovery bodies from Malaysia," he said, emphasising that nothing has been confirmed yet and that Land Rover wants to have Freelander production underway and then get the parties interested.
"Volvo has obviously much experience in using the AICO scheme and as PAG partners, we can easily turn to them if we want to do the same thing in future," he said.
The latest Discovery Td5, which has a turbodiesel engine, is visually unchanged from that which was launched in October 1999 and even the price is unchanged after 22 months. However, Mr Rock said that Land Rover has a policy of continuously working on detail improvements on all its vehicles and while these improvements may not be apparent to the eye, there have been little changes here and there since 1999. It remains a technological leader in its class with features such as Hill Descent Control, Active Cornering Enhancement and Electronic Traction Control.