Toyota's New Fuel Cell Hybrid Vehicle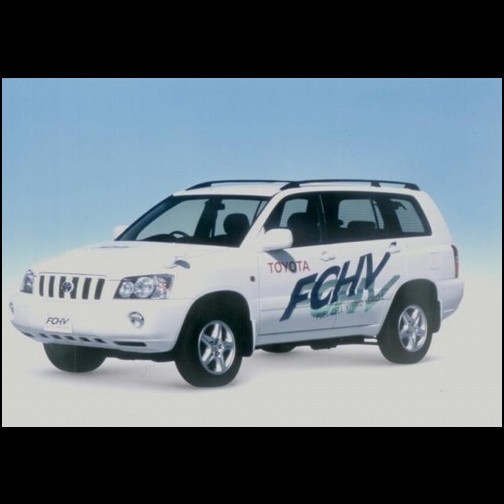 Toyota Motor Corporation today revealed a new fuel cell hybrid vehicle (FCHV) – the FCHV-3 – at the International Symposium on Fuel Cell Vehicles in Tokyo, Japan. This is the latest prototype in the company's development of fuel-cell-powered vehicles which began in 1992. In 1996, Toyota demonstrated a FCHV that stores hydrogen in a hydrogen-absorbing alloy tank, and in 1997, it unveiled the world's first FCHV featuring a methanol reformer for the on-board creation of hydrogen.
In parallel with these efforts, Toyota has initiated research on a wide range of fuel sources such as petrol, natural gas and liquid hydrogen, as well as development of components for use with such types of fuel. In January this year, it announced a plan for the development of clean hydrocarbon fuel (CHF), an evolved form of petrol.
Although these varied approaches open up several possibilities for fuel selection, Toyota researchers believe that, in terms of cleanliness and efficiency, fuel-cell vehicles that directly employ pure hydrogen will become a mainstay in the future. With the aim of bringing just such vehicles one step closer to reality, Toyota has developed the FCHV-3 as a new type of FCHV.
The FCHV-3 features a hydrogen-absorbing alloy tank and – in acknowledging recent calls for cuts in CO2 emissions among SUVs – a body based on the new Kluger V model, as well as a highly-efficient 90 kW fuel cell stack and other unique FCHV systems developed by the company.
Furthermore, the FCHV-3 has a secondary battery for storing energy created during braking and other features that ensure high-efficiency driving, such as precise control of the charge and discharge of the secondary battery and of supplementary power supply from that battery to the motor.
Toyota is fully committed to the development of FCHVs and intends to begin road tests from the middle of this year.
Specifications of FCHV-3
Overall length: 4685 mm
Overall width: 1825 mm
Overall height: 1720 mm
Claimed maximum speed: Over 150 km/h
Claimed cruising distance: Over 300 kms
Fuel cell stack Type: Polymer electrolyte fuel cell
Output: 90 kW
Motor Type: Synchronized permanent magnet
Maximum output: 80 kW
Maximum torque: 260 Nm
Fuel Type: Pure hydrogen
Storing method: Hydrogen-absorbing alloy tank
Secondary battery type: Nickel-metal hydride battery