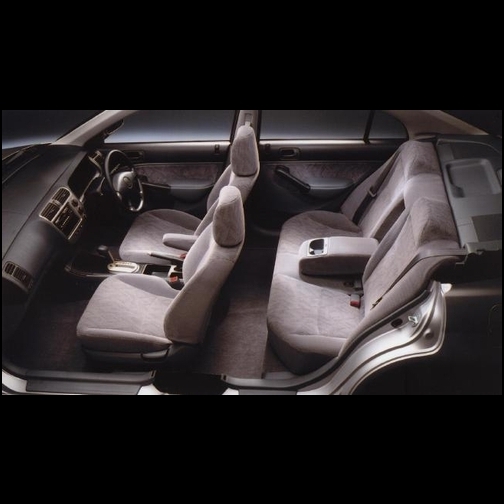 A lot of thought went into interior packaging to give the maximum possible space within the compact body. Most significant is the completely flat floor – there is absolutely no bulge in the floor behind the front seats – which has been possible due to the positioning of the suspension components. Because of the increased spaciousness, larger seats can be provided and these have a fatigue-reducing foam content. The grips for the backrests have also been repositioned 20 mm higher than the previous model and made from hard urethane foam for easier gripping. The driver's seat is adjustable for height by rotating a knob on the side. For extra comfort, the driver's seat now has a retractable armrest attached to the backrest.
The dashboard is surprisingly clean and like previous Civics, it is set low to increase forward vision. A depression on the passenger's side of the dashboard can serve as a tray although it is not recommended while there is a deep glovebox for storage. The centre console, with a metallic finish, houses the audio system and ventilation/a.c. controls (rotary dials).
The shift lever and shifter panel stand out with the shifter having a champagne colour. The operation has been optimised for a straight-through action for ease of selection and to make selection easier, there is a position indicator set into the tachometer face. Ahead of the shifter is a space which can hold two cups or two 500ml water bottles. When not needed, the space can be covered up. A nice touch is a slot by the side of the centre console which will come in handy for keeping parking tickets or the electronic toll card. The only thing that seems odd in terms of styling is the handbrake lever; rather thin and ordinary, it somehow seems out of place…
Over on the driver's side, the instrument panel is quite conventional with a large speedometer and tachometer. A LCD panel provides information on the mileage travelled, cumulative and trip.
Accommodation at the rear is generous with the flat floor and high ceiling. For extra comfort, there is a retractable centre armrest with built-in cupholders. Additional stowage space is also available behind the front seat backrests.
A significant improvement is found in the boot capacity which has been increased by 5% to 402 litres. This is a surprisingly large volume for a car that measures 1.72 metres in width and 4.43 metres in length. After enlarging the boot volume, the designers also made sure that it would be easy enough to load more luggage by increasing the size of the opening.