Perodua Eco-Challenge 2013 kicks off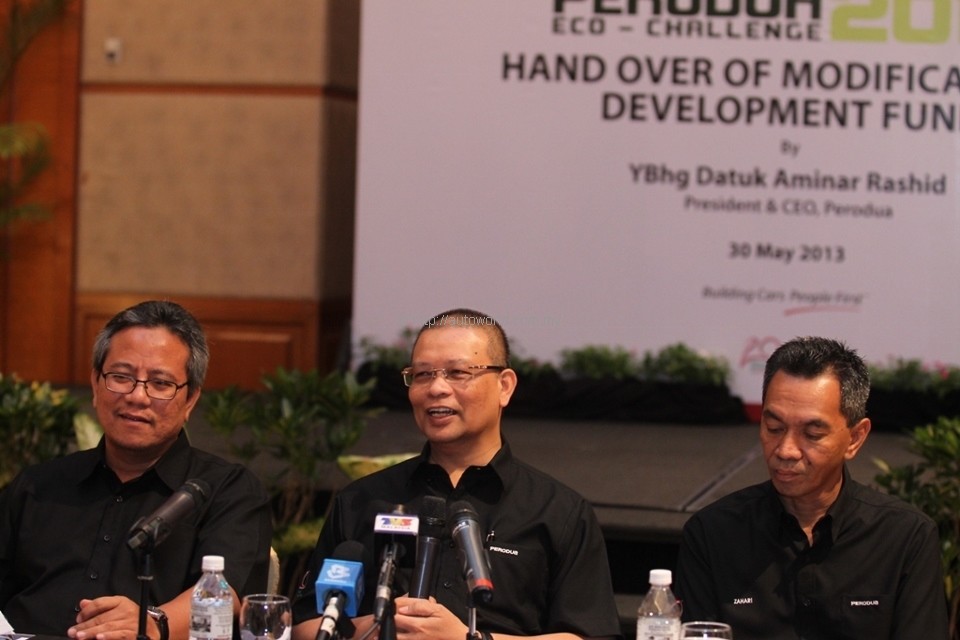 The annual Perodua Eco-Challenge returns for its fifth successive year to give students from the ten participating institutions of higher learning the opportunity to test their abilities in the field of automotive engineering and also marketing to the limits.
To ensure that the competition remains challenging, Perodua makes constant changes to the rules and parameters with each edition to give students something extra to think about every year. This year, each participating institution is given a fully built-up Perodua Myvi where the challenge is not just to make it more efficient, but also to redesign and rebuilt the vehicle's upper body to a totally different look by December.
"This year, the institutions not only have to make the car more fuel efficient, but they also have to improve on its design to suit the needs and lifestyle of the Malaysian public," said Datuk Aminar Rashid Salleh, President and CEO of Perodua.
Unlike previous Eco-Challenges, the institutions this time round are tasked to come up with vehicles that are usable day-to-day, which means no stripped down interiors. In fact, the vehicles must have functional cabins with proper seats and a working dashboard. It has been suggested that the vehicles will be mandated to run during the Eco-Challenge with their air-conditioning active and there is talk that teams will be allowed to station observers in each other's cars as well.
In terms of engineering work, teams are naturally allowed to tinker with the vehicle's engine and drive train, but changes that compromise the vehicle's structural integrity and safety are prohibited. They are also allowed to fabricate new body panels to carry the new styling of their vehicles.
"To make things more interesting, each team must have the Perodua name in their finished product; such as the Perodua Dreadnought or the Perodua Flash – for example," Aminar added.
As before, the teams will compete against each other in the Eco-Challenge on a variety of categories in addition to the usual fuel economy Long Distance challenge. Other prizes up for grabs in this year's Eco-Challenge include Engineering, Time Attack, Marketing Challenge, Styling, and The Overall Champion, which is the team that scored the highest after scoring in all aspects are tallied.
"In conjunction with our 20th Anniversary this year, Perodua will be making the Eco-Challenge a bit more interesting with an increase of the total prize money by 23% to RM127,000 from RM103,000 given last year," Aminar declared.
Representatives from the ten participating universities were gathered yesterday at The Royale Chulan Hotel in Kuala Lumpur where they were not only brief on the rules and regulations of this year's Eco-Challenge, but also given grants totaling RM20,000 for each university to help fund their engineering (RM15,000) and marketing (RM5,000) activities laid out for them. Teams are free to bolster their respective budgets at their own expense.
The ten participating universities in this year's Perodua Eco-Challenge are Universiti Selangor, Universiti Teknologi Petronas, Universiti Teknikal Malaysia Melaka, Universiti Malaysia Pahang, Universiti Teknologi MARA, Universiti Teknologi Malaysia, Universiti Malaysia Perlis, Universiti Kebangsaan Malaysia, and Politeknik Ungku Omar.
Perodua has yet to announce the venue of this year's Eco-Challenge, but it is understood that the company is planning a change of venue after three successive years of using the MIMC Go-Kart track in Malacca.