Mitsubishi Triton VGT Test Drive Review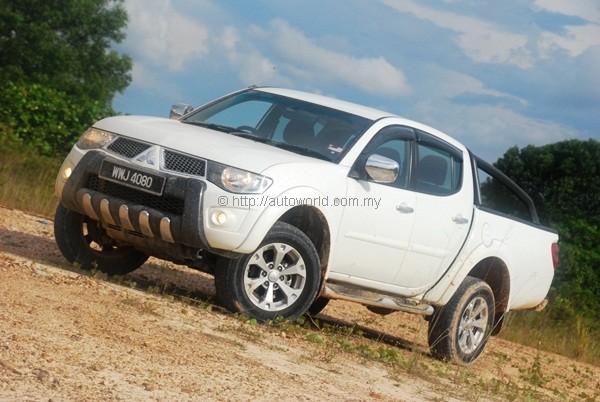 Mitsubishi launched the Triton VGT earlier this year in March, and when we tested it in Kuching, it was before the market was stormed by the Ford Ranger and Chevrolet Colorado, the two newest comers to the pick-up market and naturally the ones boasting the most toys and also featuring dynamics and refinement levels to define the next generation of trucks coming to the market.
Launched in 2006, the Triton now ranks as an elder statesmen in the pick-up market. Yet, with no ready replacement in sight, the Triton is all Mitsubishi has to fend off Ford and Chevy's shiny new pick-ups, not to mention Toyota's newly uprated Hilux VNT. With no new model available, the next best thing to have is to dig deeper into the parts bin to incorporate more features or better still, mechanical upgrades.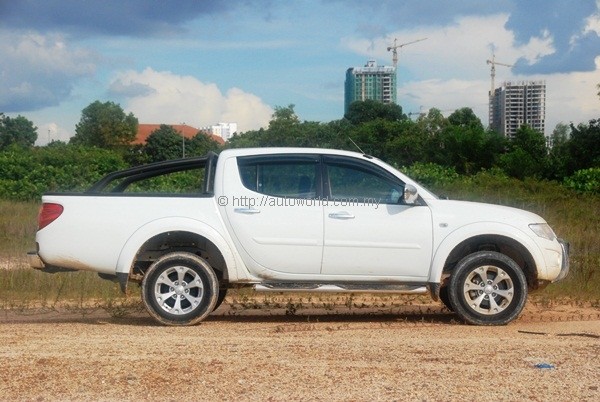 Extended bed gives the Triton a slightly undertyred appearance from the side.

The 2.5-litre Variable Geometry Turbo engine of the VGT is not exactly new, but rather an enhanced version of the existing turbodiesel that powers standard versions of the Triton. Difference of this new engine, as its name suggests, lies in its more advanced turbocharger, which varies the angle of its vanes to allow boost to be applied over a wider range of revs, thus improving response and reducing lag.
On paper results are impressive, as the VGT not only outperforms the standard 134hp/314Nm 2.5-litre engine which continues on sale, but the 158hp/343Nm 3.2-litre as well, which the VGT now replaces. Amongst 2.5-litre engines, the VGT's maximum power of 176hp is unsurpassed; maximum torque of 350Nm, however, is not class-leading, but it is spread usefully wide across the rev range from 1,800 to 3,500rpm. The automatic transmission gains a ratio to make it 5 speeds in total. Manual is not offered.


With the existing 2.5-litre versions remaining on sale, the VGT is now the flagship variant of the Triton, being priced a shade under RM106k with insurance. Equipment levels that were once class-leading have become unspectacular in the face of new rivals, but useful items in the kit count include dual frontal airbags, immobilizer, auto climate control, and all-round parking sensors.
The multi-mode centre info display (or RV meter as Mitsubishi calls it) is nevertheless unique in today's market and it displays all the usual fuel consumption info in addition to having a compass, barometer, and altimeter. Beneath it is a single-DIN Kenwood head unit with USB and Bluetooth connectivity that has a notably aftermarket appearance, although audiophiles will probably appreciate the convenience of being able to select from a wide range of mass market audio upgrading options.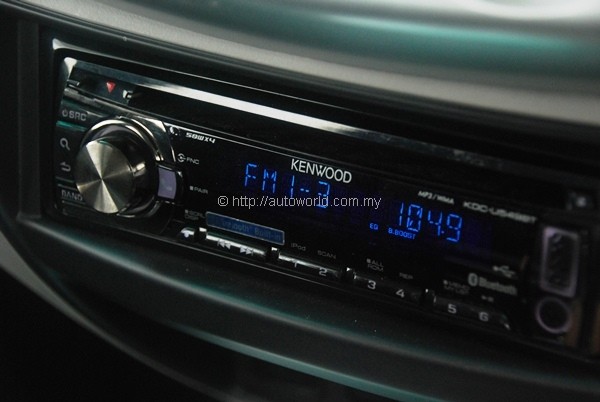 Kenwood 1-DIN stereo looks aftermarket.

Perhaps the most likeable aspect of the Triton's range of talents is its driving experience, which still holds up to very close scrutiny even by the latest trucks. Refinement is top notch, ride comfort is superb, and overall dynamics is impressive – you can scarcely believe that this truck is supposedly one generation down on the competition.
Although part-time 4WD systems are only meant to be engaged off-road, it is generally advisable to route your traction to all fours on your pick-up in heavy rain. Most pick-ups start to feel edgy on wet roads, but the Triton gives you enough confidence to soldier on in 2H without needing to flick through its Easy Select 4WD lever. Chassis composure is excellent, and it actually takes very deliberate effort to unsettle its rear and get the tail out.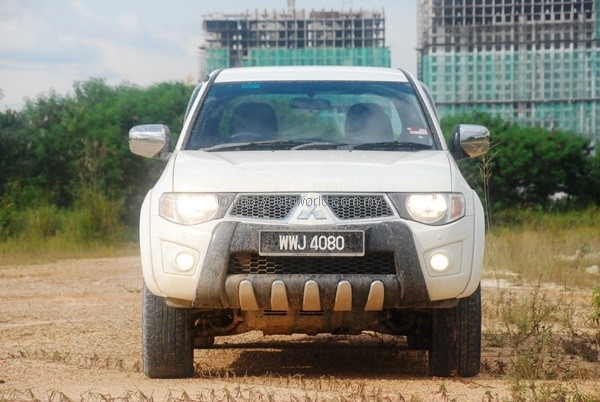 Triton does not have the angular macho look of most pick-ups.

It is very unusual for us to feature a pick-up review focusing so much on driving dynamics, but the Triton is that good, and what's amazing is that we are not even done extolling its virtues in that area. It is very stable at high speeds – we pushed it up to 160kph without problems, although I recall one particular encounter on a highway sometime back when I needed 180kph just to put some distance between me and a speeding Triton barreling down my rear end.
With a well-sorted chassis, the VGT engine's improved outputs can indeed be fully exploited with great confidence. There is actually still some lag in response before the peak torque plateau that starts at 1,800rpm, but once past that point, progress is serene all the way up the tacho with power delivery after this point seemingly relentless. The Triton will comfortably outrun many passenger cars, and unlike the case in most pick-ups, high-speed driving is not a nervous experience; the chassis showing no obvious vices.
If there are good reasons to recommend purchasing the Triton (in any guise) in the face of new competitors, its impressive refinement and road manners would top the list. It is amazing to think that Mitsubishi had already got the set up spot on years ago, and that the Triton, now suitably uprated with more power, can still hold its own against the best that the market has to offer.