Naza launches Vespa showroom and Piaggio Liberty 150cc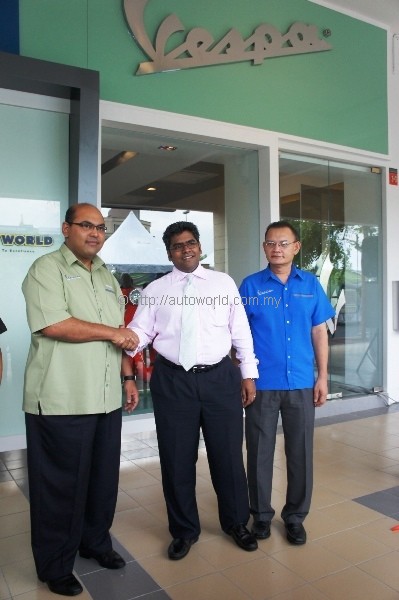 Having just launched a new Aprilia flagship showroom a couple of weeks back at Kampung Baru, brand custodians of the Piaggio Group, Naza Premira has just opened its first sales showroom for Vespa Scooters in Malaysia based in Kota Damansara.
Built at a cost of almost RM400,000, this new showroom will pave the way to the opening of a further three showrooms and the granting of additional support its dealers, estimated to cost an extra RM 2 million. By the middle of next year, Naza Premira is targeting to create a network of 30 – 40 dealers nationwide.
A range of Vespa products will be offered at the showroom including Vespa's most popular model – the Vespa LX150cc. In addition to that, larger capacity of the vintage Vespa GTV250 and the sports Vespa GTS 300 will also be available. The showroom will also showcase a range of accessories and other Vespa lifestyle items. Sales of Vespa scooters started in December 2010 after its official launch at the Kuala Lumpur International Motor Show 2010.
"I am very excited with the re-introduction of the Vespa brand in Malaysia. NAZA is proud to represent Vespa and we look forward to re-establishing this classic premium brand in the Malaysian market. In order to do that, we have begun developing nationwide dealerships and service networks to make the brand more visible as well as to offer support to our customers," said Naza Group of Companies Joint Group Chairman Datuk Wira Hj SM Faisal Tan Sri SM Nasimuddin.
"Our aim is to make Vespa as the best seller for premium scooter. Up till June 2011 we have already sold 400 units of Vespa and on target to sell between 800 and 1000 units before the end of the year," Datuk Wira Hj SM Faisal added.
At the Vespa showroom launch, Naza Premira also unveiled the Piaggio Liberty 150 cc, which comes equipped with 15 inch tyres and a 7-liter tank. The Liberty 150 cc is a mass market scooter aimed to attract riders from all ages. It will be available for sale from September 2011 onwards with an estimated price not exceeding RM10,000.
Pictures: Official Naza Premira release.