Modenas rolls out CTric electric motorcycle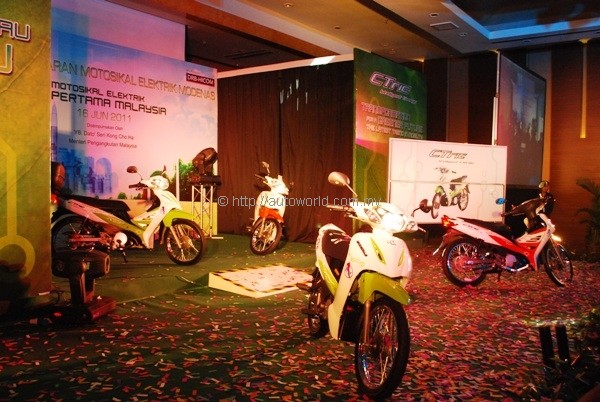 Motosikal dan Enjin Nasional Sdn Bhd (Modenas) today launched the country's first electric motorcycle to be type-approved by the Road Transport Department (JPJ). Based on the CT series mopeds currently on sale, the new model is dubbed the CTric, and has received SIRIM MS2413 and Japan Industrial Standard (JIS) approval as well.
In place of the usual single-cylinder four-stroke engines powering the CT100 and CT110 is a waterproof brushless DC motor with a rated power of 1.0kW (1.3hp), although it is capable of generating as much as 3.6kW (4.8hp) at its top speed of 70kph. It is equipped with features such as High Speed Axle Bearing, Honeywell Hall Sensor and Brakeless Rotor. The motor's control unit has a Programmed Torque Synchroniser, Overload Protection System, and Smooth Digitized Power Switching.
Power to the motor comes from a set of five 12V/20AH lead-acid batteries. The batteries are 100% recyclable, and is able to last for 500 charge cycles. At the end of its life, Modenas has a buy-back scheme that allows customers to swap in a new set of batteries at the cost of RM800 per set. At average speeds of 30kph, a full charge will give the CTric a cruising range of about 60km.
The batteries are charged without being removed from the motorcycle and Modenas provides a smart charger that allows the battery to charged on either a 3.5-hour fast-charge cycle, or an 8-hour normal-charge cycle. Unless you're in a hurry, the 8-hour cycle is recommended for normal usage. The charger is portable, but buyers can opt for a specially-designed rear-mounted box (RM300) that permanently attaches it to the motorcycle.
Available in two colours – green and orange – the Modenas CTric is offered to the public at a price of RM4,888 inclusive of road tax and insurance.
In terms of legislation, electric bikes will now be classified together with existing petrol engine bikes. To fit these bikes into our engine capacity-based classifications, JPJ will use a simple formula based on the bike's motor power and group them with other motorcycles of similar power rating. This allows JPJ to not only calculate the road tax payable by these bikes, but also for the purposes of riders deciding if their motorcycle licenses are suitable for the said bike.