B5 Biodiesel available at all Putrajaya fuel stations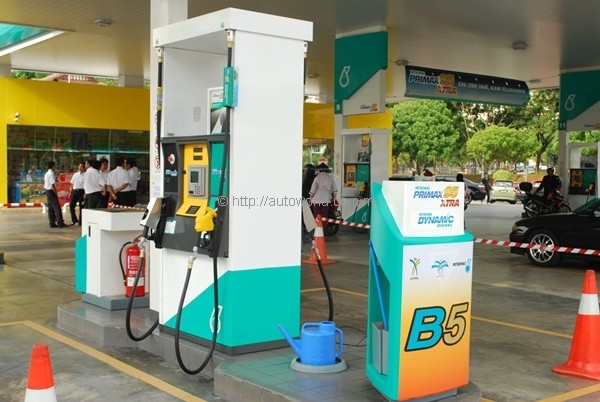 Motorists filling up their vehicles with diesel in Putrajaya should take note that from now on, regardless of the station they visit, they will be pumping the B5 blend of palm oil-based biodiesel into their tanks. The move is inline with the National Biofuel Policy 2006 which will see the gradual implementation of B5 biodiesel nationwide.
The Central Region implementation of the B5 programme will continue in stages with Malacca the next stop in 1 July 2011. By 1 October 2011, implementation will have stretched to encompass fuel stations Negri Sembilan, Kuala Lumpur and Selangor. The necessary infrastructures are in place with Petronas Dagangan Bhd, Shell Malaysia Trading Sdn Bhd, Esso Malaysia Bhd, Chevron Malaysia Ltd, and Boustead Petroleum Marketing Sdn Bhd operating blending facilities in seven depots between them.
The B5 blend biodiesel consists of 5% palm oil biodiesel and 95% petroleum diesel. Initial implementation of B5 usage will only cover land transport, but by 1 November 2011, the usage of B5 will extend to industries and deep-sea fishing. Further announcements will be made in the future regarding the programme's implementation in other parts of the country.
Important points for the consumer to note is that although the processing of biodiesel is costlier than that of normal diesel, that cost will for now be absorbed by the Government. The price for B5 biodiesel shall remain unchanged from the current RM1.80/litre value. Processing of biodiesel is also independent of sulphur content of the petroleum diesel component, so if and when we migrate to Euro 4M fuel, the existing facilities will be able to continue producing Euro 4M-complaint B5 biodiesel.
In a related development, BMW Group Malaysia today announced that their line-up of Advanced Diesel models are suitable for use with B5 biodiesel so long as it remains compliant with the MS2008:2008 Malaysian standard, which is based on the international EN14214: 2003 standard. The company also explicitly stated that use of B5 biodiesel in their cars will not jeopardize their warranties.
No other carmaker has stepped forward to issue this reassurance to their customers, but the assertions of Datuk Seri Utama Shahrir Abdul Samad, Chairman of the Malaysian Palm Oil Board (MPOB) is that if BMW sees it fit for their cars to use B5 biodiesel, there are no reasons why other carmakers shouldn't.