Hyundai i10 1.25 – Small doses of fun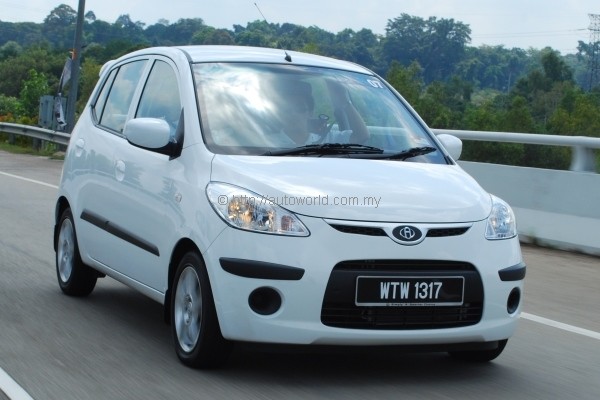 When it was launched in 2008, the Hyundai i10 arrived in the Malaysian market as an attractive preposition. It came with a pricing that saw it strike deep inside Proton and Perodua territory, and offered itself as a cheap and no-frills solution of your motoring needs.
The initial offering was a little 1.1-litre four-pot offered with the choice of manual or automatic transmission. Pricing, depending on variant ranged from RM45k to RM55k. Recently, a new variant, featuring the more advanced 1.25-litre Kappa engine was added to the line-up, offering more power without incurring penalties in fuel consumption.
Earlier this week, HSDM invited members of the Malaysian media to have a quick spin in the i10 1.25. Flagged off from HSDM HQ in Glenmarie, our convoy headed to PD for lunch before doubling back. The organizer plotted a route which featured a commendable mix of highway and trunk road driving for us to examine the i10's driving dynamics in the widest variety of conditions possible.
Prices & Variants
The i10 1.25 continues to be sold alongside existing variants of the i10 1.1. Two spec variants are on offer for the 1.25 – Standard and High Spec – both paired with a 4-speed automatic transmission. Both variants feature nearly identical trim level, being differentiated only by ABS, Dual Airbags and RM3,000 from each other.
Test cars made available during the media drive were all Standard units. Inclusive of insurance, this variant goes for RM49,688. However, in the interest of safety, we would suggest that you fork out the extra RM3,000 and go for the RM52,688 High Spec variant instead.
The i10 is assembled locally by Inokom in Kulim. It wears Inokom badges, and your JPJ pink card will register it as an Inokom i10. HSDM was frank to admit that the local badging allowed them to price the i10 low enough to cause some problems for Proton and Perodua. No complaints here, and we all know that you can swap in a Hyundai badge for a few hundred bucks.
The Kappa Engine
Equipment-wise, little separates the 1.25-litre i10 from the 1.1. Okay, you get different rims and spoilers, and even a tachometer, but those items aside, little else differentiates between the two models – except, of course, the engine.
The opening premise of the 1,248cc Kappa engine is that it offers higher levels of power than the 1.1 Epsilon, but maintaining comparable levels of fuel consumption. Power and torque has been increased by 17% and 20% respectively, but according to VCA Car Fuel Data, both consume 5.9 l/100km in the combined cycle in automatic transmission guise – which for the 1.25, is the only gearbox on offer in Malaysia.
Featuring 16 valves and twin camshafts, the naturally aspirated all-aluminium four-pot of the i10 1.25 churns out a respectable 77hp @ 6,000rpm and twists out a healthy 118.6Nm @ 4,000rpm. One of its closest competitors, the Proton Savvy, makes 74hp and 105Nm out of its 1,149cc Renault D4F engine.
In order to achieve the engineering goal of providing additional power without significant sacrifice in economy, Hyundai has equipped this engine with some pretty neat innovations. Don't confuse this as saying that the engine is loaded with electronics, it isn't. It is still a mechanically simple engine, but there are plenty of ingenious solutions inside worth studying.
Uncommon in this size of engines, the Kappa is run by a timing chain. It may be expensive to install, but the owner stands to benefit in the long run as the chain is maintenance free. Its accessory drive belt is designed to maintain an ideal tension level on its own, obviating the need for a mechanical auto-tensioner, which in turn reduces overall engine weight and maintenance costs. The belt itself is designed for a lifespan of 160,000km.
The attention to detail shown by Hyundai in their efforts to optimize the engine's design is impressive, right down to the way the valvetrain is designed. Valve clearance is continually adjusted by hydraulic lash adjusters, ensuring minimal valve tapping noise. The valve springs themselves have an unusual beehive shape which has varying spring rates along its travel.
Another notable characteristic of the Kappa engine is the 11mm offset between the crankshaft rotating axis and cylinder bore centreline. Hyundai claims that this design minimizes side forces created by the pistons, which then reduces FC and NVH.
Igniting the engine is a longer than usual spark plug, so owners will need to take note of this during maintenance. The rationale behind this design is to enable the engineers to enlarge the water jacket around the spark plug area, which improves cooling, and also to enlarge valve diameter for improved airflow and combustion efficiency.
Driving Experience
My experience with the i10 1.1 came before my days in motoring journalism, and is thus, limited. I recall, from my experience in a short showroom spin, that it wasn't very impressive. However, media colleagues who have had opportunities to review the car over an extended period had far better things to say about it.
Indeed, having driven the 1.25 along a good mix of trunk roads and highways, my opinion of the i10 has improved tremendously as well. The increase in output has not transformed the i10 into a tarmac ripper, but the new engine does have quite a bit of zest about it when revved. Prudence is still advised before attempting on ambitious trunk road overtaking maneuvers.
Exploration of the top end ceases at 160kph, but that's due to a factory installed speed cut rather than the engine's potential being maximized. At that top speed, it still feels remarkably stable and planted; impressive, considering a gross weight of 920kg. HSDM personnel refused to answer our questions on how the speed cut can be bypassed.
The fun nature of the i10 shows itself at the back roads, where outright top speed is less of a priority against composure and communicativeness. Despite being electrically assisted, the steering has a well-judged amount of weight and feedback. It was also remarkably responsive, which made chucking the i10 around a deeply satisfying and grin-inducing exercise. It does not out-handle a Proton Savvy, but that's nothing to be ashamed of at all.
Verdict
As if any further proof is needed, the i10 is a further demonstration of how far Korean car making has come in recent years. Although it is still subject to a price handicap against national-make alternatives, putting the Inokom badge in place of Hyundai's at least allowed HSDM to price the i10 closer to within radar range of the Proton and Perodua buyers.
The i10 is a hugely admirable piece of engineering work. Despite boasting a host of highly impressive technical innovations, it is in actual fact a mechanically simple car. It does not have variable valve timing, for example. In contrast to popular approaches these days, Hyundai engineers went on a path to reduce weight and complexity instead. This is intelligent, as it reduces costs at both the manufacturing and ownership level.
Perhaps it was due to this back-to-basics approach of its engineering, the i10 came across as a very fun and light-hearted car. It probably would not win you any traffic light drag races or set new lap times around Sepang, but it would at least make you smile – on the roads, at the pumps, and at the workshop as well.