Audi set for Euro launch of A5 Sportback in September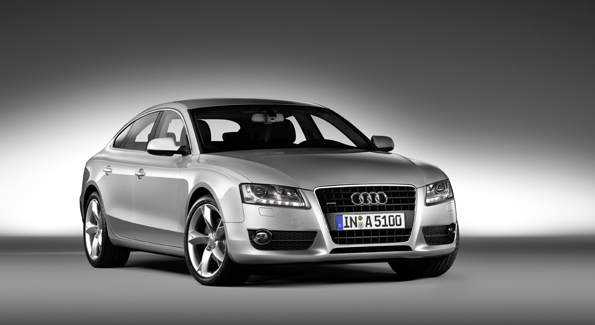 A month ago, Audi released a couple of teaser images for their upcoming A5 Sportback model, which we featured here on 17 July 2009. Recently, the full details has just been released ahead of its scheduled launch for the European market in September. Five engine options are offered, with prices set to start at €33,650 for the 180hp 2.0 TFSI.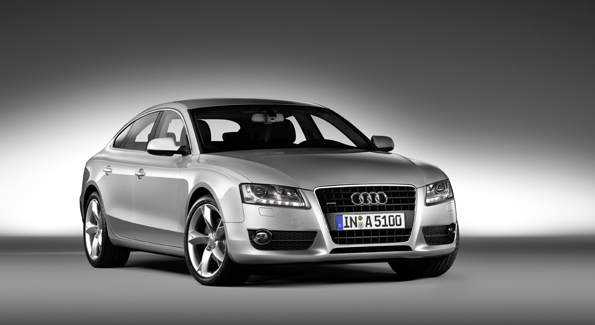 Audi A5 Sportback
Depending on engine, the A5 Sportback can be had with either manual, Multitronic CVT or the seven-speed S-Tronic twin-clutch transmissions sending power to only the front wheels or all four via Audi's trademarked quattro all-wheel drive system. On top of the range, the 3.0 TDI and 3.2 FSI can be optioned with a sport differential that counters understeer by varying power distribution to the rear wheels.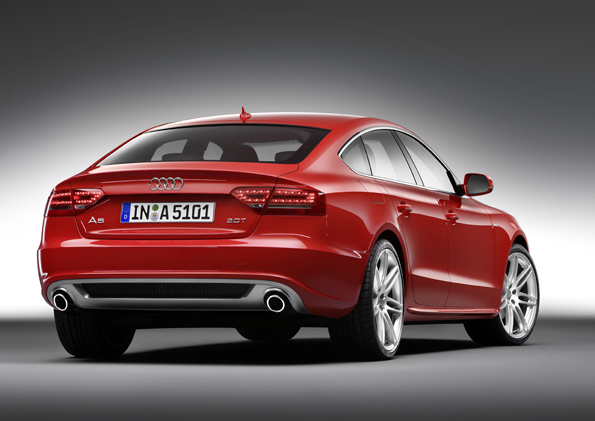 A5 Sportback 2.0 TFSI
The A5 Sportback comes with a lengthy list of equipment which can be stretched further by ticking the appropriate option boxes. Like the M-Sport and AMG Sport packages offered by BMW and Mercedes respectively, customers can also specify the A5 Sportback with Audi's very own S-Line package that brings with it all the skirtings, sports seats, sports steering, and firmer springs.
Engines & Drivetrains

As of launch, the Audi A5 Sportback will be available in five highly-efficient direct injection engines – two of them petrol, three diesel. The two petrol-powered engines displace 2.0-litres and 3.2-litres respectively, with the smaller unit force-induced by turbocharging. The award-winning four-cylinder 2.0-litre turbocharged fuel-stratified injection (TFSI) engine displaces 1,984cc, and is available in two states of tune: 180hp and 211hp.
Top of the petrol range is the 3,197cc naturally aspirated V6 FSI engine. Unlike the torquey nature of the 2.0 TFSI, the V6's character is more of a rev-happy variety. Its peak torque of 330Nm is delivered high up the tacho's reach at between 3,000 and 5,000rpm. As a result, with quattro and S-Tronic, it does no better than the 6.6-second century sprint managed by the equivalent 2.0 TFSI.
The three diesel engines on offer consist of one four-cylinder and two V6 powerplants. The four-pot motor found in the 2.0 TDI comes in two power ratings. In its lower state of tune, the 1,968cc turbodiesel produces 143hp of power and 320Nm of torque, routed to the front wheels by the Multitronic CVT. The more powerful version is rated at 170hp and 350Nm. Paired with a good old six-speed manual transmission and front-wheel drive, it makes do with only 5.2 litres of diesel for every 100km travelled.
Completing the diesel line-ups are the 2.7 and 3.0-litre V6 engines, both pumping out astonishing amounts of torque. The smaller of the two motors produces 190hp and 400Nm (@1,400 – 3,250rpm) from 2,698 cubic centimetres of displacement. It is only available with front wheel drive and manual transmission, though Multitronic will be added to the list of options soon enough. The 3.0-litre V6 twists out 500Nm of torque from 1,500rpm up to 3,000rpm. This propels the flagship diesel variant, with S-Tronic and quattro drivetrain, from zero to hundred in 6.1 seconds, and a top speed of 248kph, while keeping consumption down to an impressive 6.6 litres/100km.
In addition to the abovementioned models, three new engine options are set for introduction by 2010, one of them being a 160hp 1.8-litre TFSI engine. This engine will be paired with either the Multitronic CVT or the six-speed manual in a front wheel drivetrain. If at all the A5 Sportback even makes it to Malaysia, this will be the version that comes.
The quattro system on the A5 Sportback is defaulted to a 60% rear bias in power distribution, though this can vary from anywhere between an 85% rear bias and a 65% front bias. Optionally available on the 3.0 TDI quattro and the 3.2 FSI quattro is a sport differential fitted to the rear axle. By varying the power distribution between the rear wheels, the sport differential is able to cancel out both oversteer and understeer just miliseconds after the system senses things are going out of order.
Chassis
To ensure optimum handling balance for the A5 Sportback, a lot of work was done by Audi on the car's body stiffness and weight distribution. Unsprung mass is greatly reduced by extensive use of aluminium in the suspension components. Both the quattro and front wheel drive models feature identical suspension designs, with a five-link axle up front and a self-tracking trapezoidal link behind.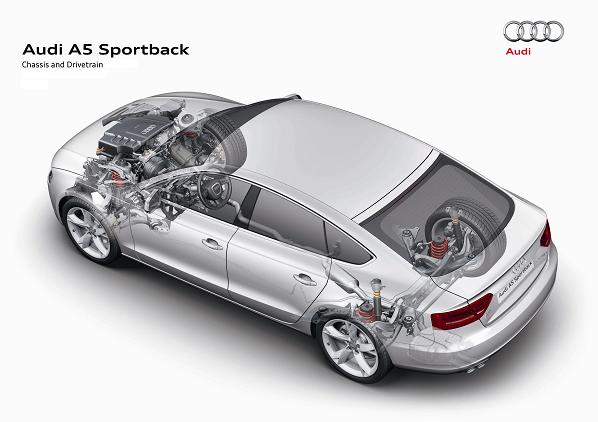 Front-wheel drive versions of the A5 Sportback come standard with Audi's latest ESP which includes an electronic differential lock to help cancel out understeer and improve road-holding at corners. The system is fully electronic, and actually works by lightly braking the inner front wheel, thus sending excess torque to the outer wheel, and keeping the vehicle on track.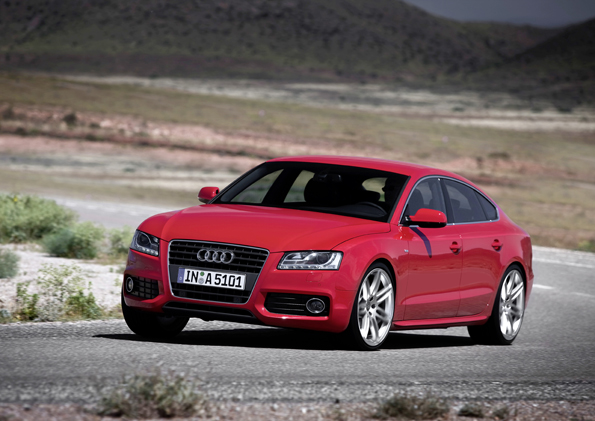 Various electronic trickery keep the A5 Sportback in line.
Body
According to Audi, the A5 Sportback is a FIVE-door coupe, with four passenger doors holding a frameless window each and a rear hatch. The resultant side-profile, with its sloping C-pillar, at this moment is only closely resembled by the up coming BMW 5-series GT and to a (very) far extent, the Porsche Panamera. The massive rear hatch opens to unveil 480 litres of cargo space, a volume that can be swelled to 980 litres thanks to its split folding rear seatbacks. With the seatbacks up, the A5 Sportback takes in only four passengers.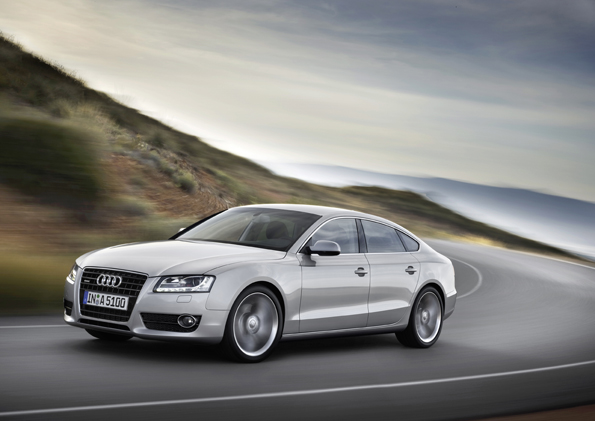 A side profile like no other: Audi's five-door coupe.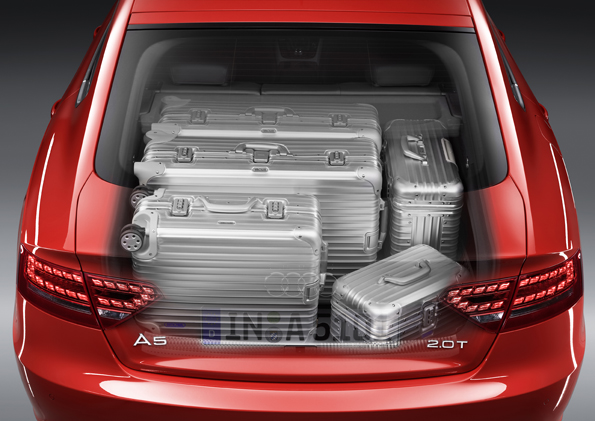 480-litre luggage capacity can be expanded to 980 thanks to split folding rear seats.
Availability
The A5 Sportback is set to hit showrooms in Europe by September. Until the 1.8 TFSI arrives next year, prices will start at €33,650 for the six-speed manual 2.0 TFSI going all the way to €47,000 for the S-Tronic 3.2 FSI.