How Herman Won a Free Ranger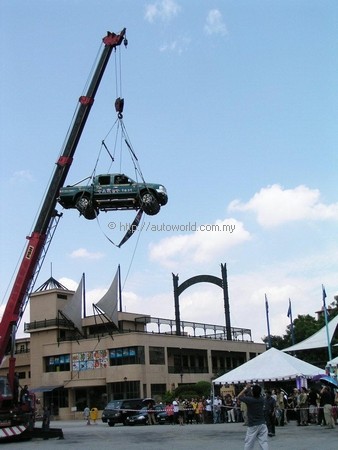 There are probably better ways to spend a Sunday afternoon than to be clambering around a Ford Ranger suspended 13 metres above the ground, making like Vin Diesel in XXX – without a parachute. But this was how four Malaysians spent their afternoon today at the Sunway Lagoon carpark in Selangor. The reason for their bravery: a Ford Ranger Automatic for free.
It was the culmination of the hitz.FM Ford Ranger Takut Test which had started back on June 23rd when participants were invited to undergo terrifying acts like lying with pythons in the back of the Ranger, getting intimate with worms and drinking mixtures that even the word 'potent' would be a gross understatement!
In all, there were 80 participants and after a number of qualifying rounds, four finalists emerged and the final test was to collect 40 yellow triangles stuck around a Ford Ranger Automatic. Easy enough if it's parked on the ground… but it would be lifted up about 13 metres – that's around the 6th or 7th floor of a building – and they would each have a certain time to make like Spiderman and get as many flags as possible.
Compared to the other tests, this one was dramatic but if you didn't have a fear of heights, it was probably a lot less scary than getting to know a python! There were safety measures provided and apart from the helmet and padded suit, the participants were also tied to a safety harness; if they slipped, the worst would be a stiff neck (and a big scare) from being snapped up suddenly by the harness.
Anyway, the four finalists who came to Sunway Lagoon to collect the Ranger Automatic included one female, Emily Loo Yen Hoi, from Penang. The 19-year old is a Mass Communications student and she had actually had some 'training' even before trying out in the qualifying rounds. Her classmates had once tangled her long hair with worms in a dark room (how they managed that is still a big mystery!), which she said was the scariest thing that had happened to her in her life… meaning all the 'Takut Tests' were not as bad. However, she did find that the cup of mustard she had to drink was the toughest of the tests.
Oh the three guys – Yong Johan from Penang, K.C. Tay from Melaka and Herman Lim from the Klang Valley – it was Herman who was the oldest at 27. The ad sales representative with The Star was determined to get a Ranger Automatic and would do just about anything to win. 24-year old K.C. Tay had been through a lot (the worst being the blend of mustard and cod liver oil he had to drink) but must have received enormous encouragement from his girlfriend who was anticipating taking over his car once he became a Ranger Automatic Owner.
It was a blisteringly hot day when the final test started and first off was Herman. As the first to go, his movements were closely watched by everyone and he had lots of supporters down below cheering him on (including a 10-month old baby who must have been wondering if Daddy was trying to impress him).
Next was Johan who seemed a bit slow getting around and was trying his best to get more yellow triangles when the horn sounded to end his test. Like Herman, Johan was hardly bothered being so high up.
When it came to Emily's turn, there was a long wait as the supporting frame had to be adjusted again to ensure the load would be equal. The Ranger Automatic is 'Ford Tough' so it's pretty heavy and if the vehicle was not secured properly, it could put a lot of stress on the frame and be dangerous.
When Emily got in, she too had no fear of heights but the large helmet was loose and she wasted time trying to get it to stop moving on her head. It didn't help that the crane was turning around so besides the height, the contestants also had to handle the vehicle swinging in the wind round and round.
K.C. Tay was last to go and of the four, he admitted to being 'bothered by heights'. But the way he moved around the Ranger way up there did not suggest a person with such a phobia. In fact, his moves were the most dramatic as he hung down from the front wheel to try to get the triangle inside the wheel well.
The number of triangles collected by each contestant remained secret till the end, and the gap between the first and last was 17 triangles. Johan had grabbed 20 while Emily managed 22. K.C. Tay's dramatic performance had brought him 34 triangles but it was Herman who would be driving a new Ranger Automatic for free – and not have to return it to Ford Malaysia (unlike us motoring journalists).
According to Richard Ho, Ford Malaysia's Brand Manager, the event was a timely one as the new Ford pick-up had been launched recently and interest in the product is high at this time.