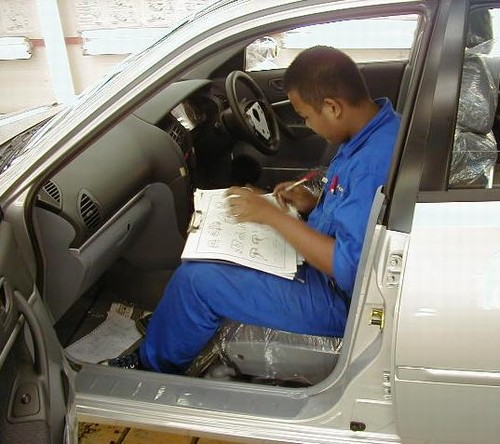 ALC – Automatic Line Control
This is heart of the MVF operations integrating the functions of the Body Shop, Painting Shop and Trim & Final Shop. An Ethernet network links the process equipment, data gathering terminals, vehicle tracking, production planning programs, parts demand forecast, production performance to achieve extreme efficiency in all areas. The ALC gives real-time information on PCs and strategically-located Central Display Panels for quick action and response. It also broadcasts information for the production sequence, delivery information directly to the line side, thus eliminating the wrong specification build. In critical assembly jigs in the body shop, the ALC is linked to the jig controller and confirms that correct parts for the many variants of the components are produced, a form of Pokayoke. The ALC also tracks machine downtime, line stoppages and performance reports and is a valuable management tool.
Simplified Logistics
Three new approaches have been adopted such as JIT (Just-in-Time), Kanban, Consolidation Centres, in addition to the 2 – 4 hours stock of common parts. For JIT parts, the vendors are automatically faxed from the ALC on the daily sequence of cars with enough lead time to deliver the right parts (colour, specifications such as Right-Hand or Left-Hand drive, and quantity needed) directly to line side. They thus have to be within a reasonable distance from the factory although some, like TRW (which assembles the modules incorporating the brakes and suspension) are situated near Rawang but right next to the N-S Expressway which goes near Proton.
Top Build Quality
As a result of lean manufacturing, ALC and simplified Logistics arrangement, the Waja production plant has achieved the targeted 3 defects/car build quality; this according to Proton, is similar to the levels achieved in the assembly of Toyota and Honda cars.