So you just bought a complete set of sports rim worth RM3,000. What do you do to protect them? The common method is to use tyre lug locks, but these can be removed quickly. Youtube has several videos on how these locks can be removed. One such video is:
How to remove tyre lug locks
Instead of normal locks, choose unconventional ones. Here are three I found:
Gorilla locks
BlackTops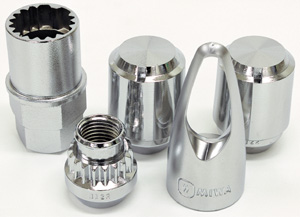 Kyo-EI Dency 2000 Locks
Youtube on Kyo-EI Dency
I don't think any of the three are sold in Malaysia. So far only Kyo-EI Dency can be bought online at the given site above. I think Gorilla nuts are also available online.
These three locks are unusual because they are smooth surface (with no grip). Some are free-spinning, and another uses a magnet (no, not your average magnet) to open the locks. Another uses a key.
Chris