Continental Tyre, Shell, JKJR collaborate in Hari Raya Tyre Safety Check Campaign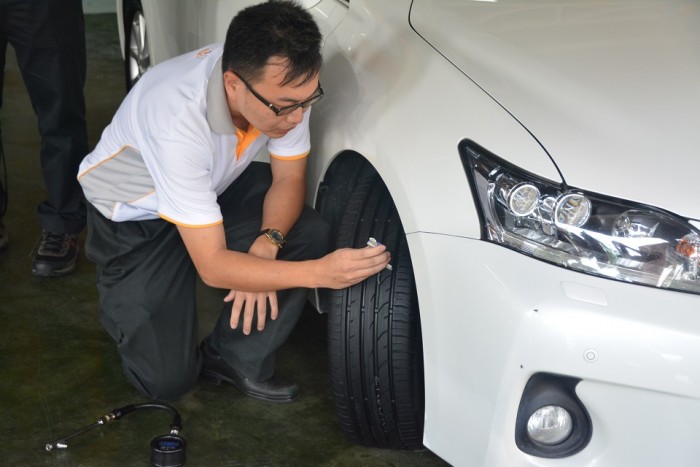 In an effort to promote awareness on the importance of tyres in road safety, Continental Tyre PJ Malaysia Sdn Bhd, Shell Malaysia Trading Sdn Bhd, and the Road Safety Department (JKJR) have come together to launch the Hari Raya Tyre Safety Check Campaign 2015 programme offering free tyre checks at 21 Shell fuel stations across the country from 5 June to 5 July 2015.
The programme was conceptualized at the initiative of JKJR with personnel Continental Tyre providing their expertise, conducting tyre checks and sharing tyre care tips with users visiting the designated locations. The Shell stations in which checks are performed are carefully selected to be in the vicinity of Continental BestDrive tyre outlets.
The purpose of the programme will be purely educational. There will be no on the spot sales of tyres or tyre reparation services, although motorists who have their tyres checked under the programme will receive a RM50 Continental tyre voucher each.
[Editor's Note (8 June 2015): The schedule provided below is no longer valid for the duration of the programme. Locations of Shell stations participating in the programme will be updated weekly on the official Facebook page of Continental Malaysia.]
The campaign will be conducted at the following 21 Shell stations on Friday to Sunday:
5-7 June
– Sunway & Company, Taman Sri Petaling, Kuala Lumpur
– SH Wangsa Maju 2, Kuala Lumpur
– SH Shah Alam Seksyen 9, Jalan 9/20, Selangor
– SH Jalan Song Ban Kheng 2, Seberang Perai Tengah, Penang
– Green Island Service Station, Jalan Masjid Negeri, Penang
12-14 June
– Pearl Violet Enterprise, Jalan Berseran, Kuantan, Pahang
– EnerCont Enterprise, KG Kerteh, Terengganu
– SH Bandar Sri Manjalara, Kepong, Kuala Lumpur
– SH Jalan Gombak, Kuala Lumpur
19-21 June
- MDA Perdana Enterprise, Taman Kinrara, Puchong, Selangor
– SH Jalan Tujuan, SS18 Subang, Selangor
– Stesen Minyak Shell Jalan Sulaiman, Kota Kinabalu, Sabah
– Chen Yii Enterprise Sdn Bhd, Jalan Salim, Sibu, Sarawak
26-28 June
- SH Jalan Kajang Semenyih, Kajang, Selangor
– Mutiara Rizqi Petromart, Johor Bahru, Johor
– Sri Wangsa Sdn Bhd, Jalan Kluang, Batu Pahat, Johor
– Shell Noorhayati Kamaludin, Mukim Balai Panjang, Malacca
3-5 July
– Addeen Indah Trading, Seberang Jalan Putera Mergong, Alor Setar, Kedah
– SH Langkawi, Kedah
– Bulan Maya Sdn Bhd, Jalan Raja Musa Mahadi, Ipoh, Perak
– AZA Maju Ent, Kajang, Selangor