2015 Nissan Almera VL A/T NISMO Test Drive Review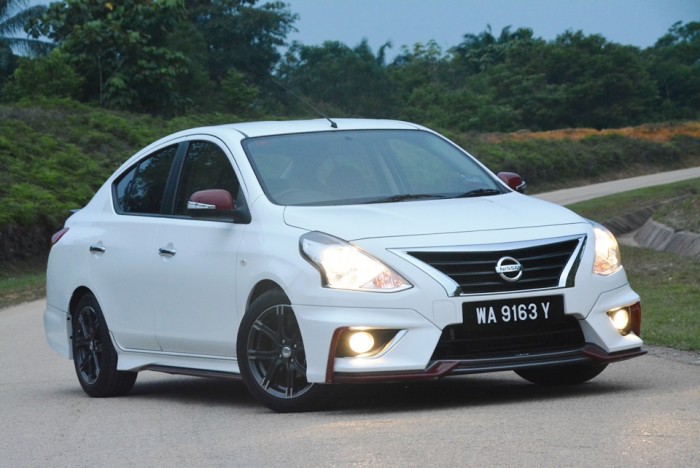 The Almera has been one of Nissan's better-selling cars in Malaysia in recent years and it's not difficult to see why: it is affordably priced, spacious inside, and highly economical to run – a genuine put-petrol-and-go type that is becoming increasingly less common in an age of cruise control and autonomous emergency braking.
Initial response after its launch in 2012 was overwhelming, but competition in the B-segment has also toughened up since, with new versions of the Honda City and Toyota Vios, in particular, putting the Almera's bull run in check.
An updated version of the Almera was introduced this year, and we evaluate its case to see if its value-driven preposition remains valid in an increasingly-competitive marketplace.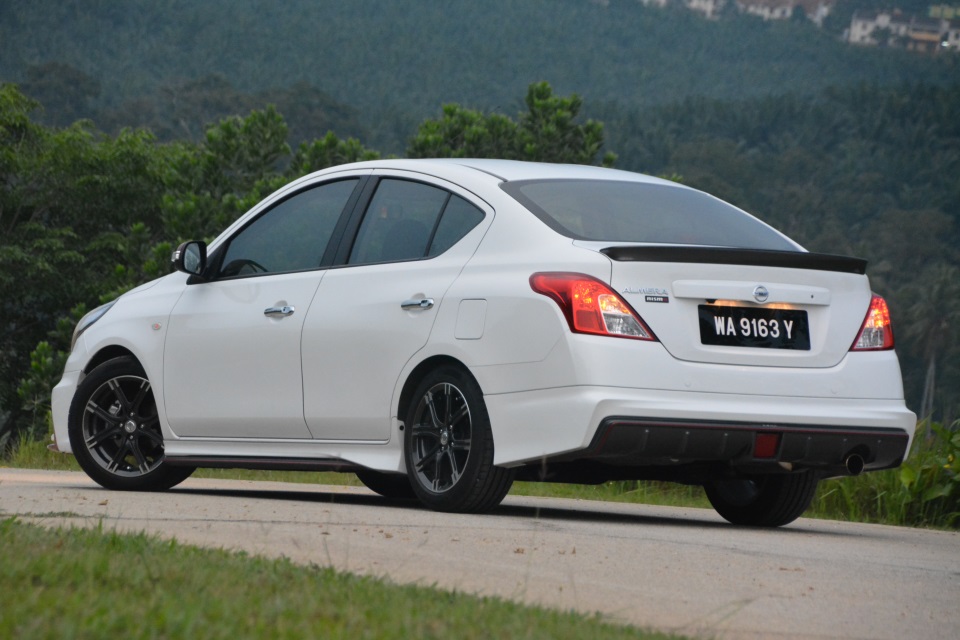 Prices & Variants
As little as RM66,835.23 with insurance gets a brand new Almera parked on your porch, although the car you'll be getting for that money will look a lot different than the one you see in these pictures. Our test car for this review rolled out from Serendah as a top-spec 1.5 VL automatic model priced at RM79,817.51 inclusive of all on-road costs, but that's not the end of it.
Options affixed to the test vehicle start with the full NISMO Performance Package consisting of an all-round bodykit, 16-inch alloys with 205/50 Continental MC5 tyres, sports suspension, and sports exhaust. At RM14,442 inclusive of GST, it is not an easy box to tick. You can choose to do away with the suspension and exhaust from the above options and settle for the NISMO Aero Package, but that's not how we'd advise anyone to spend RM9,342 of their hard-earned money.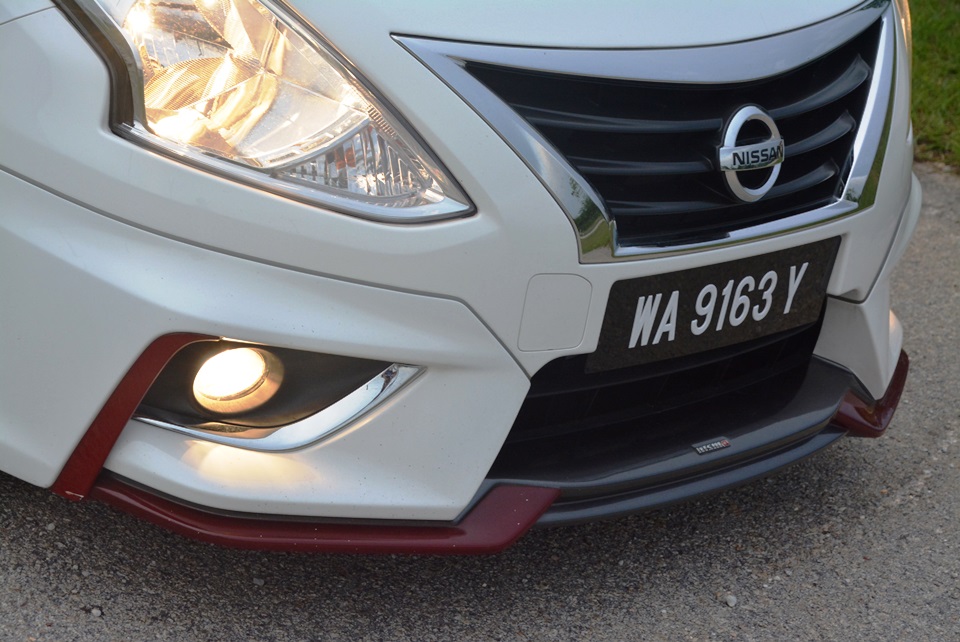 ETCM also offers buyers a choice between two multimedia navigator upgrade packages, both with 6.5-inch touchscreens, reverse camera, and connectivity for USB, iPod, and Bluetooth. Both packages also throw in leather upholstery with Solar Gard Armorcoat window films. Cheaper of the two packages cost RM6,128 and comes with a locally-developed head unit by Tan Chong's TCAT subsidiary.
The costlier multimedia option, which is fitted to our test car, is an Android-based system with Internet connectivity and acoustic positioning capability. For the uninitiated, the Voice Acoustic Positioning System (VAPS) enables adjustment of the speakers in such a way that sound output is localized within certain zones of the vehicle. Checking this box adds RM7,149 to your invoice; together with the NISMO Performance Package mentioned above, it pushes the asking price of our test car beyond the RM100k threshold.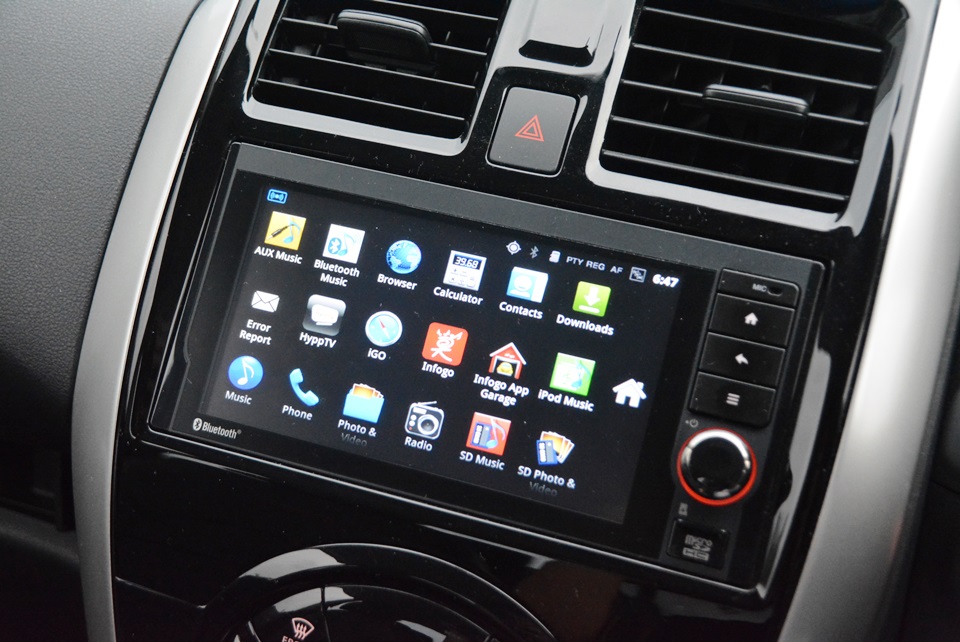 Updates
No mechanical changes were made to the Almera's package, meaning the familiar 1.5-litre HR15DE continues services in the engine room sending 101hp and 139Nm to the front wheels through either 5-speed manual or 4-speed automatic transmissions. Ditto the suspension and brakes, which continue with their MacPherson / torsion beam and disc / drum setups respectively.
Revisions in this facelift are primarily cosmetic with no alterations of any kind made to the sheet metal. A new face, however, has been grafted as a result of a re-profiled front bumper that now sports a more generous sprinkling of chrome along with re-sculpted headlamps, still of the halogen multi-reflector type. Other changes are side mirror-mounted blinkers and a revised alloy rim design.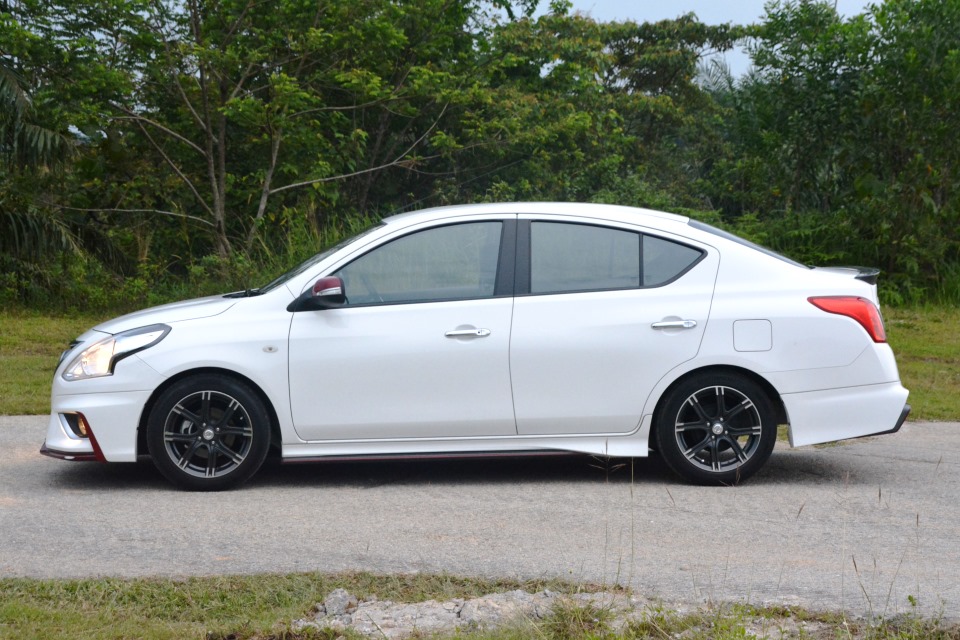 Cavernous interior volume was a highly-touted selling point of the Almera from the onset, and it is a quality that Nissan has sensibly sought to preserve with the facelifted model. Some minor tweaks were applied to the centre stack panel although differences require side-by-side comparisons to identify, although from a functionality perspective, nothing's changed. The steering wheel's been changed, but it's a familiar one that's also seen in the Sylphy and Serena S-Hybrid.
Honda's impressive packaging of the latest City may have weakened the Almera's argument of space, but what has not changed is that the amount of boot space (490 litres) and rear leg room remains usefully generous by the standards of any segment.
Driving Experience
NISMO Package or otherwise, one does not expect much dynamic fireworks  from an Almera. We do argue, however, that the sports suspension adds a layer of composure to the car's chassis that the standard setup does not otherwise provide. There is good stability at speed and the body settles quickly from disturbances over poor surfaces. Body roll is adequately contained around bends too, but it is best to enter corners at speeds lower than you otherwise would with, say, a Ford Fiesta or Mazda2.
On to the engine and drivetrain, there is little to say beyond the fact that it is merely adequate for the purpose of city driving. At part throttle, progress is delivered leisurely and without fuss, the engine going about its business in relative serenity. Mesh the throttle harder, however, noise levels grow increasingly raucous without a commensurate increase in acceleration. A good driver might be able to compensate the performance deficit with a well-sorted 5-speed manual, but as fitted with our test car's 4-speed auto, there is quite a bit of gear hunting between third and fourth to contend with.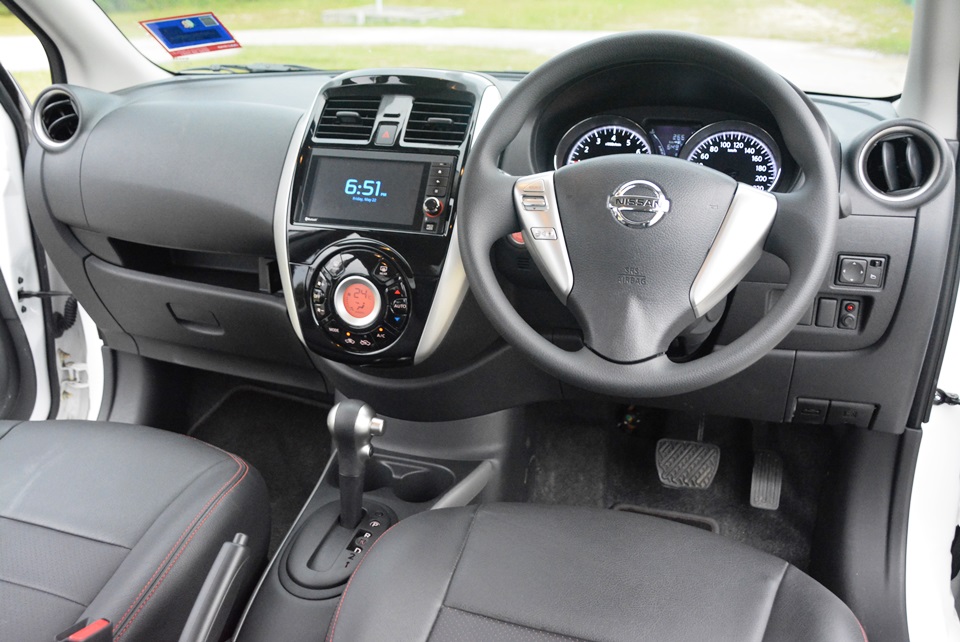 Verdict
A-to-B modes of transport don't get any more straight forward than the Almera; if all you ask is a car to steer around without fuss, the Almera does exactly. Its combination of affordable pricing and generous interior volume makes its case difficult to dismiss for family buyers shopping on a budget. At RM80k for the highest-specced version from the factory, it's difficult to argue against its value preposition.
Things get complicated when the options packages come into play. In the case of our test car, they add over RM20k to the purchase price. The NISMO suspension generates tangible improvements to the car's handling and both touchscreen options offered add the safety of a reverse camera into the equation. We do recommend specifying the enhanced suspension on its own, but anything beyond that will require serious thought on the buyer's part.