2015 Hyundai Elantra 1.6 Test Drive Review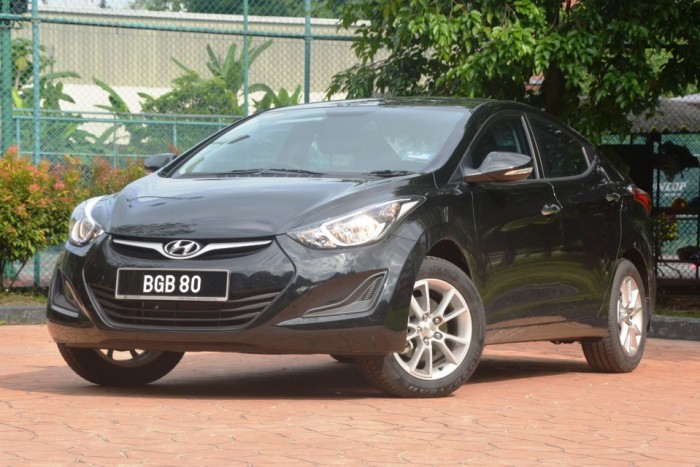 Once laughed at as a manufacturer dreadful econoboxes, Hyundai has blossomed into one of the five biggest car makers in the world. These days, the company indulges in churning the odd sporty coupe such as the Veloster or bona fide luxury cars like the Genesis, but cornerstone of its success continue to centre around getting bread and butter products such as the Elantra and Sonata right for the masses.
The latest-generation MD Elantra first came to Malaysia in 2012, and it was part of a powerful offensive from Hyundai introducing a range of distinctively-styled models to help the brand shed its underdog status and firmly establish parity with its Japanese rivals. Three years from its introduction, comes the customary mid-life facelift and we evaluate its case to see if Hyundai's tweaks were adequate to help the MD withstand the test of time.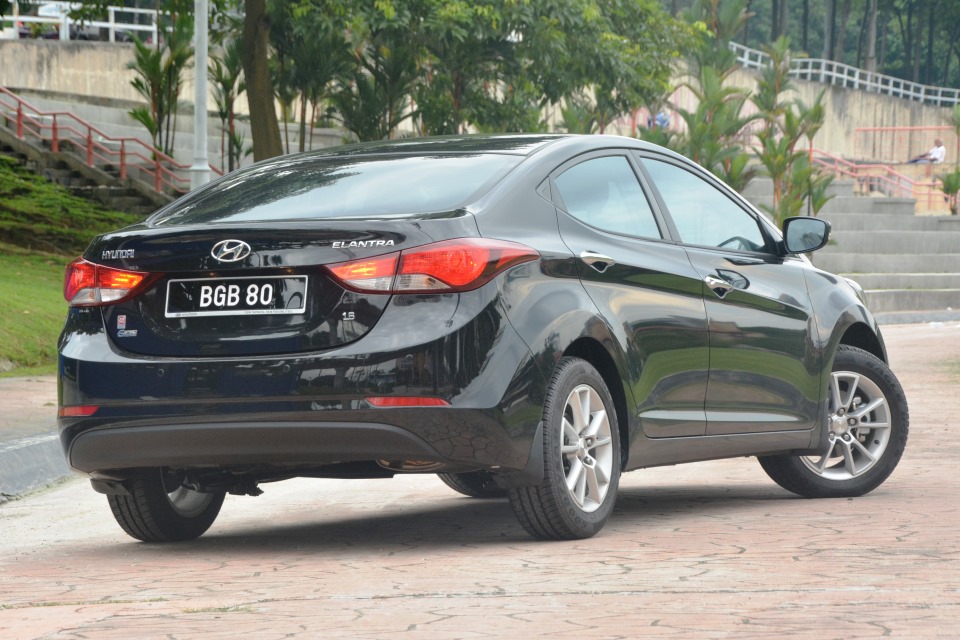 Prices & Variants
Value forms a key preposition in the Elantra's sales pitch, and it is a quality retained in the 2015 vintage, which is offered with a choice between four trim variants. Whilst we still find RM115,616.20 to be a rather ambitious asking price for the 1.8-litre range topper, it is difficult to overlook the three 1.6-litre variants which, priced from RM85,928.47 to RM101,554.66 before insurance, offer C-segment metal for B-segment money.
For less ringgit than a top-spec Honda City, you can get yourself the Elantra in its most basic Elegance specification as tested in this review. Whilst it misses out on amenities that are exclusive to higher models, neither does it excessively remind you of its entry-level positioning – you still have rear fog lights, two USB sockets, two 12V sockets, dual airbags, and most noteworthy this day and age, electronic stability control. Simply put, the basics are covered which ever variant you choose.
Naturally, the fittings get increasingly plush as you pile on the money, with cruise control, rear air-con vents, six airbags, touchscreen navigation, reverse camera, electric driver seat adjustment, and keyless entry progressively coming into play in the higher models. For our money, the RM96,820.57 1.6 Executive model is the one to go for, but the Elegance spec of our test car is not an embarrassing choice by any stretch of the imagination.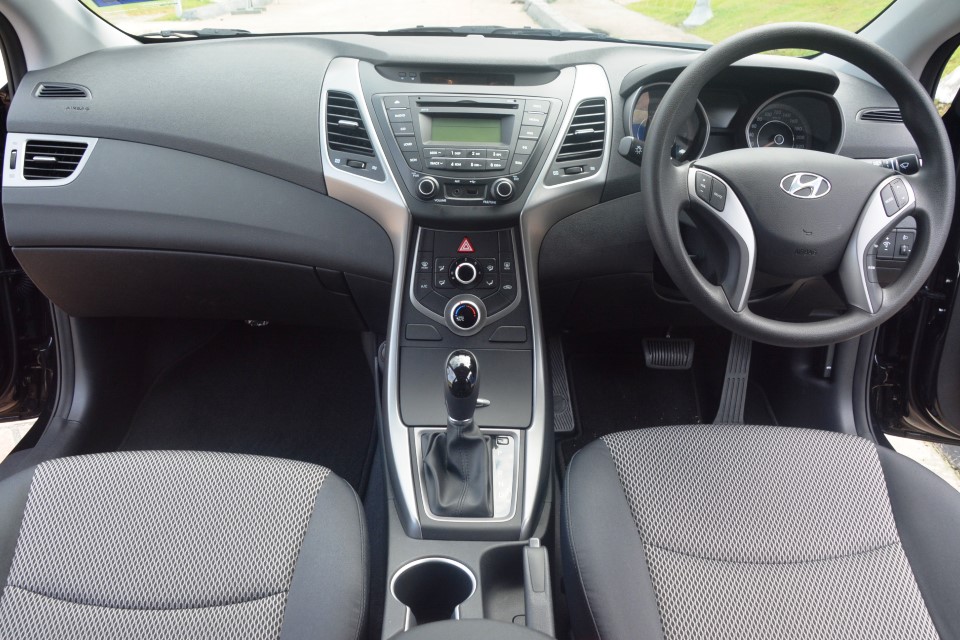 Specifications
Except for minor tweaks to the chassis, effects of which we will discuss later, mechanical alterations implemented in this facelift are not particularly significant. The same pair of 1.6-litre Gamma and 1.8-litre Nu engines, both mated with Hyundai's in-house 6-speed auto gearbox, continue to provide motion. The former, which is fitted into our Elegance test car, makes 128hp and 157Nm, whilst the latter is good for 148hp and 178Nm.
Like the i10 and Santa Fe to name two examples, Malaysia-spec Elantras are based more closely on European rather than Korean specification. It is a consequence of our Government's initiative to follow UNECE regulations which require the fitment of safety equipment that is on par with the European market. It is the reason why rear fog lamps are standard and also why you flick the Elantra's signal lights with your left hand.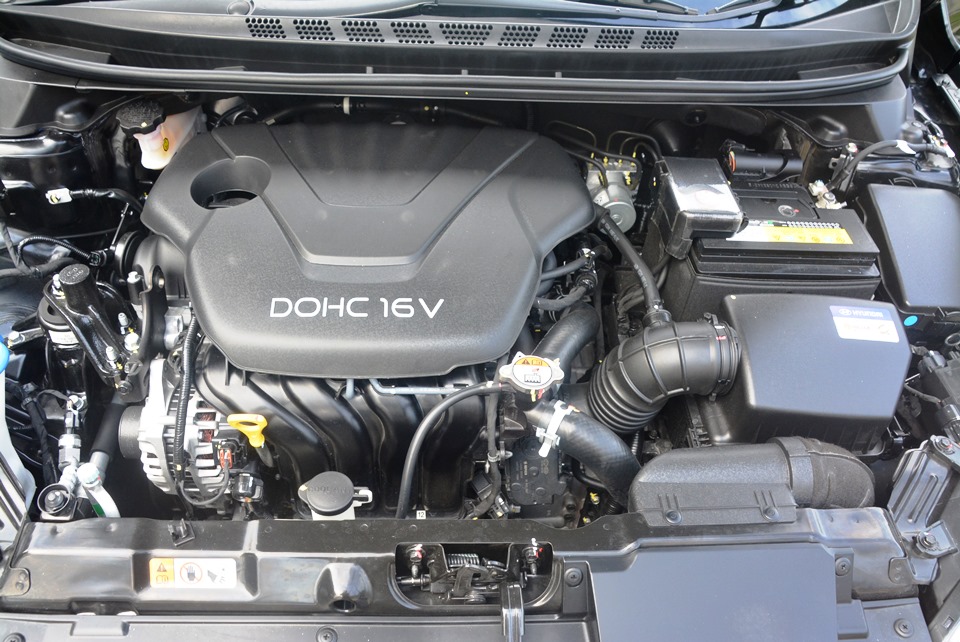 Hyundai claims to have made 14 alterations in total to the Elantra, most of them cosmetic. The bumpers, front and rear, are not only reshaped for an updated appearance, they also contribute to a 20mm extension in overall length. Upper variants now get projector headlights with LED position lamps; our Elegance test car makes do with lower cost multi-reflectors.
Inside, the basic architecture pioneered in the pre-facelift model is carried over. A notable change is the relocation of the central air-con vents, shifted upwards to the same level as the on-dash audio controls, but otherwise it is a similar layout from before, which we shall summarize by describing as being sound in ergonomics and solid in build. Interior space is satisfactory too – boot space is decent and well-shaped, whilst rear passengers enjoy excellent acreage.
Driving Experience
The familiar narrative with Hyundai test drive reports tell the story of cars that are solidly built, handsome looking, and perhaps most commendable for delivering great value, but ultimately falling short on driving enjoyment. The pre-facelift Elantra, both in its 1.6 and 1.8 guise, did more to reinforce than dispel this unfortunate stereotype; not that it harmed sales significantly, mind.
We can't say if the switch to European specification was responsible for the implementation of new chassis settings, but one thing we can say for sure is that, as tested, the 2015 Elantra handles noticeably better than its 2012 counterpart. Most significant improvement comes from its steering, which turns with pleasing directness and more reassuring heft than its ridiculously over-assisted predecessor. Our test car does without Hyundai's Flex Steer system that allows adjustment of steering assist levels – past experience suggests you won't be missing out on much without it.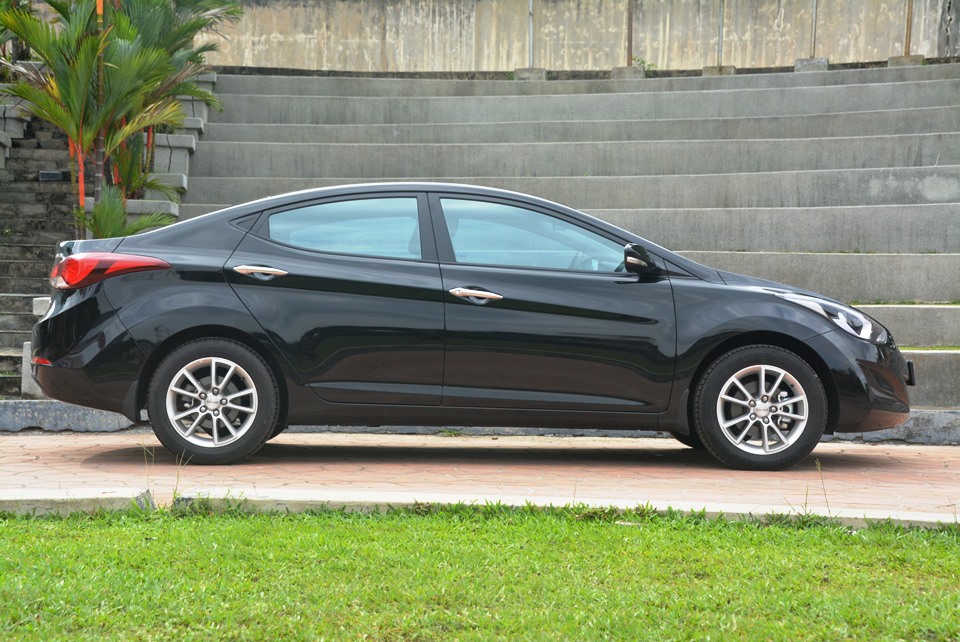 Ride over poor surfaces is generally commendable, the suspension soaking up potholes and road patchings with confident authority. Body motions are well-contained during directional changes, but hustling it hard enough reveals dynamic limits that are less convincing than, say, a Ford Focus or Proton Preve. Also, as a consequence of its torsion beam rear suspension, the Elantra's tail is still liable to wiggle a little if you encounter mid-corner disturbances.
In isolation, the Elantra's naturally-aspirated 1.6-litre powerplant delivers reasonably respectable progress. The engine exerts decent pull from low revs to keep up with cut-and-thrust urban traffic. It is also a willing revver, but with most C-segment vehicles today typically pushing upwareds 140hp from 1.8- to 2.0-litre displacements, inadequacies show up when hard acceleration is called upon.
Like the engine it is paired with, the 6-speed automatic transmission does nothing more than a decent job in day-to-day driving. Under part throttle, it swaps cogs with unobtrusive smoothness, but it is hesitant on the kick down; its eagerness to upshift early also mean that you typically need to drop two gears if the sudden need to gun it arises. For swift progress on winding roads, it is best to manually work through the transmission's ratios.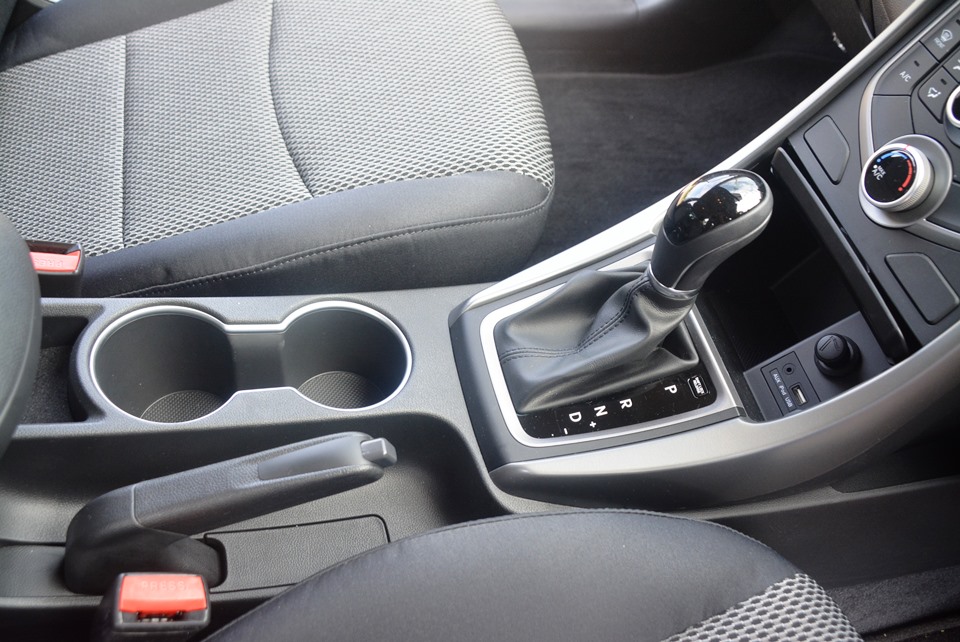 Verdict
Long gone are the days when Hyundai test cars are given handicaps to help with their scores. Where concessions were previously granted on the grounds of its underdog status, we now evaluate Hyundai on equal footing with its competitors. It is a remarkable rate of progress for which the company deserves immense credit.
Life at the deep end of the pool has not been easy, however. Many a time, Hyundai test cars that come our way fall short of producing the kind of dynamic sparkle that their sleek appearances suggest. The pre-facelift MD Elantra was guilty of this, but the situation has notably improved with this revision. There's a pleasingly tauter feel to the chassis – not quite good enough to trouble segment benchmarks, but definitely adequate to inspire more confidence behind the wheel.
The ardent enthusiast may want to look elsewhere, but for the masses, the new 2015 Elantra is an entirely commendable product that delivers on exceptional value and laces it with considerable style. You are not only given a lot of metal for the money, you're getting a sharp-looking vehicle that is respectably-equipped across its entire range.