Isuzu MU-X Test Drive Review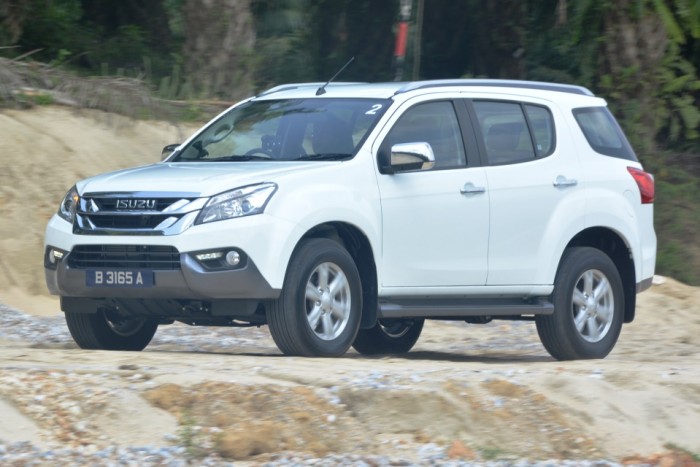 It will take motorists of an earlier generation to remember a time when our roads were populated by a sizable number of Isuzu passenger vehicles and SUVs. Partnered with General Motors at the time, Isuzu once had a relatively extensive line-up of vehicles in its portfolio. These days, the company focuses its attention mostly on making trucks and it has successfully built a formidable reputation of making some of the hardiest vehicles in the business.
Lorries such as the F-Series and N-Series now form the bread and butter of Isuzu's business together with the D-Max pick-up truck that is the only Isuzu vehicle that one can buy brand new on private registration. To date, both generations of the D-Max are co-developed between Isuzu and General Motors, although with the first generation D-Max, it was more of a case of GM simply rebadging it to become the Chevrolet Colorado for the Thai market.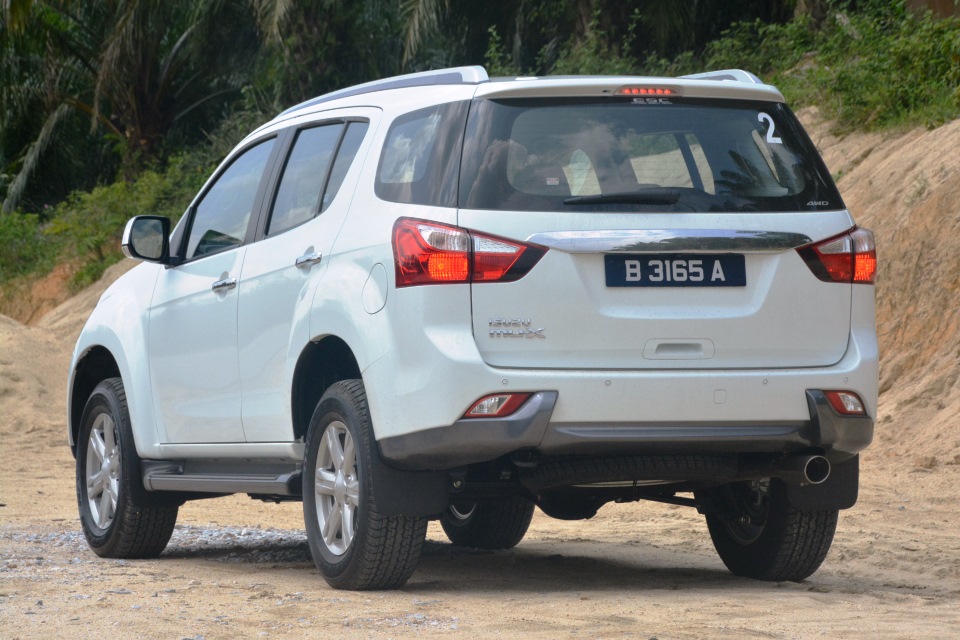 Like its pick-up truck rivals, the D-Max also spawned its own SUV derivatives. The previous model laid the foundations for the MU-7 that was never sold in Malaysia. Isuzu did bring a few units in for evaluation, but it was too late into the model life cycle that the company saw no point of introducing it here. Just as the D-Max is now in its second model generation, the MU-7 is accordingly replaced by the all-new MU-X and this time, Isuzu Malaysia was on the case fast enough to bring it into our shores.
Official launch of the MU-X is scheduled to happen on 4 June, in conjunction with the D-Max's 10th birthday in Malaysia and bookings are officially open at all Isuzu dealerships nationwide. Ahead of its launch, we put the MU-X through its paces on a drive to Cameron Highlands and back.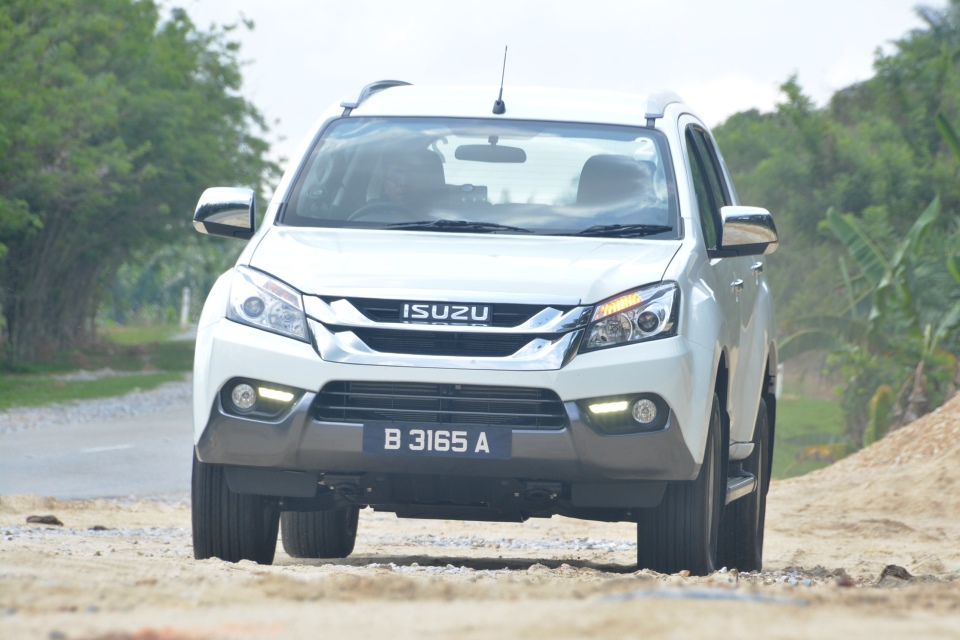 Prices & Variants
Isuzu Malaysia offers the MU-X with a choice between 4×2 and 4×4 drivetrains, both powered by the D-Max's 2.5-litre VGS turbodiesel engine with automatic transmission as standard. Deliveries will start from the end of May, but orders taken between now and July get to enjoy introductory on-the-road prices of RM151,944.56 and RM164,969.84 respectively with insurance.
We will naturally need to revisit the issue if and when prices are revised in July, but as things stand, the MU-X 4×2 undercuts the equivalent Mitsubishi Pajero Sport GL 4×2 by RM3k whilst the 4×4 is RM4k down from the cheapest variant of the Toyota Fortuner (which has full-time 4WD as standard). Against the more powerful Pajero Sport VGT 4×4, the MU-X 4×4 sits a good RM10k south. Competitive pricing indeed.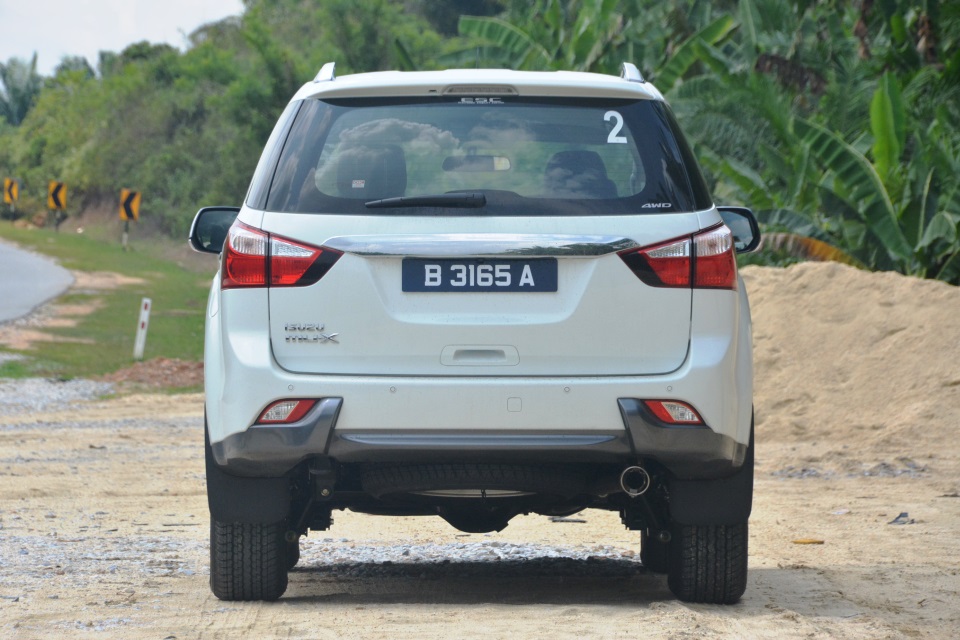 Standard equipment in the 4×2 model start with projector headlamps, illuminated instrument cluster, steering-mounted controls, rear air-con blowers, USB, Bluetooth, leather upholstery, and electric driver seat adjustment. Noteworthy perhaps is the standardization of safety across both variants, which sees dual airbags, ABS, EBD, electronic stability control, and ISOFIX anchors standard for all variants.
Enhancements in the 4×4 come in the form of LED daytime running lights, cruise control, auto climate control, rear DVD monitor, and a locally-fitted Blaupunkt 2-DIN touchscreen with reverse camera and GPS. In its cargo hold, the 4×4 model also additionally gets a tonneau cover and cargo organizer box. For the purpose of this review, our test units consisted entirely of the higher-specced variant.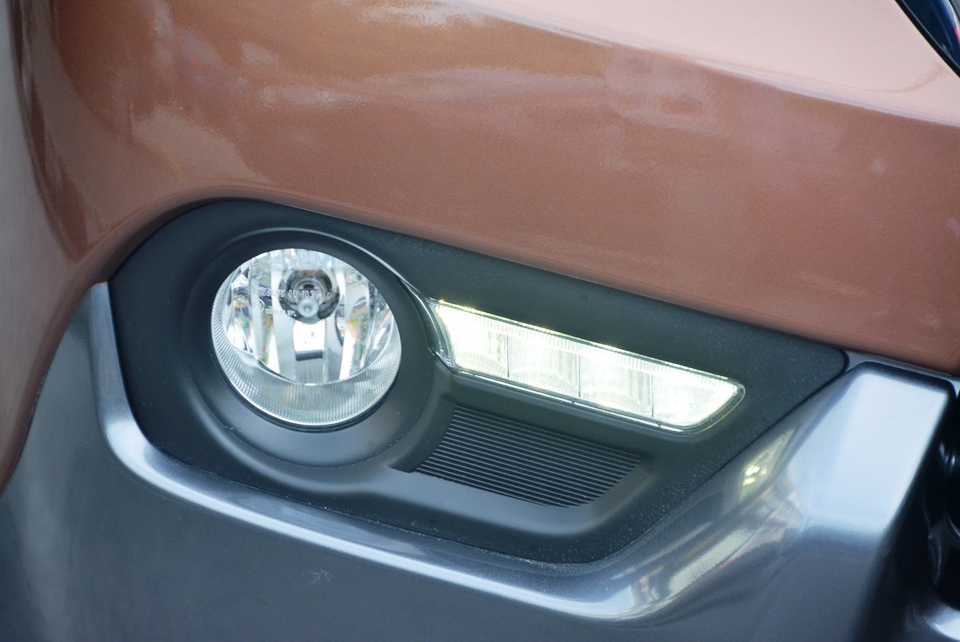 Specifications
As much as 70 percent of the MU-X's mechanical components are shared with the D-Max, with its ladder frame, front suspension, engine and drivetrain all common between both models. The i-GRIP platform underpinning both models is a co-development between Isuzu and General Motors, being also used in the Chevrolet Colorado and Trailblazer.
Owing to different product philosophies, however, the two companies use their own engines. Isuzu, with its unashamed bias towards durability and economy, fields a set of more conservatively-tuned engines. Isuzu engines, by the way, are notoriously over-engineered; in the aftermarket scene, it is not uncommon to find tuners pushing as much as 200hp from these hardy mills.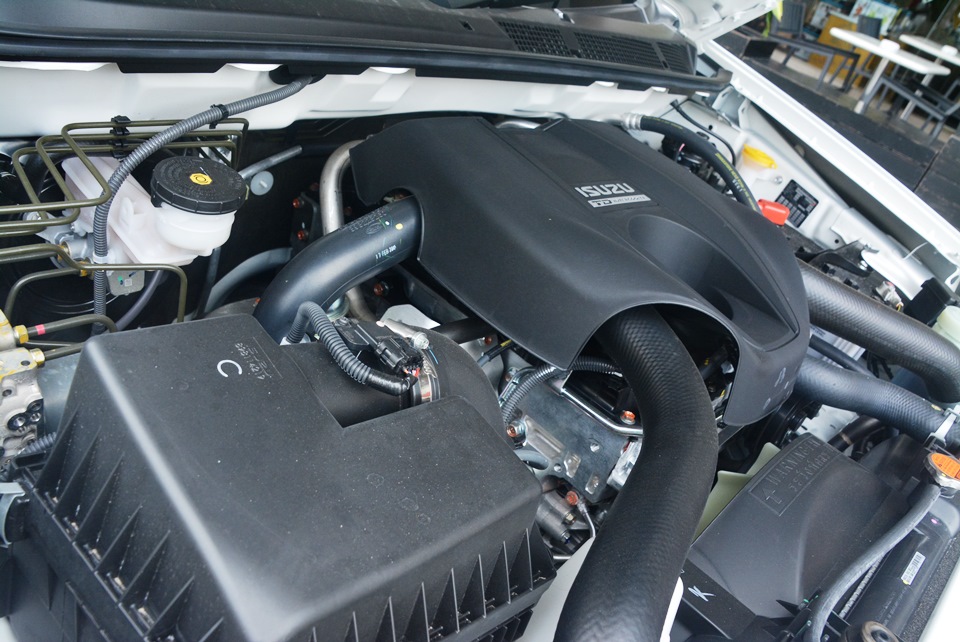 For the MU-X, Isuzu Malaysia now offers only the 2.5-litre 4JK1-TCX variable geometry turbodiesel as the model's sole engine option mated with a 5-speed automatic gearbox. Outputs of 134hp and 320Nm are identical to the D-Max; roughly on par with the Pajero Sport 4×2 (134hp/314Nm), but down by some margin from the Fortuner 2.5 diesel (142hp/343Nm). The Ford Everest, an upcoming competitor sitting on Ranger mechanicals, will have Ford's 2.2-litre turbodiesel with 148hp and 375Nm on tap.
Besides their obviously different body shapes, the biggest key difference between the D-Max and MU-X is that the latter is sprung on coils at the rear as opposed to leaf springs in the former. The truck's rear drum brakes also make way to give the MU-X all-round disc brakes.
Exterior
As is common with its peers and like its MU-7 predecessor, the MU-X sports a common fascia with the D-Max sharing its pair of projector headlamps and all sheet metal forward of the A-pillar. Bumper and grille incorporate subtle differences with the MU-X getting notably more intricate details and grey lower cladding.
Similar to the relationship between the D-Max and Colorado, the MU-X's connection with the Trailblazer is obvious with their identical glasshouses and dashboard panels. They do not share the same sheet metal, however; the panels are stamped with different character lines on the two models, looking sharper and edgier on the MU-X, whilst the Trailblazer's is gentler and less pronounced.
If you need to stack things on top of the MU-X, its integrated roof rails are designed to accommodate loads up to 60kg.
Interior
The MU-X's shared dashboard with D-Max mean its ergonomic characteristics are already familiar to us. There are admittedly alterations to some trim inserts, but functionally, the control scheme is almost identical to the top-spec D-Max V-Cross 3.0 with its distinctive circular arrangement of switches for its auto climate control system.
Aft of the B-pillar, the MU-X accommodates a further five passengers in two rows of seats, taking three in the middle and two at the rear, all afforded the protection of three-point seat belts. Commendably, the third row has adequate space to accommodate an average-sized adult without inducing claustrophobia. If you have bulky items to transport, both rows of seats can be split-folded for extended cargo room.
An independent air-conditioning system with roof-mounted blowers supply cool air to rear passengers. Operated separately from the front climate control unit, the system even has a separate condenser unit installed behind the flushed arm rest for the right third row passenger.
Driving Experience
Sitting on a ladder frame and live rear axle, the MU-X is not a vehicle which we could fairly benchmark against, say, a BMW X1 or Ford Kuga for dynamic evaluations. Amongst currently-available models, the Pajero Sport provides the most relevant yardstick and our opinion is that the Mitsubishi feels more confident and composed around corners.
Cajoling brisk progress through winding roads require active intervention of gear changes to exploit engine braking and stabilize the vehicle's weight transfer. Overall setup seems to err on the soft side; not optimal to reign in pitching and body roll, but useful in smoothing out surface imperfections. Compared to the D-Max, the MU-X's demonstrates substantially better pliancy over ruts and pot holes.
In view of its conservative outputs, straight line performance is unsurprisingly modest, but within context never found wanting. Typical of Isuzu mills, the engine is tuned to offer effortless progress from low revs and it is pleasantly quiet at gentle cruising. In our opinion, the 3.0-litre engine from the D-Max, which has an even smoother and more linear power delivery, would have been a perfect fit, but the 2.5 offered here is largely adequate for the purpose.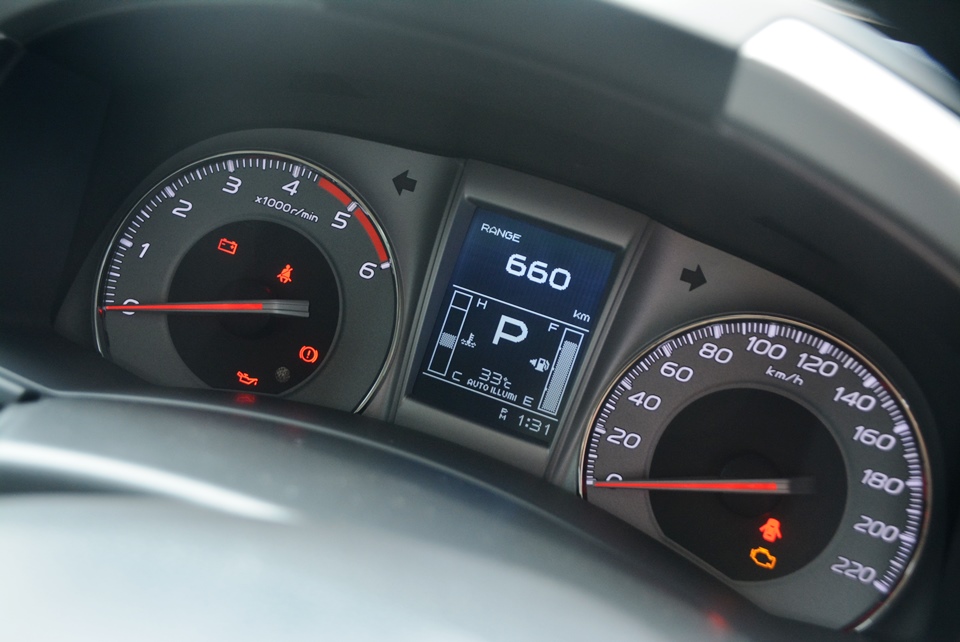 Verdict
Whilst the popular trend toward SUV these days are admittedly driven by demand for urban crossovers, we believe there's still a place in the world for properly the rugged traditional mould types to serve heavier duties. If your requirements are as such, we can offer no active reason for you to strike the MU-X out of consideration.
Only if you must have that little bit of dynamic sparkle to go with your toughness, the Pajero Sport then becomes the more convincing prospect. Mitsubishi's chassis handiwork inspires confidence on winding roads in ways that the Isuzu does not. We'll concede that such matters are rarely priorities for buyers of such vehicles and we will thus not hold it against the MU-X as a deal breaker.
Main pull factor of the MU-X at this moment is price; Isuzu opens its argument as a good value preposition and strengthens its case with the sheer mechanical toughness that the company's products are known for.