Isuzu D-Max journeys from Bangkok to Singapore in one tank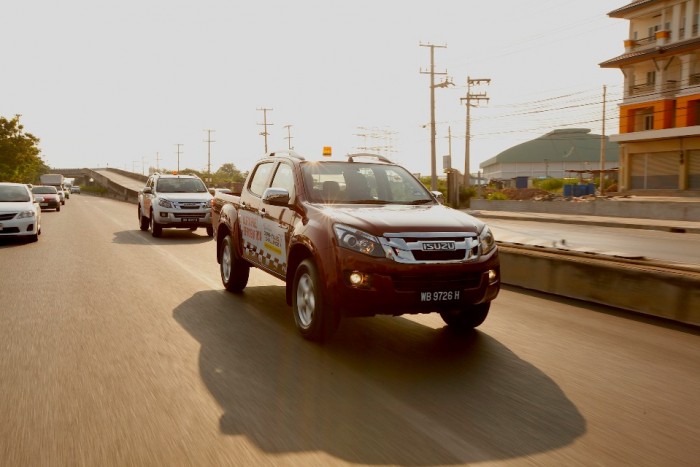 Whilst the recent Thai-Malaysia one-tank challenges by Mazda and Mercedes-Benz respectively have garnered considerable publicity, such journeys are nothing new to Isuzu Malaysia, who regularly organize Dura-Miles Challenges for the D-Max to prove its impressive fuel economy.
Organized internally with no media participation, the last Dura-Miles Challenge took place in 2011 with the predecessor model and went all the way from Bangkok to Malacca covering a distance of 1,600km. This year, with a new model on board, Isuzu went one step further and took the D-Max from Bangkok all the way to Singapore without stopping to refuel.
Four vehicles made the journey this time, with the convoy consisting of both the 2.5- and 3.0-litre 4×4 models in each with manual and automatic transmissions. Witnessing the journey are representatives from the Automobile Association of Malaysia (AAM) who also verified upon completion of the Challenge that all participating vehicles were according to manufacturer's specifications.
The four vehicles commenced their journey from from the Isuzu Ung Nguan Tai dealership in Bangkok flagged off by Executive Director of Isuzu Malaysia Daisuke Ishida, AAM Committee Member Ahmed Ismail, Tripetch Isuzu Sales Co. Ltd Senior Vice President Panadta Chenavasin and Ung Nguan Tai Isuzu Sales Deputy Managing Director Tanavit Pitaksith
The cars were driven through extreme conditions including 40-degree ambient temperatures through much of Thailand and faced thunderstorms in the evenings in Malaysia. Throughout the drive, the drivers kept the air-conditioning on to fight the sweltering heat – from our experience in the Mazda and Mercedes-Benz events, covering that journey with air-conditioning off would have been torturing in the extreme.
"While four-wheel drive vehicles offer highly practical solutions to active lifestyle seekers, it suffers from a bad reputation for being heavy on fuel. However, due to Isuzu's amazing engineering and remarkable power balance, the Isuzu D-Max is able to offer uncompromised performance and fuel efficiency to every motorist," said Ishida.
Pictures: Official Isuzu release