Mazda2 SkyActiv Test Drive Review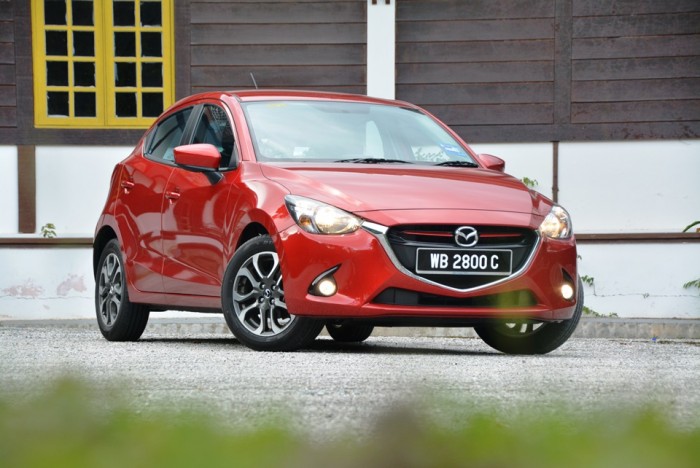 The previous-generation Mazda2 was one of the last vestiges of the now dissolved partnership between Mazda and Ford that dated back over 40 years to the time when cars such as the 323 and 626 were rebadged as the Laser and Telstar respectively. The AutoAlliance Thailand plant jointly built by these two manufacturers in Rayong is now largely a Mazda operation, with the Ranger now the only Ford vehicle rolling out from it with production of the Fiesta having been shifted over to Ford's own FTM plant situated nearby.
Mazda's main benefit from the partnership was the opportunity to share its economies of scale with Ford. Globally, the company sold 1.3 million cars in 2014, not a particularly huge number when one remembers that Ford and Toyota annually sell more than a million units of the Focus and Corolla each. Viewed in that context, Mazda's willingness to walk out from an obvious avenue to leverage bigger economies of scale seemed like a ballsy one.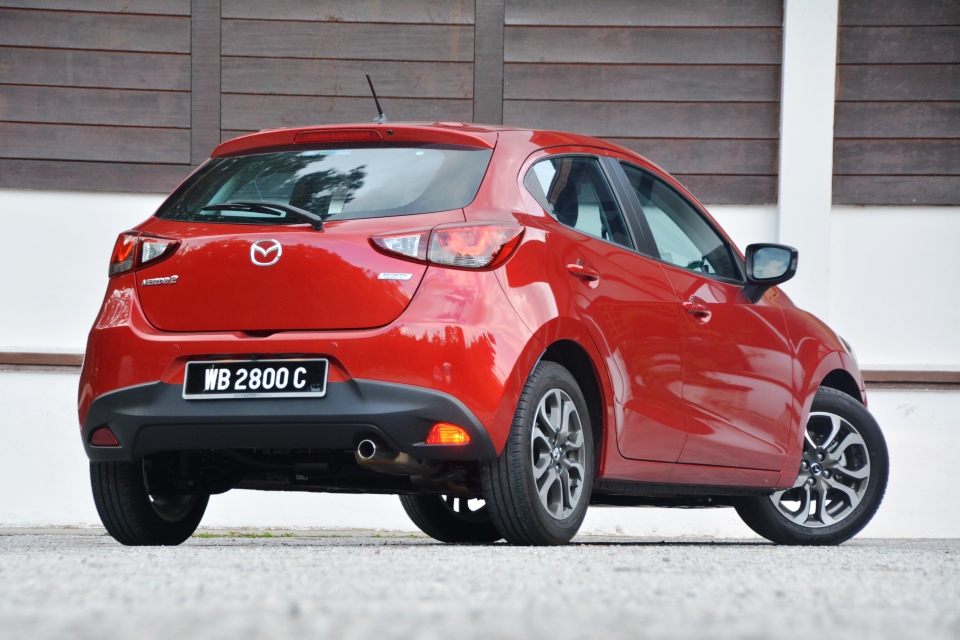 This then brings us to Mazda's application of its much-lauded SkyActiv technology. Official company lingo tells us that it is a revolutionary re-work of the vehicle's engineering fundamentals that help extract maximum performance and efficiency from each component whilst meticulously honing them in a way that driving fun is not sacrificed. Well, those aren't empty boasts, but what's less often highlighted is that the high degree commonization between cars underpinned by the SkyActiv platform is the cornerstone of Mazda's cost optimization strategy.
The new Mazda2 then, is the latest Mazda model following the CX-5, Mazda6, and Mazda3 in adopting full SkyActiv technology in its make-up from engine, transmission to chassis, bodywork, et al. Launched globally over a year ago as a five-door hatchback with a sedan added much later to the line-up, the 2 made its much-awaited debut in Malaysian shores this year, and early indications suggest that Mazda is onto a big winner here.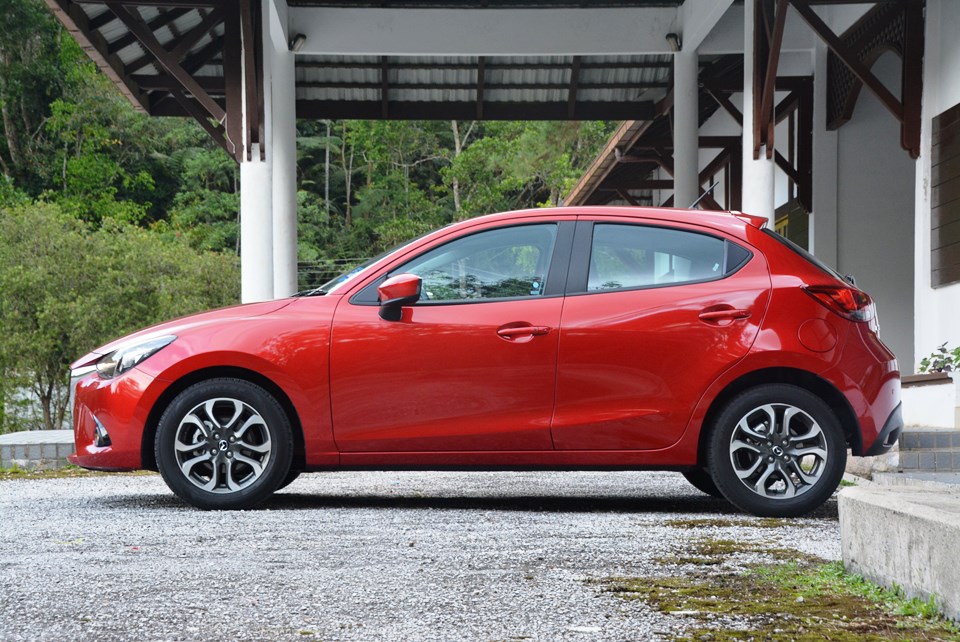 Prices & Variants
Only one mechanical specification and trim level is offered in the Mazda2, at a GST-inclusive price of RM88,115.20 with insurance. You get to choose between sedan and hatchback bodystyle with no price difference, although satellite navigation will set you back an extra RM1,200.
For its price range, equipment levels are highly commendable. Aside from having the signature LED headlamps seen in international promotional materials downgraded to less remarkable-looking halogen reflectors, Mazda has plonked the works in the new 2, offering a kit count that is highly impressive within the context of its class.
Standard equipment includes 16-inch alloy wheels, leather upholstery, reverse sensors plus camera, rear fog lamps, keyless entry, paddle shifters, auto climate control, stability control, and heads-up display. The Mazda Connect infotainment system with rotary knob and a stand-up 7-inch touchscreen first seen in the Mazda3, makes an appearance here.
The only engine currently available for sale in Malaysia is the 1.5-litre SkyActiv-G petrol mill paired to a lighter and more compact version of Mazda's in-house 6-speed automatic transmission as standard. Local distributors Bermaz are also evaluating the case for the diesel counterpart, which we were notably impressed with after covering over 1,000km from Bangkok to the Malaysia-Thai border without having to refuel.
For the purpose of this review, we base our report on findings from the aforementioned Bangkok-Changlun drive and two test cars that were subsequently loaned to us – a petrol-powered hatchback (WB 2800 C) followed by a Thai-spec diesel sedan (WB 2380 C) specially brought in and registered with Malaysian plates for testing and evaluation.
Specifications
A notable trump card which the Mazda2 boasts over its rivals, thanks to its SkyActiv DNA, is that the 2 is the most affordable new vehicle currently offered with petrol direct injection. Like all SkyActiv engines, the 1,496cc four-cylinder powerplant operates on the 14.0 compression ratio that is the hallmark of this powertrain family. Internationally, Mazda offers this engine with a range of outputs, but for Malaysia, we are limited to one setup, and it is the most potent one, generating 114hp and 148Nm – competitive, although not entirely class-leading.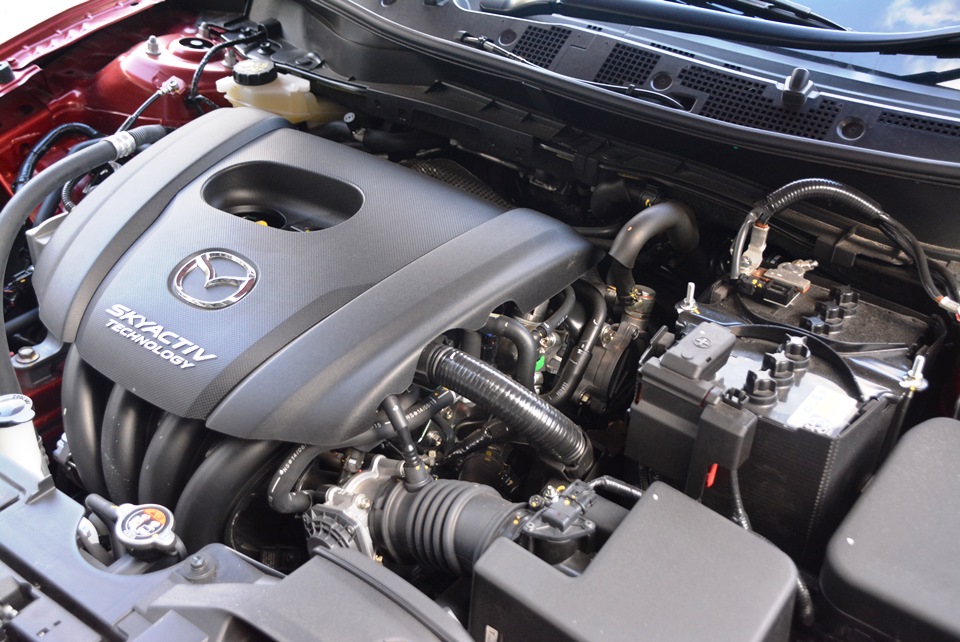 The SkyActiv-D diesel engine, if it comes, promises to offer a blend of performance and efficiency that is unheard of within the segment. Relative to the petrol engine, the oil burner makes slightly less power, 103hp @ 4,000rpm, a deficit which it offsets handsomely with a generous dollop of torque, 250Nm available from 1,500 to 2,500rpm.
In line with Mazda's all-encompassing SkyActiv technology, the new 2 is underpinned by the latest iteration of what essentially is Mazda's version of a modular and scalable chassis. To date, this is the most compact application of the SkyActiv platform and thus far the only one to feature the segment-norm torsion beam instead of the more sophisticated multi-link set up installed in bigger models. For our market, Mazda has also specified all-round disc brakes as standard, an uncommon offering within its class.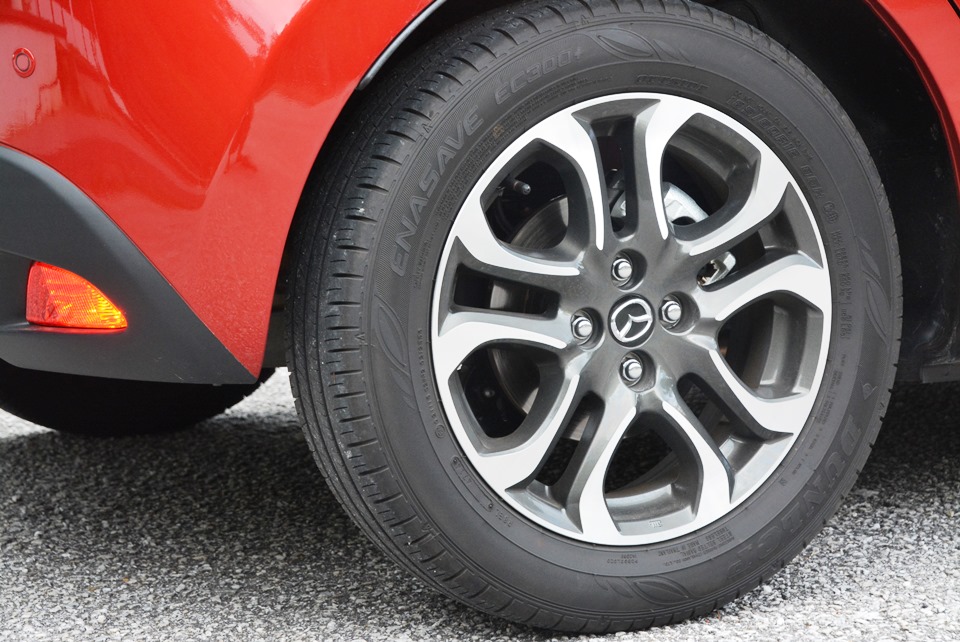 Exterior
Just as the case with its bigger siblings, the application of Kodo styling has made the Mazda2 one of the most distinctive-looking models in the segment. Much of the familiar styling elements that defined the other SkyActiv-based models are present and accounted for, notably its trapezoidal grille and taut surface finishing.
Overall, we like that the latest interpretation of Mazda's new familial design language didn't result in the 2 looking too much like squished Mazda3. Compared to its predecessor, the new 2 looks more grown-up and sophisticated, deserving of a bigger price tag, even. The sedan, in particular, now wears sheet metal that give far better balance to its proportions; with the previous model, it looked apparent that the sedan was developed as an afterthought to the hatch.
Size-wise, the new 2 unsurprisingly occupies a bigger footprint than its predecessor – the hatchback now pushes the tape measure past four metres from stem-to-stern compared to 3,950mm previously whilst the sedan is now 57mm longer than before. Compared to rivals, the hatchback is actually longer and wider than the Honda Jazz, but the sedan is shorter than both the City and Toyota Vios. The Ford Fiesta, meanwhile, is shorter in hatchback configuration, but evenly matched in sedan guise.
Interior
That the Mazda2 hatchback is actually a bigger car on the outside than the Honda Jazz really surprised us. Its rakish appearance against the Jazz's boxier midi-MPV style makes the 2 look smaller in comparison; sitting inside, that perception is reinforced, as the Mazda welcomes you into a cabin that feels less spacious in comparison. Open storage space for small items are adequate but unremarkable – just two cup holders on the centre console with a rectangular cubby hole further aft.
But whilst space is at a premium in the 2's cabin, Mazda was remarkably generous with their selection of materials – all touch points and switch gear ooze levels of quality that would shame cars at twice the price and Mazda's clutter-free dashboard design convincingly contributes to an impression of minimalist luxury. Infotainment controls is wired through the MZD Connect system trickled down from the Mazda3. By and large, it is an effective and intuitive system. Our only complain is that when browsing radio stations whilst viewing other screens, there's no display to tell us which station is being selected at the moment.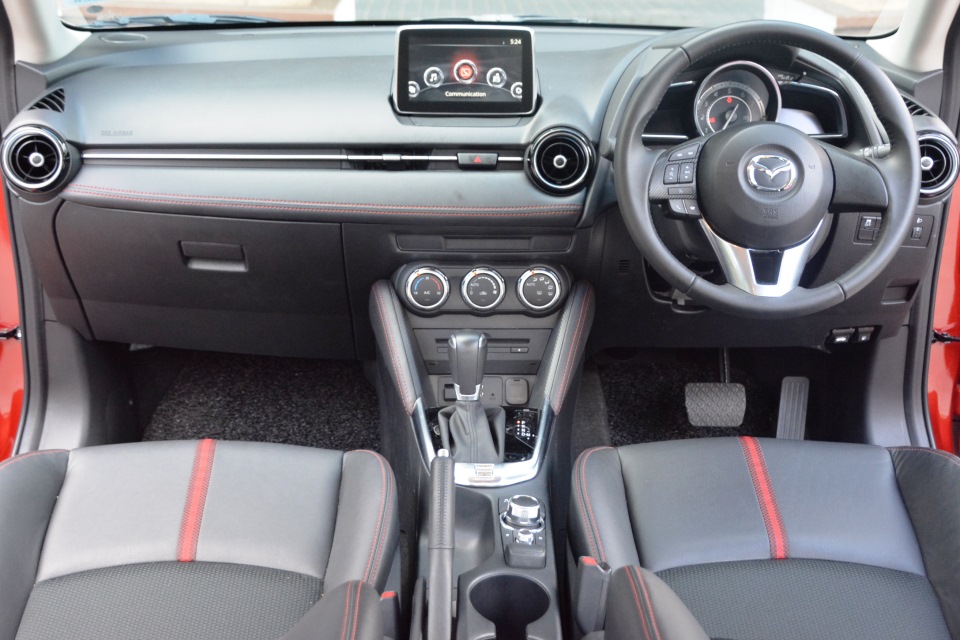 Driving Experience
Although its on paper outputs are merely on par with rivals, our real world experience with the petrol-powered 2 shows that it is an eager performer blessed with a mid-range that is unusually beefy for a naturally-aspirated 1.5-litre mill. Throttle response is definitely sharper and livelier than its immediate rivals, and power delivery is satisfyingly smooth, in keeping with the linear and measured characters that Mazda seeks to define its SkyActiv engines with. Performance-wise, only a Ford Fiesta EcoBoost gives you more.
The engine's overall excellence continues to its chassis, which just about manages to strike a fine balance between handling tautness and ride pliancy. It is a highly-composed set up, although a few rough edges mean that it ultimately remains second best to the Fiesta's dynamic all-roundedness. Its steering, although quick and accurate, feels over-assisted at times and not as communicative as we would have liked.
Ride quality, whilst largely acceptable, does not isolate high frequency rough surfaces with the same accomplished sophistication as the Ford. Like other SkyActiv-powered Mazdas, the 2 also suffers from the lack of effective sound insulation. We emphasize on insulation here because the car's moving gear actually generates very little noise, but too much wind and road noise are being let in for conversations to be carried at normal volumes in highway speeds.
The diesel engine trades off some of the petrol version's fluency for a slightly different set of virtues. At first impression, the characteristic smoothness and linearity native to the SkyActiv philosophy are present and accounted for, but backed into a corner, one quickly realizes that the diesel version is far better to cruising duties as opposed to be hassled and harried along twisty stretches of B-roads.
Compared to the petrol model, the diesel version exhibits noticeable nose-heaviness; it is consequently less sharp and agile around corners as a result. Thanks to transmission programming that seeks to upshift as often as possible to maximise fuel economy, the diesel engine is often liable to be caught off-boost when a burst of acceleration is called for, resulting in a noticeable delay in response that you won't have with the petrol engine.
As per our findings with the Mazda6, there is a distinct impression that the 2's dynamics feel best calibrated for its petrol engine, and that's the version we feel is more enjoyable to drive. The diesel version is better suited for a relaxing cruise, and it offers the kind of long-legged cruising ability that is not only uncommon within the B-segment, but outright good enough to rival cars from segments above.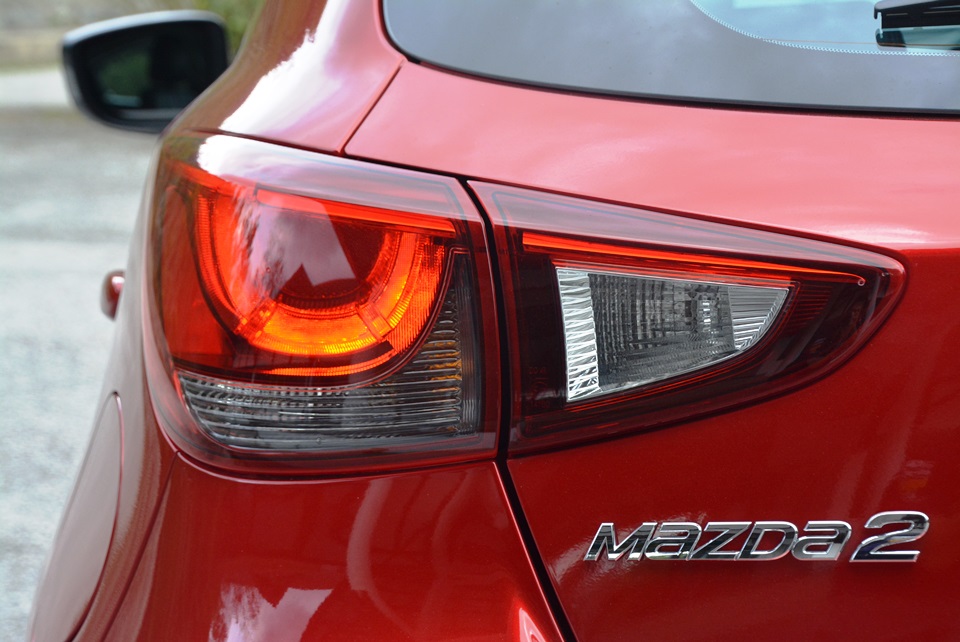 Verdict
If space is a priority, the Mazda2 is not the best car for your money at its price range. Take this constraint out of the picture, however, the 2 then becomes a significantly more convincing prospect altogether. Its expressive styling, excellent interior build, and generous kit count gives a legitimate impression of a car that is more expensive than the RM88k that Mazda asks you for one.
Also, in a segment that generally lacks sparkle, the Mazda2 also does not shortchange you in driving fun. It is, in our opinion, second best to the Ford Fiesta in this department, but the deficit here is minor, and when you factor in areas which the Mazda betters the Ford by even bigger margins, it is difficult to argue against the 2 being a superior offering, unless one is fixated by the charms of the Fiesta's award-winning 1.0-litre EcoBoost engine.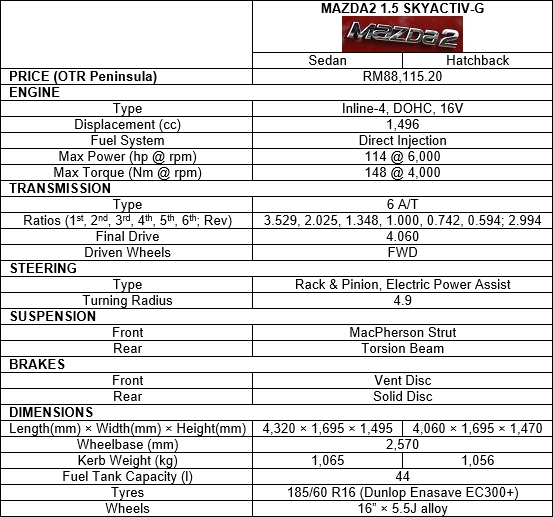 Picture Gallery: Mazda2 1.5 SkyActiv-G
Mazda2 1.5 SkyActiv-D (Thai spec)
Mazda2 1.5 SkyActiv-D (Thai spec, Malaysia-registered demo)