Hyundai Veloster Gets a Turbo Variant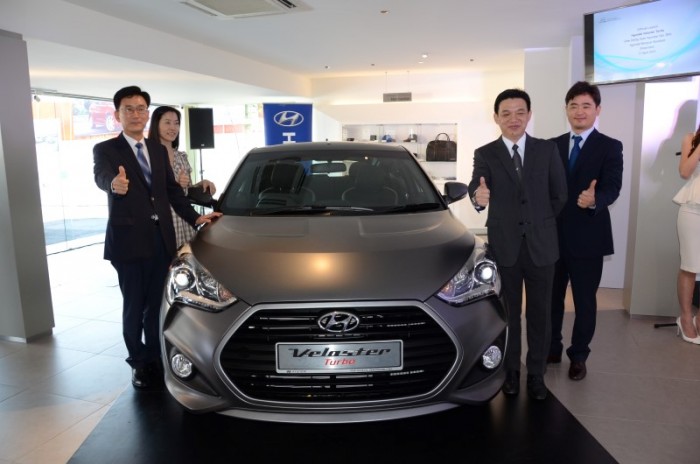 Kuala Lumpur, 17 April 2015 –  The Hyundai Veloster, the unique conversation piece hatch that has one door on the driver's side and two doors on the passenger's side just became a little more interesting, with the turbo variant that was launched today by Hyundai-Sime Darby Motors (HSDM) at its new Global Dealership Space Identity (GDSI) boutique showroom in Bangsar today.
HSDM still offers the base, naturally aspirated 1.6-litre model with a six-speed automatic transmission for those who just want the looks but don't need the go at RM 132k plus, which is a good value buy, since it comes with practically all of the goodies that come with the turbo model, including all the passive and active safety bits, 18-inch wheels and a panoramic sunroof.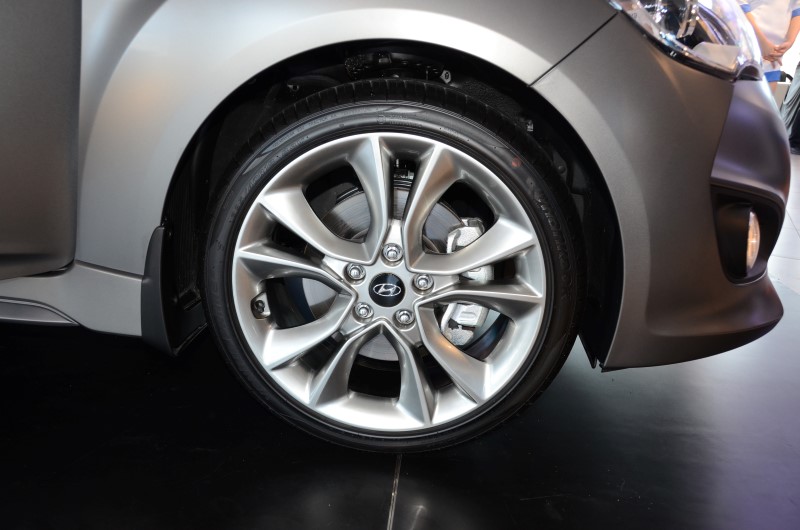 The Veloster Turbo, which is the subject we are interested in today, promises a totally new driving experience for the driving enthusiast, and at last offers some grunt to match the great looks.
The turbocharged 1.6-litre engine features direct injection, delivering a highly respectable 186 PS and 265 Nm of torque. This is a good 54 PS higher than the non-turbo 1.6 litre version. Mated to the turbocharged engine is a 7-speed DCT (Dual Clutch Transmission) which gives it a top speed of 214 kph, while acceleration is a fairly decent 8.0 seconds for the zero to 100kph dash.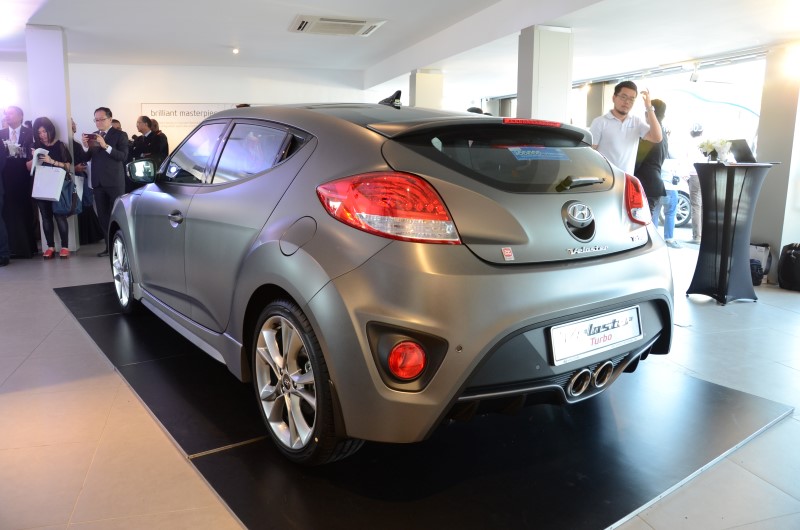 There are two variations for the Veloster turbo – both are the same spec with the exception that the Turbo Sport has additional orange stripes and 'TURBO' stitched onto the side bolsters.
Both of the turbocharged variants come equipped with a panoramic sunroof, a 6-speaker audio system, HID projector headlamps and auto air-conditioning. In the safety department, all variants, including the base naturally aspirated model are equipped with ABS, Vehicle Stability Management, Electronic Stability Control, and Hill Assist Control. Steering is electric power steering and a reverse camera is standard across the board. Wheels are 18-inch alloys for all variants.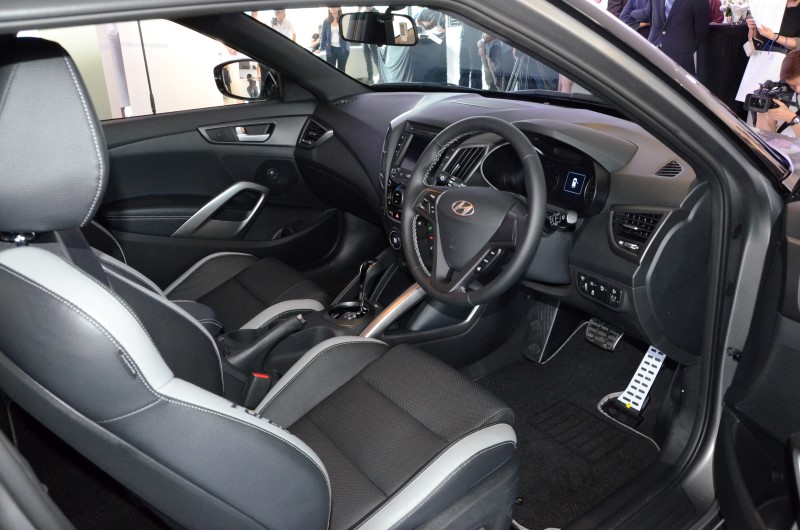 The Veloster is fitted with MacPherson struts for the front, and although the brochure that was given to us states that the rear suspension is a multi-link arrangement, we have since been informed by representatives of HSDM that it was a printing error and the Veloster, as it had before this, has a torsion beam at the rear.
No matter, whatever the case, the Veloster does seem to be a decent car now that it has more power, and we shall see what we shall see when they deem it fit to offer us a test vehicle.
Prices for the Veloster are as follows:-
Veloster 1.6 Premium: RM132,928.50
Veloster 1.6 Turbo: RM152,476.14
Veloster 1.6 Turbo Sport: RM156,213.70
All prices are for Peninsula Malaysia, on-the-road with 1 year road tax and insurance