Volvo unveils new V60 D5 Twin Engine in Geneva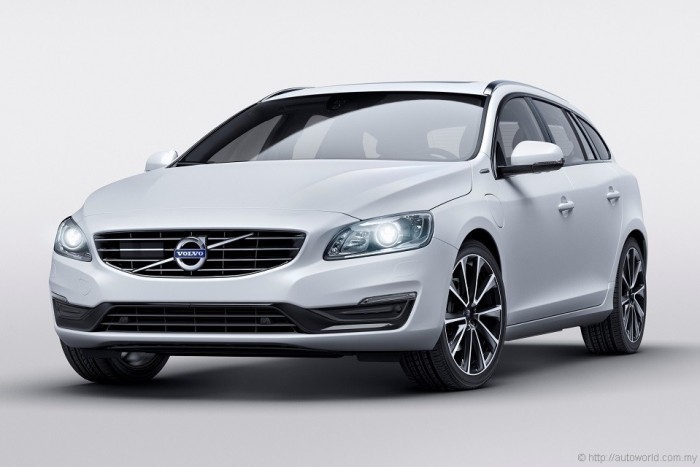 At the Geneva International Motor Show, Volvo Cars is unveiling a new variant of the V60 equipped with a plug-in hybrid powertrain fuelled by a diesel engine from its latest 2.0-litre Drive-E engine family.
Dubbed the D5 Twin Engine, the new variant's introduction is being marked by a limited-run 500-unit Special Edition trim that sees the car delivered with Crystal White exterior paint, 19-inch wheels and glossy black exterior detailing. Inside, the cabin is finished with black headliner, piano black trim, and unique Blond sport seat upholstery with decorative white stitching. Regular variants of the car follow in spring.
The D5 Twin Engine's powertrain layout follows the earlier-launched D6 AWD Plug-In Hybrid introduced earlier in 2012 in featuring a diesel combustion engine driving the front wheels supplemented by an electric motor powering the rear. Combined efforts of the engine and motor, which contribute 161hp and 67hp respectively, yields a net system output of 230hp with over 600Nm of torque at the driver's disposal, enabling the century sprint to be covered in nine seconds.
The V60 D5 Twin Engine's 11.2 kWh lithium-ion battery can be fully recharged from a regular 230V power socket, with full recharge time varying between 3.5 and 7.5 hours depending on amperage of current supplied. With a full charge, the D5 Twin is able to cover 50km in Pure all-electric driving mode.
Two other driving modes are accessible; Hybrid mode is the default setting at start-up – in this mode, the D5 Twin has a rated fuel consumption of 1.8 l/100km and carbon dioxide emission at 48 g/km. Power mode gives the driver access to the vehicle's maximum available performance. When driving with the diesel engine active, the driver can also choose to activate Save mode, which conserves battery charge for later use.
Pictures: Official Volvo release.