Toyota Fortuner updated for 2015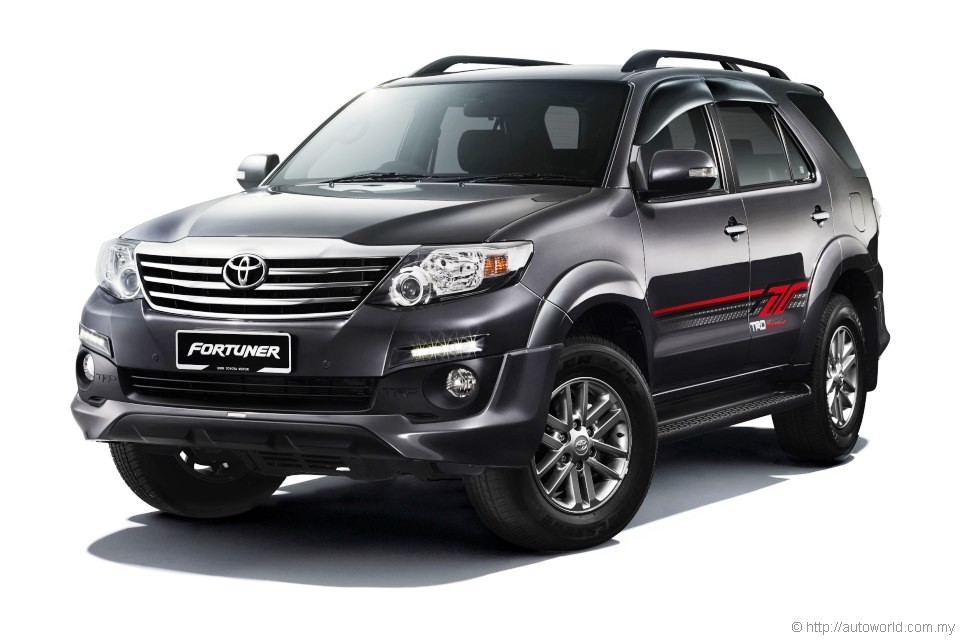 UMW Toyota Motors long-serving SUV workhorse, the Fortuner, keeps on going with another round of minor updates to give it a bit of an appearance tweak for its 2015 model year.
Outwardly, onlookers can identify the 2015 vintage Fortuner by its redesigned headlamps, covered by a more protruding lens, and new tail lights, recessed in darkened bezels. Daytime running lights, installed in a row of five LEDs on the bumper, one row under each headlight.
The colour palette has also been expanded; two new colours – Attitude Black and Grey Metallic – join the existing choices of Medium Silver Metallic, Solid White, and Silver Metallic. As before, buyers can also deck their vehicles with the optional TRD Sportivo kit.
Inside, the seven-seating cabin of the Fortuner continues its existing layout, with the usual folding facilities thrown in allow different passenger-cargo combinations according to situation. Rear-seated passengers enjoy the comfort of dedicated ceiling-mounted blowers with fan speed adjustment. The 2.7V additionally gets black woodgrain dashboard trim inserts.
Range of optional equipment offered with the 2015 Fortuner include a DVD Audio-Video Navigation system with smart phone mirroring and voice recognition. The system's navigation software includes digital maps for Malaysia, Singapore, and Brunei with the location of all Toyota outlets marked. Usefully, the a gyro speed sensor is included to provide momentary guidance in the event GPS signal is lost – regular Smart Tunnel users will appreciate. The system also includes a built-in reverse camera.
Additionally available with the DVD-AVN (as a cost extra, of course) is a choice of two rear seat entertainment systems – a ceiling-mounted monitor with its own integrated DVD player or the monitor alone playing back from the DVD-AVN unit.
On-the-road price of the new 2015 Fortuner (with insurance) in Peninsula Malaysia are as follows:
– 2.5G VNT Diesel: RM172,122.20
– 2.5G VNT Diesel TRD Sportivo : RM175,580.20
– 2.7V Petrol: RM179,841.30
– 2.7V Petrol TRD Sportivo : RM183,325.30