2015 Nissan X-Trail T32 Test Drive Review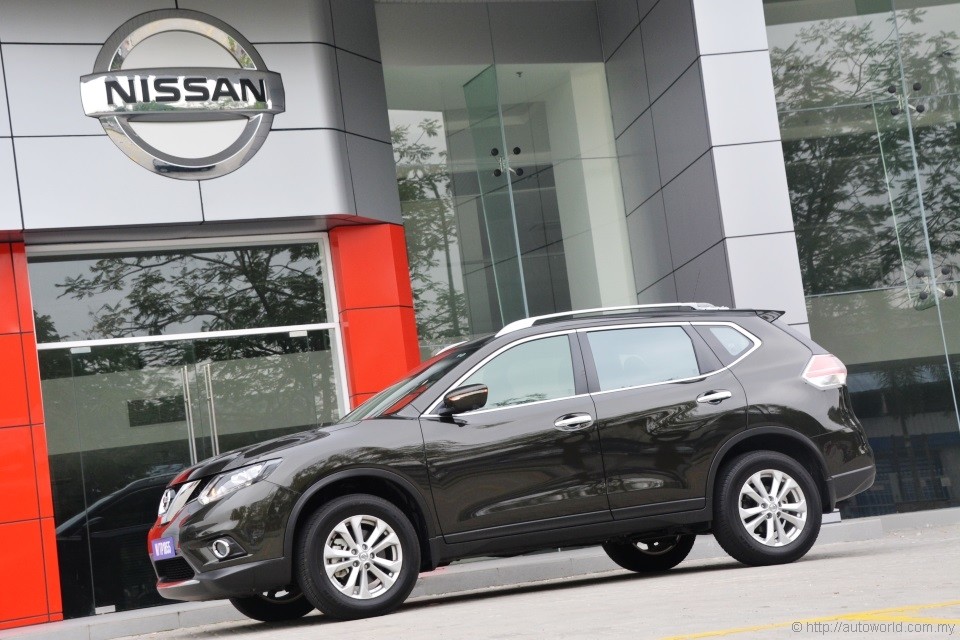 The first Nissan X-Trail that came to Malaysia was a memorable success for both Nissan and its local distributors Edaran Tan Chong Motor Sdn Bhd. The second-generation model that followed was, in contrast, a rather underwhelming product – less powerful, no AWD, but priced higher. It consequently faded to irrelevance and gave the Honda CR-V a clear run to market leadership.
An all-new third generation T32 X-Trail has arrived, however, and its mission is to regain the original model's market share that the T31 so painfully ceded. That the new model is once again assembled locally like the original rather than being imported CBU from Indonesia like the T31 mean that ETCM can once again contemplate the prospect of Government fleet sales of the X-Trail once again.
But Government sales is not the only thing that ETCM can count on to deliver robust numbers for the X-Trail once again. Besides an attractive new shape, the new 2015 X-Trail has more than a few USPs up its sleeve to once again become a genuine force in the segment.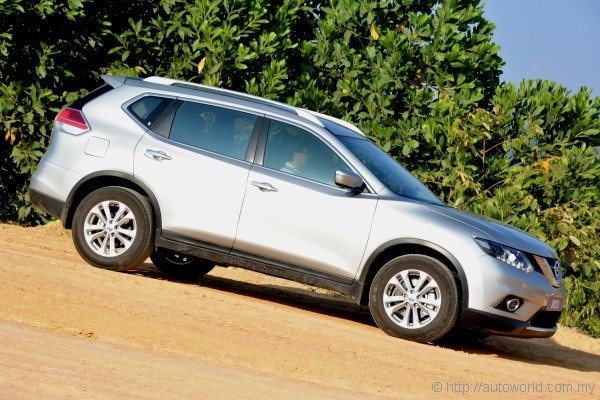 The new X-Trail makes a big styling departure from its first two predecessors.

Prices & Variants
All-wheel drive makes a much-welcomed return to the X-Trail, and it is fitted exclusively with the range-topping 2.5-litre model priced at RM165,800 with insurance. For consumers that can make do with less power and front-wheel drive, savings of RM23,000 await with the RM142,800 2.0-litre model.
Amazingly however, going for the lower model hardly means settling for an inferior option in the case of the X-Trail here. Besides the AWD system, you also lose LED headlamps, rain-sensing wipers, leather upholstery, electric front seat adjustment, and some shiny panels on the dashboard. We don't know about you, but for RM23,000 those are very acceptable compromises, especially after looking at you do get as standard.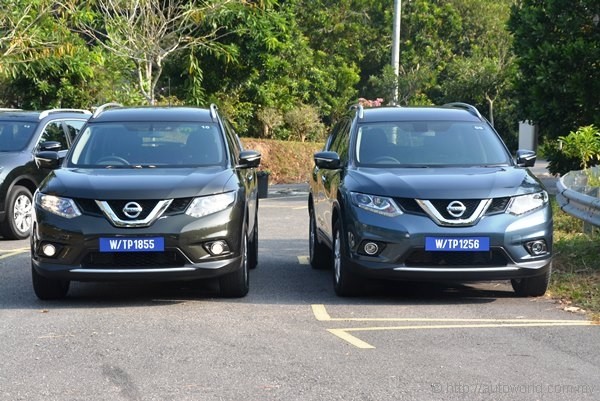 Little separates the appearance of the two variants. Both have LED DRLs.

Perhaps the most noteworthy feature in a long list of noteworthy features in the X-Trail is its 360-degree around view monitor. It is the same system as found in the Elgrand and Infiniti Q50, but it's worth noting that no other vehicle within RM100k of the X-Trail's price offers such a system in their arsenal. This, we would like to remind you, is standard in both variants of the X-Trail, and it is joined by keyless entry, LED daytime running lights, tilt & telescopic steering with integrated controls, and Bluetooth handsfree.
Safety is also well and truly democratized across the range; all variants come with ABS, EBD, electronic stability control, ISOFIX mounts, hill start assist, and dual frontal airbags. Having seen the Sylphy and Teana set a high bar with six airbags, and also Honda offering a minimum of four with the CR-V, questions inevitably arise on why the X-Trail is only making do with just two. The simple reason we were being given is, naturally, costing; in deciding to balance between offering a profitably competitive price and fitting various advanced (and undoubtedly expensive) kit, something had to give, and the ETCM team opted to sacrifice additional airbags for that purpose.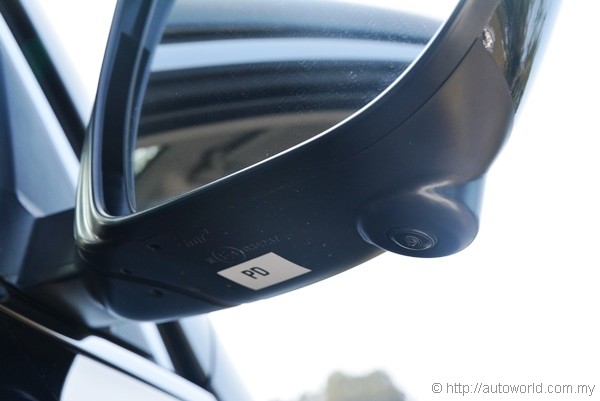 Camera in the side mirror contributes image to the AVM system.

Specifications
The two engines offered with the new X-Trail are relatively new but not unfamiliar. The 2.0-litre model shares its direct injected MR20DD powerplant with the Serena S-Hybrid whilst the 2.5's QR25DE-k2 engine is common with the Teana. Outputs of the two engines are rated at 142hp/200Nm and 169hp/233Nm respectively. Both engines mate with Nissan's X-Tronic CVT as standard, albeit with different final drives (longer for the 2.5) to account for their differing outputs.
Underpinning it is an all-new modular platform developed for use across the Renault-Nissan Alliance. The monocoque chassis is independently sprung all-round and brakes are not only discs all round, but all ventilated as well. All-wheel drive, as mentioned earlier, is exclusive to the 2.5 and packaged with hill descend control.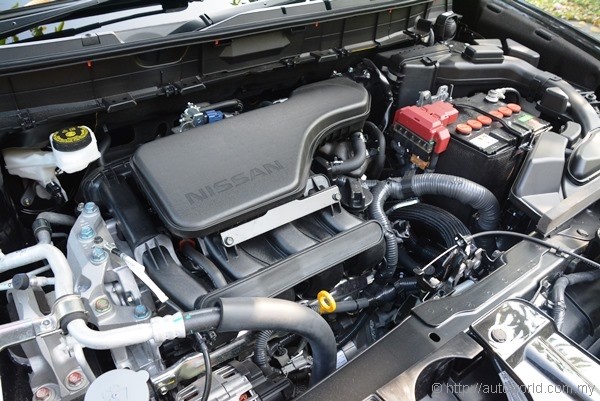 2.0-litre MR20DD engine features petrol direct injection.

Complementing the basic ingredients of the chassis is a suite of three separate systems packaged under the Active Chassis Control umbrella. These three systems – Active Engine Brake (AEB), Active Ride Control (ARC), and Active Trace Control (ATC) – utilize clever electronic application of engine torque output, transmission ratio, and braking to help smoothen out the X-Trail's ride and handling qualities. It is easy to assume that ARC involves some form of adaptive dampers, but what it really does is make minute braking applications and reduction of engine torque to cancel out undulations.
Of the remaining systems, AEB holds the CVT to lower ratios to provide added engine braking when the vehicle is going into a corner or simply slowing to a stop. Finally, ATC applies braking on individual wheels to keep the vehicle in line around a corner. These systems, in essence, are extensions of the vehicle's electronic stability control system.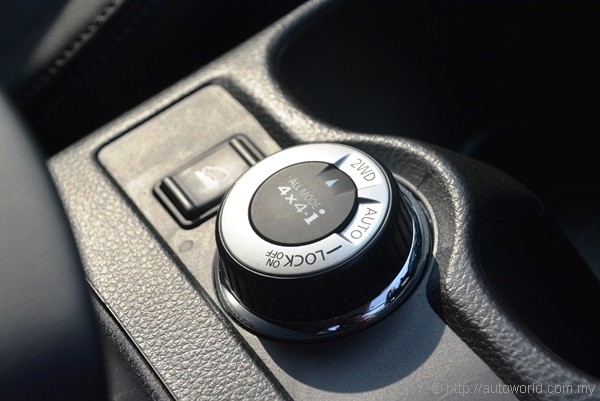 All-wheel drive makes a welcomed return to the X-Trail.

Exterior
The relative lack of enthusiasm in the T31 has understandably prompted Nissan to embark on a more fundamental rethink of the X-Trail's look and identity, and the result is a clean slate approach in styling. The familiar template laid by the T30 and T31 is consigned to history; the new model embraces a look that is more rounded and, Nissan hopes, perceived to be more premium.
In line with ETCM's efforts to keep the 2.0-litre model as a respectable base line of the range, there is precious little visual separation between the two variants of the X-Trail. At the front, both variants have DRLs, but looking closely, the 2.0-litre has conventional halogen reflector headlamps whilst the 2.5 has LED projectors. At the rear, the '4WD' badge on the 2.5's tailgate is the only differentiating marker between the two variants.
Both variants are also interestingly specced with the same set of wheels, measuring 17-inches and wearing 225/65 Dunlop Grandtrek road tyres. Visually, it's a little underwhelming, but for the benefit of ride comfort and also keeping in mind how tyre prices escalate exponentially with each successive inch, we wholeheartedly endorse the conservative sizing.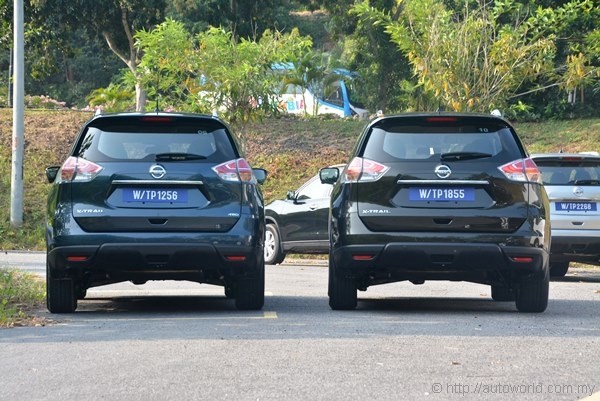 4WD badge is the only distinguishing mark of the 2.5 from the rear.

Interior
Inside, we see another major change to the X-Trail template, which is the addition of two seats over the rear. For long journeys, they are cramped accommodations, and Nissan is careful to promote the X-Trail as a 5+2 rather than an outright seven seater. Bearing in mind that most rivals settle for five seats anyway, the X-Trail offers you useful options – it's best that you carry only five people, but if you need to have seven on board, you can.
Rest of the cabin sees similarly fundamental reworking of the familiar X-Trail template. Owners of the latest Sylphy and Teana will find these to be perfectly familiar surroundings if not in look then most certainly in feel. Uncomplicated controls and faultless ergonomics make acclimatizing to this cabin a relatively painless process. An X-Trail tradition, namely the cooled drink holder, is preserved and is placed along the centre console.
The factory-fitted audio head unit includes a small colour screen that doubles as a display for the around view monitor system. For us, the image shown is of satisfactory quality, but the RM3,800 locally-developed multimedia unit from TCAT is worth considering for buyers who struggle with the relatively small screen. At the showroom, be sure to check the screen for size.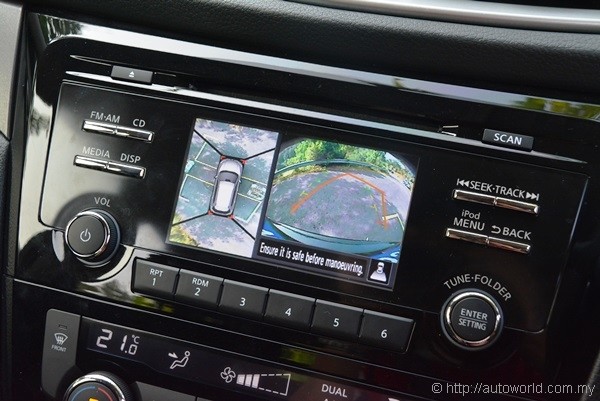 Around view monitor is a wonderful selling point of the new X-Trail.

Driving Experience
If the overall package of the X-Trail has thus far been enticingly attractive on paper, stints behind the wheel of both variants gave us little reason to dissuade you from getting one. What's especially pleasing is that in most driving conditions, the front-driven 2.0-litre model was rarely ever found wanting for performance or traction. It shows that, unlike its predecessors, Nissan developed this iteration of the X-Trail with FWD in mind.
On paper, the 2.0 appears to gain only 5hp and 2Nm over its predecessor, but the introduction of direct injection appears to have done its power delivery a world of good; the sluggishness that characterized the T31's driving experience is gone and replaced by a pleasingly snappier mid-range. On a clear enough road, speeds up to 160-180kph can be attained with relative ease.
Given Nissan's boasts on the benefits of its Active Chassis Control system, expectations of the X-Trail's handling prowess are accordingly high. Indeed, even in 2.0 2WD form, the chassis exhibits confident poise around corners and generally assuring stability at high speeds. It does not achieve segment leadership, however, thanks to a busy secondary ride over high frequency undulations. In this respect, the Ford Kuga still reigns as the segment's dynamic champions.
Over at the 2.5 4WD model, benefits are largely restricted to the additional performance of its bigger engine. With its All-Mode 4×4 system set to 'Auto', we noticed that there were rarely situations on tarmac in which anything more than 20% torque was routed astern. Our drive programme was conducted in dry weather with a mild off-road course thrown in, but we speculate that advantages of the AWD system will only truly come into play in rain or on gravel.
Verdict
The triumph of this X-Trail is that it starts with a respectably-kitted based model to work upwards from. As traditionalists, we'd still prefer to have AWD with our SUVs, but it is pleasing to see that consumers who are happy to make do with front-wheel drive do not have to settle for a sub-standard cost-down variant. That, is highly commendable.
Having seen the X-Trail's glow fade with the underwhelming T31, there is now little doubt that the nameplate's mojo has been rediscovered with the T32. Within the segment, it is a thoroughly complete and competent product, and one which we have very little hesitation in recommending to anyone. One thing's for sure, the CR-V faces a real battle in its hands.