Results: Autoworld Car of the Year Awards 2014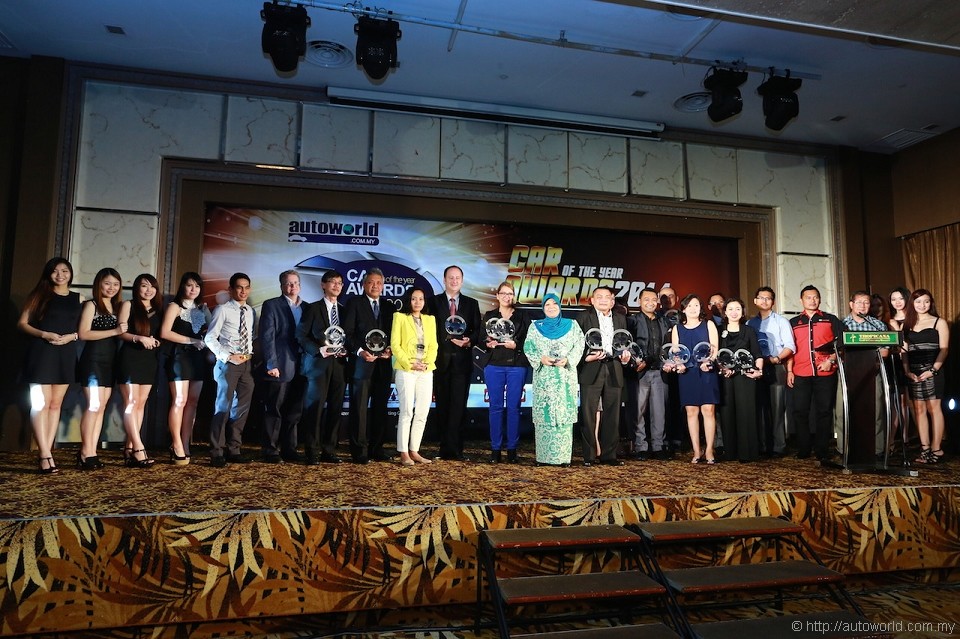 Greetings from the Tropicana Golf & Country Club, where we have just announced the winners of our latest Autoworld Car of the Year Awards 2014. A total of 20 awards were given out this year, acclaiming the best new cars launched in the market between November 2013 and October 2014.
As before, results of the awards were determined by combining scores awarded by a panel of judges led by our senior editor Mr YS Khong with results of an online poll voted by you, the readers.
Notable winners this year include a dominant display by Honda in the B-segment, with the City and Jazz both winning Best Sub-Compact Passenger Car awards this year for the sedan and hatchback categories respectively. Mazda's two new MPVs also won a prize each, with the new SkyActiv-powered Mazda5 and Mazda Biante winning Best Mid-Sized MPV and Best Value for Money MPV awards respectively.
Brands under the stewardship of the Tan Chong Group had a profitable afternoon as well. The Nissan Teana, Nissan Elgrand, and Nissan Leaf of Edaran Tan Chong Motor all won their respective categories, whilst luxury arm Infiniti won the Best Premium Compact Passenger Car category with its all-new Q50. From the side of TC Euro Cars, the Renault Clio R.S. 200 EDC took home the Best Premium Sub-Compact Passenger Car award.
Last year's biggest winner, Volkswagen, had another outing to be proud of as well. The newly-launched Tiguan 1.4 TSI showed the benefits of downsizing by winning the Best Mid-Sized SUV / Crossover award, but the star of the show was undoubtedly the Golf R. Picking up where its GTI sibling left off last year, the R took home the Best Performance Car, Judges Choice Award, and Overall Car of the Year awards. Finally, cementing its popularity with the masses, the Honda City was named Autoworld Members Choice.
Best Supermini / Kei-Car: Perodua Axia
Best Sub-Compact Passenger Car (Hatchback): Honda Jazz
Best Sub-Compact Passenger Car (Sedan): Honda City
Best Premium Sub-Compact Passenger Car: Renault Clio R.S. 200 EDC
Best Compact Passenger Car: Toyota Corolla Altis
Best Premium Compact Passenger Car: Infiniti Q50
Best Mid-Sized Passenger Car: Nissan Teana
Best Compact SUV / Crossover: Ford EcoSport
Best Mid-Sized SUV / Crossover: Volkswagen Tiguan 1.4 TSI
Best Mid-Sized MPV: Mazda5 SkyActiv
Best Large MPV: Honda Odyssey
Best Premium MPV: Nissan Elgrand
Best Alternative Energy Vehicle: Nissan Leaf
Best Performance Car: Volkswagen Golf R
Best Value for Money Passenger Car: Proton Persona SV
Best Value for Money SUV / Crossover: Great Wall M4
Best Value for Money MPV: Mazda Biante
Judges