Toyota Hilux receives mild updates for 2015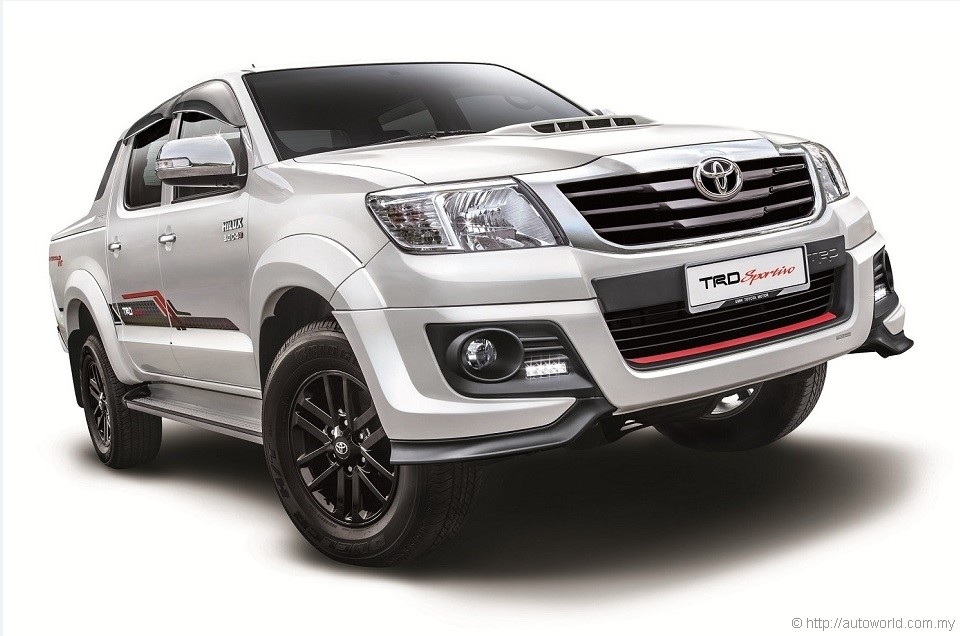 Malaysia's best-selling pick-up truck by a long mile, the Toyota Hilux, ushers the new year with refreshed looks (for some variants) and better equipment with UMW Toyota Motor officially announcing changes to its popular pick-up truck for its 2015 model year.
Since its launch in 2005, the current-generation Hilux has sold over 180,000 units in Malaysia. Despite aggressive campaigning from newer and bolder trucks such as the Ford Ranger and Isuzu D-Max, the Hilux consistently outsells all of them combined; now ten years in the market, its popularity shows no sign of waning.
Manual transmission models, namely the 2.5 single cab, 2.5 Standard dual cab, and 2.5G dual cab are largely unchanged save for the introduction of an additional lock to secure the spare wheel.
Automatic versions, namely the 2.5G dual cab and 3.0G dual cab, get more in both standard and optional equipment. These two variants receive dark grey finish on their alloy wheels, daytime running lights, leather upholstery, and Toyota Premium Security window films. Also thrown in as standard is a portable tyre pump that is offered as a cost option to the manual models.
Additionally, buyers also have the option of specifying the 2.5G automatic and 3.0G models with a TRD Sportivo kit that comes with Daytime Running Lights, front bumper spoiler, black alloy rims, TRD combination leather upholstery, carbon fiber cubic printed trim, and TRD carpet mats. The package can be further enhanced by an optional TRD sports bar installed at the back of the cab.
Other optional accessories consist of a choice between two DVD audio video system with reverse camera integration. The higher-end version of the two systems offer smartphone mirrorlink, voice recognition, and satellite navigation. Both these systems are available for selection with the 2.5G auto and 3.0G models only.
On-the-road prices with insurance for the new 2015 Hilux for individual private registration in Peninsula Malaysia are as follows (metallic paint where applicable):
– Single Cab 2.5 M/T: RM77,222.20
– Double Cab 2.5 Std M/T: RM87,722.20
– Double Cab 2.5G M/T: RM95,622.20
– Double Cab 2.5G A/T: RM102,372.20 [TRD Sportivo: RM105,372.20]
– Double Cab 3.0G A/T: RM109,967.00 [TRD Sportivo: RM112,967.00]
Picture: Official Toyota release.