Ford Fiesta ST Test Drive Review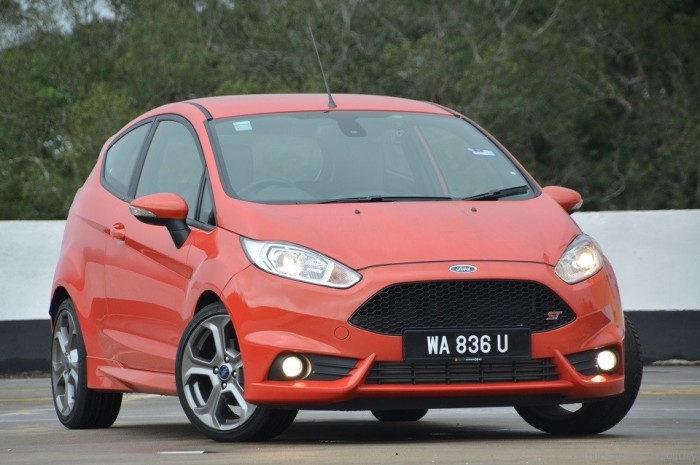 There is a general consensus among the motoring community that the Ford Fiesta is perhaps the most fun-to-drive car in its price range. It's not a car without flaws, of course, but the talents of its chassis often borders on the exceptional; within its price range, it is an easy choice for enthusiasts.
Indeed, the Fiesta's strong dynamic fundamentals make it an ideal platform to create a thoroughly capable hot hatch, and this brings us nicely to the Ford Fiesta ST that is the subject of our review here. The most powerful version of the Fiesta on sale to date is the 123hp/170Nm EcoBoost model – the ST here bumps the stakes up by a considerable margin to 180hp and 240Nm; if that sounds like the recipe for fireworks, it is.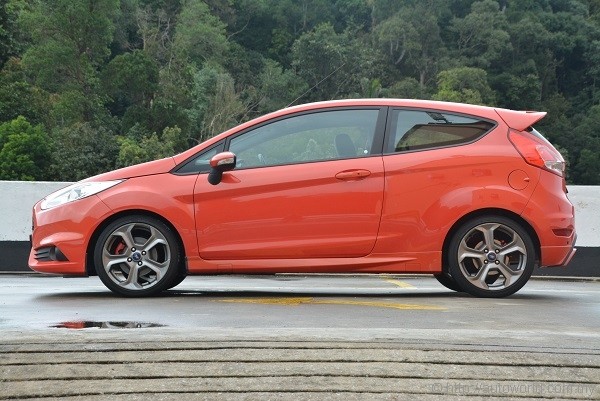 The Fiesta ST is available exclusively as a three-door hatchback.

Pricing & Specifications
Before you whip out your chequebook at the nearest Ford dealership, be mindful that the ST's enhanced performance will not come cheap. Besides the added power and sophistication of its turbocharged 1.6-litre EcoBoost engine, you'll also be paying for shipping costs all the way from Europe and, consequently, far more taxes than you would with the Thai-built regular Fiestas. Add exclusivity into the mix and you're looking at a Fiesta that costs RM149,888 with insurance – a cool RM53k and RM62k costlier than the Fiesta EcoBoost and Fiesta 1.5 respectively.
The ST's 1.6 EcoBoost engine is no stranger to our market, being the same unit that powers the bigger and all-wheel driven Kuga SUV, but this time mated with a 6-speed manual transmission and given a lot less weight to haul. Coping with the ST's uprated performance, Ford has tweaked the Fiesta's chassis, which retains its MacPherson strut / torsion beam setup, to offer increased roll stiffness and lowered ride height by 15mm. Brakes are accordingly uprated to include the fitment of rear discs.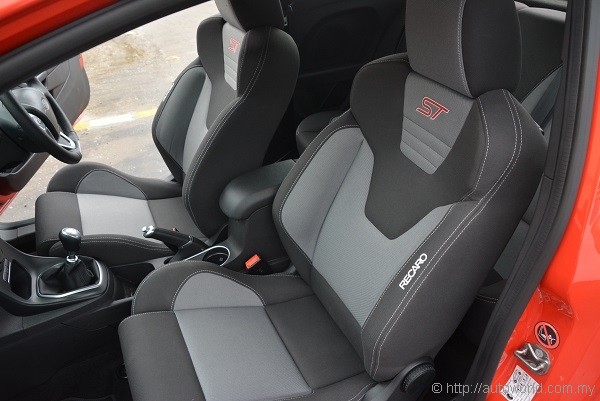 Recaro bucket seats offer better lateral support around corners.

Electronic driver aids are accordingly enhanced as well; torque vectoring is featured to rein in understeer, whilst the electronic stability control system offers three operating modes – On, Sport Mode, and Fully Off. Unlike in garden variety Fiestas, which require browsing through layers of Ford SYNC's menus to disable ESC, the ST comes with a dedicated switch on the dashboard to enable one-touch toggling between the three modes.
On-board amenities of the ST carries on the already comprehensive list offered in the regular Fiesta including items such as seven airbags, auto headlights, auto wipers, keyless entry, and Ford SYNC infotainment with Voice Control and Bluetooth connectivity. Interestingly, air-conditioning regresses from digital control as found in the regular Fiesta to a more rudimentary analogue system – fine by us, actually.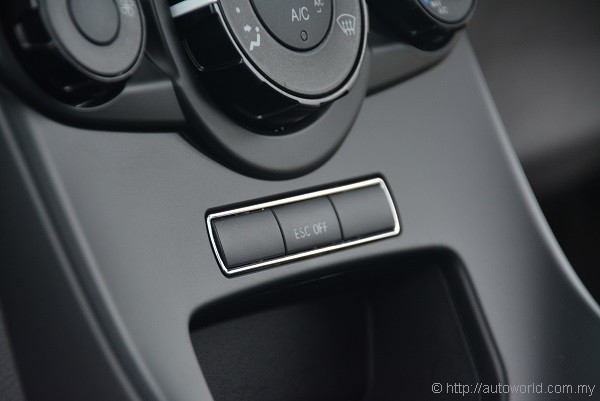 Dedicated ESC OFF button not available in regular Fiestas.

Exterior
Except in the United States, all markets in the world get the Fiesta ST as a three-door hatchback. Giving it differentiation from the regular models, Ford has dressed the ST with upsized rims, side skirting, and reprofiled bumpers front and rear.
What's notable is the relative restraint which these touches are applied; body panels are by and large identical to the regular Fiesta – no flared wheel arches or anything of that sort. Owners with a taste for sensibility will find the treatments tasteful; owners of the regular Fiesta planning to give their cars the ST look can do so without bleeding their wallets too profusely.
Visual differentiation between the ST and the regular Fiesta is most pronounced up front, where the heavily chromed front grille makes way for a honeycomb mesh design that still traces roughly the same gaping trapezoidal opening. The lower intake vents have been mildly tweaked, whilst the regular reflector headlamps have been upgraded to projectors, albeit still illuminated by halogen bulbs. Bulb-illuminated daytime running lights are factory-fitted and integrated into the headlamp cluster; effective although lacking the visual sophistication of LEDs that are in-fashion.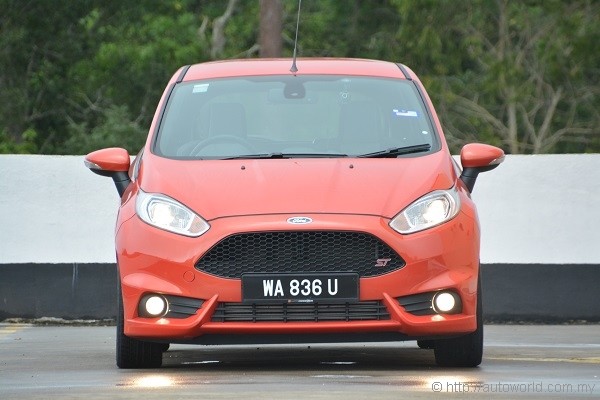 Halogen projector headlamps are one-up over the regular Fiesta's reflector units.

Interior
As you would expect, the ST shares its cabin architecture with the regular Fiesta but appropriately sprinkled with a number of ST-specific details. There is the aforementioned 'ESC OFF' switch that you do not get in the vanilla-flavoured models and along with it comes cosmetic touches on the gear knob, steering wheel, alloy pedals, and door sill plates.
Most notable enhancement is perhaps the pair of front Recaro seats with added side bolsters. On paper, differentiations end there, but looking closely, we find that materials that make up the cabin to exude a plusher quality than our regular Thai-built Fiestas. Nowhere is this more obvious than on the dashboard top piece, moulded from soft touch plastics as opposed to a harder grade of material in the regular model. We also spotted other tiny details such as additional fabric lining at the base of the ST's glovebox and rear parcel shelf clips that simply look more expensive.
All said, however, the basic operating ergonomics of the ST are no different from that of the regular Fiesta. The driving position is good, controls are generally within easy reach, and small item storage is satisfactory. Our only complaint, as usual with Ford interiors, is that the audio controls along the centre stack are too cluttered and entirely unintuitive to use; not that this has stopped us from giving the Fiesta glowing reviews in the past, of course, and in the context of the ST here, such flaws matter even less.


Driving Experience
In a market overwhelmingly dominated by automatic transmissions, the opportunity to test manual vehicles are exceedingly rare for us Malaysian motoring journalists; the chance to test a good one even rarer. The number of properly good manual cars which we've had the chance of driving in the last five years can be counted with the fingers of one hand and the Fiesta ST fits right into that elite club.
For all the technical trickery that can be packed into a dual clutch transmission, few motoring experiences exude as much satisfaction as rowing through a properly sorted manual transmission. The Fiesta ST delivers that satisfaction – its six-speed 'box delighting with throws that are crisp and precise, allied with a clutch that has sensible weighting and well-defined biting point, it is far from being a chore to use.

6-speed manual is slick and easy to operate.

It is one of those transmissions which you would want to swap cogs just for fun, but suppose you're in a lazy mood, the engine steps in to offer power delivery that is usefully meaty and flexible – it begins pulling gamely from around 1,600-1,800rpm, meaning you don't really need to downshift to summon rapid acceleration if you don't feel like it. At the other end of the spectrum, flooring the ST's throttle leaves one in no doubt of the vehicle's full performance potential – slight tugging sensations at the steering wheel confirms the copious amounts of power flowing through the front axle.
That slight hint of torque steer at full throttle is perhaps the only occasion in which the Fiesta ST behaves in an unruly fashion. It is, by and large, a pleasantly composed vehicle on the move; its ride feels unsurprisingly firmer than a regular Fiesta at low speeds, but in the context of its role as a performance-oriented variant, entirely acceptable.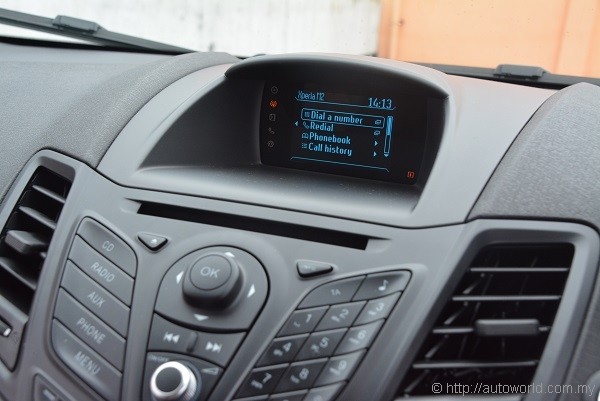 Centre stack is identical to the regular Fiesta.

Things brighten up considerably at higher speeds, where the Fiesta ST rewards with tenacious grip around corners and also impressively controlled poise. The chassis is playful and communicative, meaning it allows some degrees of slip (especially when ESC is set to Off or Sport) but at the same time effortless to correct. Clearly, the dynamics of this vehicle is tuned to be merely acceptable at low speeds, but satisfyingly rewarding the harder you drive it.
We don't typically discuss fuel economy for cars like the Fiesta ST, but if you're expecting severe compromises, be pleasantly surprised. Our 200km test route that took us around KL's city traffic and a back road run to Gohtong Jaya via Rawang and Ulu Yam returned a trip computer reading of 8.8 l/100km with only 1/3 of its 48 litre tank used. That's not merely impressive, it's outright sensational.


Verdict
If your motoring needs is for a car that offers driving enjoyment first and day-to-day usability a distinct but still crucial second, the Fiesta ST is an excellent fit for such requirements. Whilst there is no doubt that the scope of its abilities are largely focused at the pointed end of the performance spectrum, Ford kept the brief wide enough that it will do a passable impression as an urban-friendly daily ride.
The Fiesta ST is most certainly a car of many talents, one which drivers of varying talents can enjoy in a variety of circumstances. Its premium over a regular Fiesta is admittedly steep, but we contend is well worth paying for. If you can't justify it, no problem – a regular Fiesta offers you commensurate fun at a fraction of the price and is just as highly recommended if you enjoy driving as much as we do.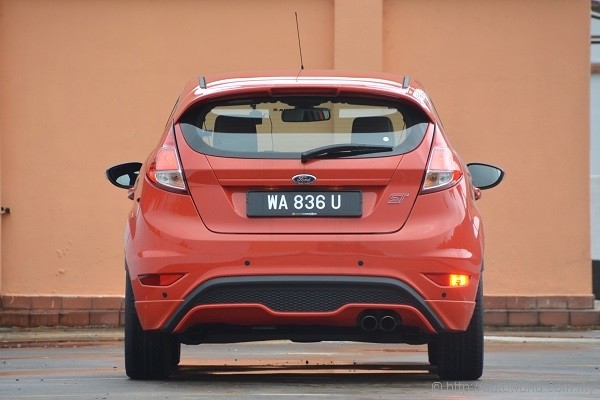 Aesthetic enhancements are kept discreet and tasteful.