Volkswagen Das Event 2014 – Key announcements made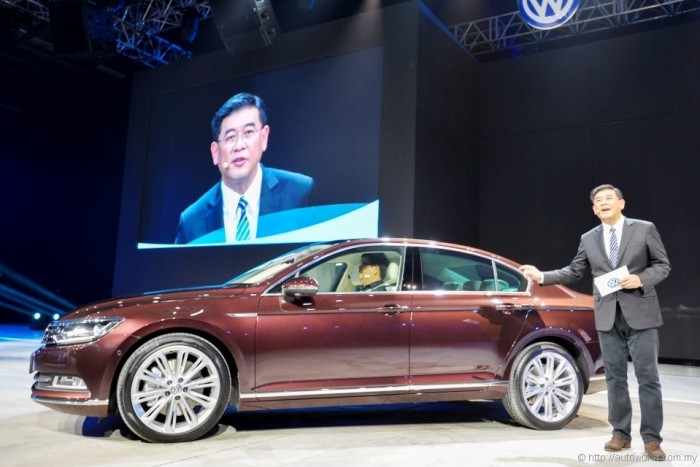 Volkswagen Group Malaysia hosted another edition of its annual brand showcase event last night with members of the motoring press, business partners, dealers, and customers amongst invited guests. Key highlights of the event were speeches from Mr Weiming Soh, President of Commercial Operations, Greater China / ASEAN and Mr Armin Keller, Managing Director of VGM, giving us insights into VW's plans for the country in the months and years to come.
Golf GTE – plug-in hybrid confirmed for mid-2015 launch
The biggest news of the night was undoubtedly Mr Soh's confirmation in his speech that the Golf GTE plug-in hybrid is being readied for launch in Malaysia by the middle of 2015. Featuring the current Golf 7's 1.4-litre TSI engine working in tandem with an electric motor, the Golf GTE offers an enviable combination of Golf GTI-level performance and exceptionally frugal economy without requiring the development of radically new charging infrastructure.
The Golf GTE's traction battery can be fully charged off a regular power socket in a mere four hours. A specialized wall box or dedicated public charging station shortens that charging time to 2 hours 15 minutes. With a fully charged battery and full tank of fuel, the GTE has a rated cruising range of 939km in hybrid mode, consuming fuel at a rate of 1.5 l/100km. Actual usage may, of course, vary.
Contributions from the two power units are to the tune of 148hp from the TSI petrol engine and a further 101hp chipped in by the electric motor; net system output is rated at 201hp and 350Nm. Exploited to the full, these drive units deliver a top speed of 222kph and a 0-100kph sprint time of 7.6 seconds; the Golf GTI, in comparison, manages 246kph and 6.5 seconds.
For zero-emissions motoring, the Golf GTE is capable of moving entirely on electric power up to a top speed of 130kph. Maximum all-electric driving range is 50km. For urban commuters with short daily driving distances, this is as good as having an all-electric vehicle but without the stress of range anxiety.
All-new Passat B8 makes first appearance in Asia
Also shown at the event, for the first time in Asia, was the latest generation all-new Passat B8, fresh from its global debut in Paris earlier this year. No details have been confirmed for the Malaysian market, but company representatives hinted that there may be a wider pool of variants, petrol-powered of course, available for selection.
We are expecting Volkswagen to continue assembling the Passat B8 in Pekan, thought that would most definitely mean lengthier preparation time for the plant to ready its tooling for the car's new MQB platform; with the majority of future VW models set to be underpinned by the MQB, this is a necessary one-off investment for all VW manufacturing and assembly facilities worldwide anyways. It is unclear at this stage, if VGM may decide to introduce limited units of the Passat B8 in CBU format to facilitate an earlier introduction.
New badging nomenclature based on engine torque
Volkswagen's current range of TSI engines are known for their exceptional levels of torque, and upcoming models will wear that on their proverbial sleeves. Starting with the CC and Passat in Malaysia, Volkswagen will begin badging their vehicles sold in Asia with a new badging nomenclature that highlights the vehicle's torque outputs.
An example shown at the event last night was a unit of the CC wearing a 280 TSI badge, indicating it to be a petrol-powered model with 280Nm of torque. Interestingly, that would actually correspond with the pre-facelift Passat CC 2.0 TSI's outputs rather than the 250Nm 1.8 TSI engine which currently powers the CC in Malaysia.
New tagline – 'Always by Your Side'
This year, Volkswagen came under plenty of flak for inadequate aftersales service and quality problems of its vehicles. The company refreshingly acknowledged the issues at last night's event and made a renewed pledge to tackle the problem head on with the objective of restoring consumer confidence in the brand. The new initiatives are reinforced with the launch of a new tagline – Always by Your Side.
"Malaysia is an important market for our business and as the brand progresses, our continued investment in improving our customer service will remain as a corner stone of our activities; be it sales or aftersales. We have embarked on a journey to bring this change and these initiatives will help us earn the trust of our Malaysian customers," said VGM MD Mr Armin Keller.
Keller had recently overseen the introduction of initiatives such as the Volkswagen Experts and Mobility Guarantee programmes, and the company is set to redouble its efforts with the establishing of new state-of-the-art Technical Competence Centres to provide training for service personnel and a new parts centre to shorten delivery time for spare parts. In total, Volkswagen plans to invest more than RM20million in the next 3 years on training and recruitment of new staff and also on improving facilities/expanding existing ones.