2014 Chevrolet Colorado 2.8 A/T Test Drive Review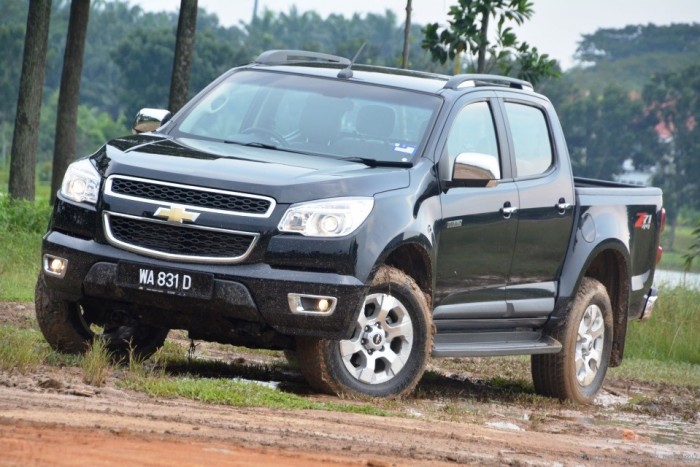 Despite the global fame of its muscle cars such as the Corvette and Camaro, the Chevrolet brand also professes a lengthy heritage of trucks. The Colorado nameplate is a relatively new addition to the range, being only introduced a decade ago.
Two unrelated versions of the first generation Colorado exist – the North American model developed in-house by General Motors and the Thai model that was a rebadged previous-gen Isuzu D-Max. GM will not admit this in public, but that link with the D-Max is an integral component of the Colorado's DNA – the current second-generation Colorado shares its platform with the latest D-Max although the two companies ultimately pursued separate development routes and gave their respective trucks each its own unique flavour.
Whilst the conservatively-engineered D-Max builds on its tried and tested virtues of fuel economy and reliability by offering mildly-tuned engines, the Colorado goes for the jugular with aggressive outputs. When it was launched in 2012, the 180hp Colorado 2.8 was among the segment front-runners for outputs, with only the 197hp Ford Ranger / Mazda BT-50 3.2 able to surpass it. For some reason, however, Chevrolet figured that 180hp and 470Nm was not quite good enough, and along came a 193hp Colorado 2.8 Muscle Power edition to further up the stakes.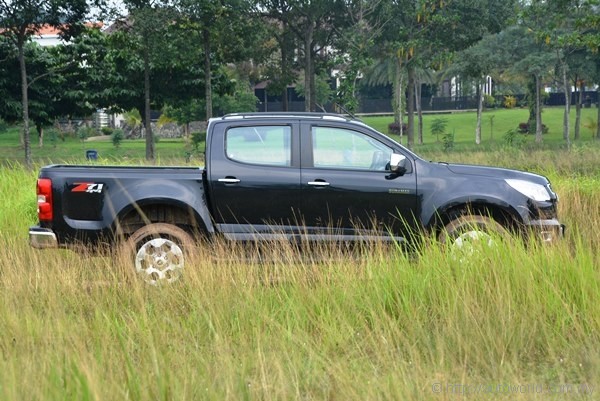 Glasshouse is common with the D-Max, but the two trucks could not be more different.

Prices & Variants
When Chevrolet launched the Colorado in 2012, a total of three variants were offered – 2.5 LT manual, 2.8 LT manual, and 2.8 LTZ automatic. If you're wondering where's the 2.5 automatic, well, there isn't one, and it's not because the local distributors didn't want to bring it in, but rather the fact that GM decided bizarrely that it is not needed. Quite how the product team came to this decision is anyone's guess, but it is little surprise that they did not sell too many 2.5s here in Malaysia and the engine option is deleted from our market altogether.
The 'Muscle Power' upgrades introduced this year sees the Colorado's line-up trimmed to only offering only 2.8-litre capacity with a choice between manual and automatic transmission. A price difference of RM11,000 separates the two variants, and it is accounted for by more than just different transmissions – the automatic model, as before, has more torque and equipment. Electronic safety nets such as stability control, traction control, and hill start assist are exclusive to the automatic model. Amenities are better democratized, however, with electronic climate control, auto cruise, power folding side mirrors, and electric driver seat adjustment standard fitment on both variants.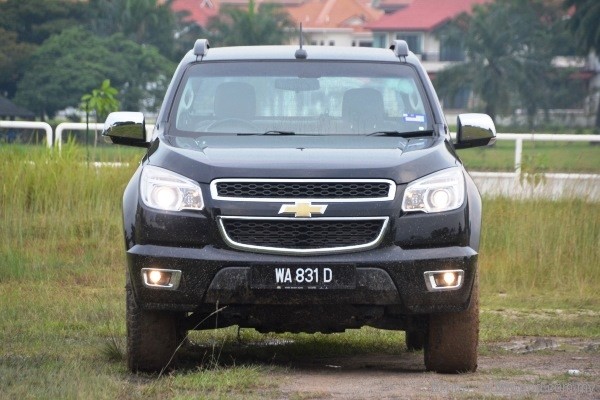 Colorado's front end looks distinguished amongst its rivals.

Specifications
Yes, you read the above paragraph correctly, the Colorado actually pumps out more torque in automatic guise. In its launch configuration, the 2.8-litre mill generated 180hp with torque rated at 440Nm for the 5-speed manual and 470Nm for the auto. GM engineers once explained to us that this disparity is the result of the manual transmission having a much lower torque capacity, making de-tuning of the engine necessary. The engines are actually boosted by different turbochargers as well – fixed geometry for manual, variable for auto.
The Muscle Power version comes with a new 6-speed manual, but its maximum rated torque remains capped at 440Nm whilst the automatic version is further boosted to a frankly hilarious 500Nm. Power for both versions have been pushed to 193hp. Official Chevrolet performance numbers quotes both manual and automatic having identical century sprint times of 10.0 seconds flat.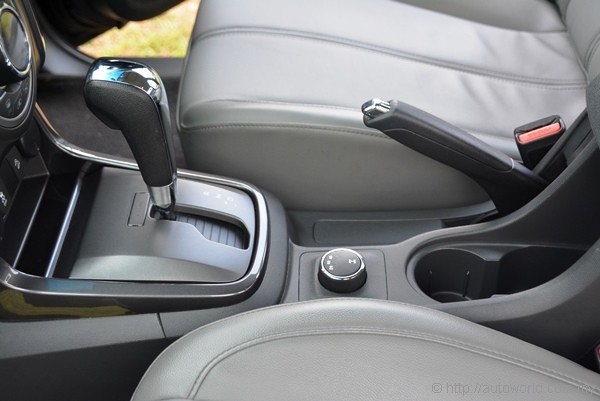 One of few pick up trucks in the market with 6-speed automatic transmission.

Driving Experience
If the headline figure of 500Nm sets your imagination wild with rubber burning antics and wild drifts, it's time to recalibrate those expectations a little. The Colorado is, for all intents and purposes, still more truck than muscle car; rather than generate neck-snapping acceleration, burying the throttle generates linear but unmistakably relentless progress.
The engine's torque curve seems to have two distinct zones of behaviour. Below 2,000rpm, it is as smooth and refined as you would expect of a cultured modern pick-up with serene and effortless progress being yours to enjoy. It achieves speeds of up 170-180kph easily enough if unhurried, and with commendable composure from the chassis to boot, but there is a distinct roughness to the engine's character at the upper end of its rev range that encourages you ease it to speed rather than force it. It's a truck engine, remember.


Vehicle dynamics seem better optimized for off- rather than on-road exploits. As mentioned earlier, high-speed stability is commendable and it handles with decent poise for a pick-up truck, but ride quality falls slightly short of segment standards set by the Mitsubishi Triton. Sound insulation is good, however; provided you don't fully exert the engine, other sources of noise are impressively muted.
The Colorado ultimately feels its best off the beaten track, where its superior engine outputs allows effortless overpowering of obstacles. Along the way, the chassis feels reassuringly tough in the way it nonchalantly soaks up abuse of various ruts and other surface imperfections on which we cared to roll over. Handling is commendable too, with the chassis impressively able to conjure enough grip to match the engine's outputs.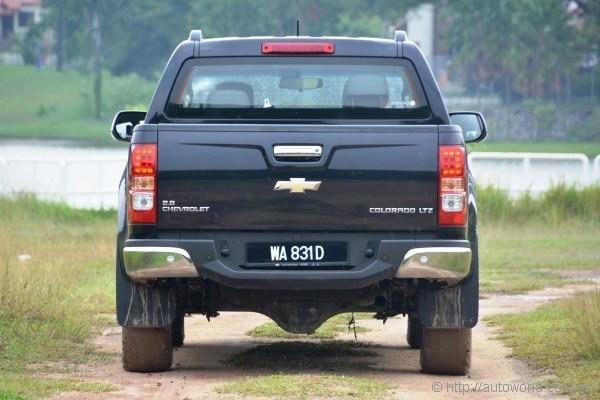 Blocky tail light design reinforces impression of ruggedness.

Verdict
Pick-up trucks today generally serve one of two purposes among buyers – either as a workhorse or as a lifestyle vehicle. The Colorado, by virtue of its high-level specification, most certainly aimed at the latter need even if it does have the pre-requisite toughness to adequately serve the former.
Like the current Ford Ranger T6, the Colorado belongs to a new generation of pick-up trucks that deliver highly in equipment, performance, and refinement. It is largely competent in most areas. The 'Muscle Power' enhancements of the 2014 vintage actually improves on an area which required no fixing. Objectively speaking, the additional outputs are not entirely necessary, although there certainly is no reason to complain.